skip navigation
Daily Schedule
Mon, Feb 27, 2017
DAILY SCHEDULE
WEEKLY SCHEDULE
Monday, February 27, 2017
Three WWI soldiers upon returning home from battle open up an auto-repair shop. more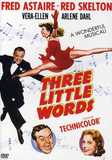 Red Skelton, Vera-Ellen, Debbie Reynolds, Fred Astaire. Musical biography of the songwriting team of Kalmar and Ruby and their climb to success. Songs include I Wanna Be Loved by You... more
12:30 PM
B/W - 89 m

TV-PG
In this adaptation of H.G. Wells' classic novel, a scientist in 1880s Victorian England builds a vehicle to transport him through time. He first travels to 1917 and the horror of... more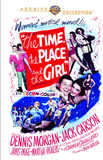 Dennis Morgan and Jack Carson lead the charge in a battle between operatic highbrows and showbiz sharpies in the fun-loving let's put on a show Warner Bros. Tradition. Their team... more
TCM PRIMETIME - WHAT'S ON TONIGHT:
TCM CANADA: TCM CANADA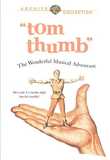 Taken in by a kindly couple, a six-inch-tall boy takes on a pair of comical crooks in this adaption of a classic Grimm fairy tale. Oscar and Golden Globe-winner Russ Tamblyn ("Peyton... more
10:00 PM
B/W - 122 m

TV-PG
A girl accepts three wedding proposals at once and dreams of marriage to each man. more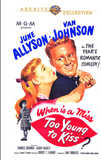 June Allyson, Van Johnson, Gig Young. In this romantic comedy a talented but unrecognized concert pianist decides to change her luck by dressing like a 12-year-old girl and posing as... more
There are no titles in the genre scheduled.
Recent Movie News
21st Annual Kansas Silent Film Festival - Feb. 24-25
- Feb. 24-25. The 2017 edition of the KSFF will be staged at White Concert Hall on the Washburn University campus on Friday night, February 24th and all day Saturday, February 25th. The event is free and open to the public. All films will be shown on the big screen with live musical accompaniment.
TCM Movie Database
Your destination for exclusive material from the TCM vaults
LEARN MORE >