share:
Recent DVDs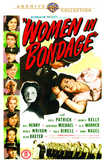 Women in... With her husband ordered to the Russian front, Margot Bracken (Gail Patrick)... more info $14.95was $17.99 Buy Now
MEDIA:
WATCH MOVIE CLIPS
|
VIEW TRAILER
|
VIEW PHOTOS
|
WATCH A TCM PROMO
| | | | |
| --- | --- | --- | --- |
| Also Known As: | | Died: | |
| Born: | | Cause of Death: | |
| Birth Place: | | Profession: | Cast ... |
RATE AND COMMENT
BIOGRAPHY
Following his emergence into the spotlight with "Slacker" (1990), writer-director Richard Linklater was cited by many filmmakers and critics as having helped usher in the independent film movement of the 1990s. Without his manifesto for Generation X - who later were tagged with the sobriquet "slackers" - other independent filmmakers might not have been compelled to make their own movies, including Kevin Smith, who cited Linklater's movie as the key inspiration for making "Clerks" (1994). Linklater followed up with the classic cult comedy, "Dazed and Confused" (1993), which upped the ante for the young filmmaker. Though at this point he could have gone the studio route, Linklater instead chose to remain close to his indie roots with the dialogue-heavy "Before Sunrise" (1995), an engrossing romantic drama that showcased his growing maturity. He managed to repel a few fans with the dark and disturbing "subUrbia" (1996) and the more genre-oriented period crime drama "The Newton Boys" (1998), only to pull them back with "Waking Life" (2001), a groundbreaking film that used distinctive rotoscope animation over live action sequences. After the equally inspired "Tape" (2001), he directed the financial hit "School of Rock" (2003), before returning to familiar ground with the follow-up "Before Sunset" (2004). By the time he helmed "Fast Food Nation" (2006) and "A Scanner Darkly" (2006), Linklater had proven that he could balance the needs of commerce with his own unique creative impulses.
Born on July 30, 1960 in Houston, TX, Linklater was raised in nearby Huntsville by his mother and stepfather; the latter of whom worked as a prison guard at a state penitentiary. After graduating from Huntsville High School, he studied literature and drama at Sam Huston State University, only to quit in order to work on an offshore oil rig in the Gulf of Mexico. Linklater soon moved to Austin, where he founded the Austin Film Society in 1985 with cinematographer Lee Daniel, and Austin Chronicle editor and South by Southwest founder Lewis Black. Their goal was to showcase independent and often obscure films in Austin, first staging screenings in the upstairs room above a local coffee shop. Soon the film society drew a loyal following and slowly expanded over the years, with Linklater remaining its artistic director. Meanwhile, Linklater made his first film, "It's Impossible to Learn to Plow by Reading Books" (1987), an 85-minute indulgence with little dialogue and a non-traditional plot that was shot on Super-8 and edited at a public access television station. The film remained virtually unknown until much later when Linklater had made a name for himself.
Linklater first became the darling of the indie world following his first official feature film, "Slacker" (1990), a comedic look at then-contemporary youth, post-college layabouts, anarchists and neo-beatniks, as they wander around a Texas college campus over a 24-hour period in the summer of 1989. Shot for a mere $23,000, the ultra-low budget film was lauded on the festival circuit in 1990, showcased at the 1991 Sundance Film Festival, and released commercially later that year. But most importantly, it was cited as the starting point for the independent movement in the 1990s, with many later indie filmmakers - most notably Kevin Smith - claiming "Slacker" as being an inspiration for making their own films. Linklater's second feature, "Dazed and Confused" (1993), demonstrated that he could make a mainstream narrative for a thrifty $6 million. "Dazed" recounted the lives of a group of high schoolers on the last day of classes in 1976. With its dead-on portrayal of kids driving around aimlessly in search of something to do, the film largely succeeded as an "American Graffiti" for 1970s teen drug culture. Linklater's acutely observed coming-of-age comedy also featured a bevy of then-unknown stars including Parker Posey, Jeremy London, Ben Affleck and Matthew McConaughey.
Thanks to the monumental cult success of "Dazed and Confused," Linklater went about the task of directing his next feature, "Before Sunrise" (1995), with bursting assurance. "Before Sunrise" represented a new direction for the writer-director, a romantic drama that saw Ethan Hawke and Julie Delpy playing students who meet on a train and spend one romantic night in Vienna. Like his two preceding works, "Before Sunrise" was dialogue-driven. But whereas "Slacker" and "Dazed" were impressionistic compilations of incidents centered around miscreant youth, "Sunrise" presented two fully developed characters branching out into adulthood. Furthermore, Linklater turned Vienna into a pivotal character rather than just a source of pretty backdrops. Returning to the world of young adulthood, the director helmed "subUrbia" (1996), a dark and disturbing coming-of-age movie about a group of 20-somethings who kill time hanging outside a convenience store. Scripted by Eric Bogosian, based on his own experiences in suburban Massachusetts, the film was a much darker, albeit comic, look at aimless post-adolescent youth, which may have turned off some Linklater fans looking for another "Dazed and Confused."
For his next film, Linklater departed from his dialogue-rich, character-driven efforts with the fact-based Western adventure "The Newton Boys" (1998), chronicling the criminal exploits of a little-known band of brothers who were bank and train robbers. Starring McConaughey, Hawke, Vincent D'Onofrio and Skeet Ulrich as the four Newtons, the film boasted a solid cast, a healthy budget and was true to the spirit of co-scripter Claude Stanush's source biography. But many Linklater fans looking for a movie that bore the director's unique mark were left disappointed, as were several critics who panned the film. After a short hiatus, Linklater returned with two experimental works for the 2001 Sundance Film Festival. First, "Waking Life" (2001) reunited Linklater with "Dazed and Confused" star Wiley Wiggins and had the distinction of being the first known film to be shot with live actors and then animated using his later-patented rotoscoping technique. He also premiered the digital video feature "Tape" (2001), which allowed him to return to his low-budget roots, though this time Linklater was joined by big name stars like Hawke and Uma Thurman. A real time feature based on Stephen Barber's edgy one-act play, "Tape" held the potential to challenge and broaden independent film in much the same way "Slacker" had a decade earlier.
In 2003, Linklater helmed his most mainstream and commercial project yet when he directed "School of Rock" from a script by Mike White that was tailor-made for the film's star, Jack Black. The premise - a wannabe rocker (Black) poses as a substitute teacher to earn much-needed cash and turns his private school class into a kiddie rock band - was ripe with opportunities to veer into cinematic cuteness and mawkish sentimentality. But Linklater and White scrupulously avoided such trappings and delivered a winning, laugh-out-loud comedy that made the most of its subject matter while providing Black with his best star vehicle to date. Almost a decade after "Before Sunrise," Linklater re-explored the characters in an equally entrancing sequel, "Before Sunset" (2004), which revisited the couple on a chance encounter many years after they first met. A critical darling, the film would result in an Oscar nomination for Best Adapted Screenplay for Linklater and his collaborators Kim Krizan, Hawke and Delby, as well as nominations from the Writers Guild of America and the Independent Spirit Awards.
After the twin triumphs of "School of Rock" and "Before Sunset," Linklater lost a step, if only slightly, with his next effort, a studio-backed remake of the enduring 1970s kiddie baseball film, "The Bad News Bears" (2005). Though Linklater wisely cast Billy Bob Thornton in the Walter Matthau-created role of boozy, washed-up Little League coach Morris Buttermaker, the remake suffered in its too-slavish adherence to the well-worn storyline and an all-to-willing compliance to soften the story's edges for a contemporary audience. He fared better the following year with his next two films, starting with "Fast Food Nation" (2006), a fictional adaptation of Eric Schlosser's non-fiction exposé that utilized interwoven storylines to examine the health issues and societal consequences of a nation enamored with fast food. Opening to mixed reviews and to a limited market, "Fast Food Nation" came and went faster than a digested Big Mac. He next helmed an adaptation of Philip K. Dick's "A Scanner Darkly" (2006), in which he used his patented rotoscope animation to tell the dark and paranoid tale of an undercover narcotics cop (Keanu Reeves) hooked on the powerful Substance D who is forced to spy on his fellow drug addict friends. Linklater followed with "Me and Orson Welles" (2009), a nostalgic coming-of-age drama about young adolescent (Zac Efron) thrown into the whirlwind world of Orson Welles' Mercury Theatre Company on the eve of the director's historic staging of Shakespeare's "Julius Caesar" (1937). The fact-based black comedy "Bernie" (2011), starring Jack Black, followed, before Linklater, Delpy and Hawke reteamed for the third time in "Before Midnight" (2013), an examination of the couple's crumbling marriage. Linklater followed these well-received films with another formal experiment: the coming of age drama "Boyhood" (2014) was filmed piecemeal over the course of 12 years as it followed the life of one boy from the ages of 6 to 18. Ellar Coltrane played the boy, with Hawkes and Patricia Arquette as his divorced parents.