share:
Recent DVDs
Are You Being... Classic BBC Comedy features the cast of Are You Being Served? the stalwart staff... more info $17.47was $24.98 Buy Now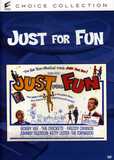 Just for Fun ... When teens in England win the right to vote, the major political parties try... more info $17.95was $20.95 Buy Now
MEDIA:
WATCH MOVIE CLIPS
|
VIEW TRAILER
|
VIEW PHOTOS
|
WATCH A TCM PROMO
| | | | |
| --- | --- | --- | --- |
| Also Known As: | | Died: | |
| Born: | | Cause of Death: | |
| Birth Place: | | Profession: | Cast ... |
RATE AND COMMENT
BIOGRAPHY
Generally ranked alongside Charlie Chaplin and Buster Keaton as one of the masters of comedy during the silent era, Harold Lloyd created a more conventional personality than his contemporaries with the so-called Glasses Character, an ever-optimistic, constantly striving everyman who thoroughly captured the public's fancy during the 1920s. In fact, throughout most of the decade, his films proved to be more popular than Chaplin's or Keaton's, though in later years those two far outpaced him in terms of their places in cinema history due to Lloyd's tightfisted control over his work. Nonetheless, after developing a Chaplin knockoff character in Lonesome Luke, who managed a successful run from 1915-17, Lloyd reinvented himself as The Boy, the bespectacled optimist who bumbled his way in and out of trouble in often death-defying ways. A pioneer of sight gags and extreme stunts, Lloyd risked life and limb to create some of the most iconic images in silent film, most notably in "Safety Last!" (1923), in which he famously hung by a broken clock hand ten stories off the ground without use of trick photography. He went on to enormous success with hits like his personal favorite "Grandma's Boy" (1922), "Girl Shy" (1924) and "Welcome Danger" (1929), before enjoying measurable popularity in the sound era with "Feet First" (1930), "The Cat's-Paw" (1934) and "The Milky Way" (1936), with the latter being arguably his best talkie. Though his dissolved his production company in 1938 and effectively retired in the next decade, Lloyd fell into obscurity, only to regain prominence after his death, proving that the great comedian's appeal was timeless.
Born on April 20, 1893 in Burchard, NE, Lloyd was raised by his father, James, an itinerant dreamer whose get-rich-quick schemes forced the family to move around and often before usually ending in disaster, and his mother, Elizabeth, who eventually divorced his father in 1910. Prior to his parents' split, Lloyd began performing on stage, making his debut in "Macbeth" with the Shakespeare Repertory Company in Beatrice, NE, before acting with various stock companies in Denver and San Diego. After his parents split, Lloyd's father received a settlement for an on-the-job accident that led to a final move to San Diego, where the young performer enrolled at the School of Dramatic Art. He soon made the transition to one-reel comedies like "A Little Hero" (1913) and "Rory o' the Bogs" (1913), and began working with the Edison Film Company with "The Old Monk's Tale" (1913). After leaving Edison, Lloyd joined forces with Hal Roach, an extra-turned-producer/director who formed his own company, Hal Roach Studios.
Unlike most of the silent comedians of his day, Lloyd had no background in vaudeville, which meant that he brought no time-tested characters to the movies like his contemporaries. With help from Roach, Lloyd created his first major character, Willie Work, whose distinguishing marks were a much-padded coat, a battered silk hat and a cat's whisker mustache. But the character proved to be short-lived, with the comedy "Just Nuts" (1915) being Work's only surviving testament. Learning his craft in front of the camera, Lloyd sought to gain a toehold in an industry already becoming dominated by Charlie Chaplin's Little Tramp. Exhibitors unable to distribute Chaplin's films demanded imitations, which left Lloyd to come up with a variation on the Tramp with his second major character, Lonesome Luke. Keeping only the Tramp's oversize shoes, Luke wore tight trousers and a jacket while trading Willie's thick, centered mustache for a two-dot version to complement triangular eyebrows. For three years, Lloyd played the character in a number of shorts like "Lonesome Luke Pipes the Pippins" (1916), "Luke Locates the Loot" (1916), and "Lonesome Luke's Wild Women" (1917). Despite his efforts to be individual and unique, which included a refusal to copy Chaplin's well-known mannerisms, Lloyd was nonetheless branded an imitator.
Bristling at the imitator tag, Lloyd still enjoyed great popularity as Lonesome Luke, but knew the character was not long for this Earth when the inspiration for his third and final character came to him in the spring of 1917. He traded in his triangular eyebrows and thick mustache for a pair of round spectacles to create the Glasses Character, a.k.a. "The Boy" or "Harold," an unwaveringly confident everyman with undying confidence and the constant drive for success. Though Lloyd was enthusiastic about the character, he had difficulty convincing Roach and their distributor Pathe to drop a proven winner in Lonesome Luke - whom they had just elevated to two-reel status - for a brand new character. After battling for months, Lloyd finally debuted the Glasses Character in "Over the Fence" (1917), though he was consigned to making Lonesome Luke films until the success of his new character was assured. Lloyd featured his bespectacled hero in a series of one-reelers to insure exposure in a new film once a week, eventually finding the formula that would make him rich. His character was not an outsider, but rather a working member of society, an optimistic plucker who smiled and fought his way through all adversity to achieve success and get the girl by story's end, which directly mirrored his audience in outward appearance and inward determination.
Since Lloyd was not inherently funny, he relied on jokes and sight gags to propel the storyline. Each gag followed the next in a logical progression until the film's climactic vindication and triumph of the hero. Along with Roach, he made a number of shorts during this period, including "The Flirt" (1917), "Bride and Gloom" (1918), "The Marathon" (1919), "High and Dizzy" (1920) and "Now or Never" (1921). In the latter teens, Lloyd began working with actress Mildred Davis, who often starred opposite him as The Girl and would eventually marry him in 1923. The couple remained together until Davis' death in 1969, despite Lloyd never allowing her to appear in films while he remained an unceasing workaholic as well as engaged in a number of extramarital affairs. An organizational genius, he inaugurated the circle of contributing gagmen and actually helmed most of his films, though there was always a titular director on board to take care of the details. Building the gags into a narrative line facilitated his expansion into feature production, beginning with "Sailor-Made Man" (1921), which co-starred Davis as a girl whose affection he seeks to earn by joining the Navy.
Over the next three years, Lloyd made two features a year before slowing down to only one per annum for the balance of the decade. He next made "Grandma's Boy" (1922), in which he played a timid farm boy unable to woo the girl (Davis) and thwart his rival (Charles Stevenson) until his grandmother (Anna Townsend) gives him a magic charm. A huge success, "Grandma's Boy" was a popular box office hit that Lloyd ranked as one of his favorites. Following the gag-driven "Dr. Jack" (1922), Lloyd starred in the critically hailed box office hit, "Safety Last!" (1923), in which he hilariously portrayed his Glasses Character as an optimistic country boy trying to make good in the big city. Full of comedic thrills, "Safety Last!" was Lloyd's most enduring work, thanks in large part to his iconic climb up a building to avoid the police that ended with him dangling midair and hanging for dear life by the hands of a broken clock - without a doubt one of the most iconic images from the silent era.
Lloyd continued churning out the hits, adapting Glasses into a timid stutterer for "Girl Shy" (1924), one of the top moneymakers of that year, and a college bound lad seeking popularity in "The Freshman" (1925), which was his most profitable ever with over $2.5 million in grosses. He followed by playing a millionaire playboy stuck on the wrong side of town in "For Heaven's Sake" (1926), a timid cowboy trying to earn respect in "The Kid Brother" (1927), and as a nostalgic man attempting to save the last horse-drawn trolley in a modern city in "Speedy" (1928). From film to film, Lloyd effectively brought to life the comedy of the poor, the rich, the oafish and the ambitious, executing dizzying stunts despite hiding the fact that he had lost two fingers on his right hand. Meanwhile, he made a successful entrance into the talkie era with "Welcome Danger" (1929), an enormously popular comedy in which he played an unassuming botany student who finds himself taking over his father's job as chief of police.
Fully embracing the advent of sound in motion pictures, Lloyd continued making about one film a year, enjoying an equal amount of success as he did in the silent era until calling it quits almost for good in 1938. He starred in the popular "Feet First" (1930), another of his famed thrill comedies in which he was an ambitious shoe salesman who tries to win the heart of a secretary (Barbara Kent) by telling her he is a successful tycoon. In "Movie Crazy" (1932), he was a country bumpkin who dreams of being in the movies and finally receives his chance after a photograph mishap lands him in Hollywood. Lloyd next played a naïve young man raised in a Chinese missionary, who returns to the United States to find a wife, only to become innocently entangled in a politically corrupt city in "The Cat's-Paw" (1934). He had his greatest sound success with the screwball comedy "The Milky Way" (1936), in which he played a mild-mannered milkman who surprisingly becomes middleweight champ. Despite the popularity and critical success of his films, Lloyd found himself increasingly out of step with the Great Depression characters that infatuated the public. So after the release of "Professor Beware" (1938), he sold the Harold Lloyd Motion Picture Company to the Mormons and hung up his famous glasses.
Almost a decade later, Lloyd was coaxed out of retirement by director Preston Sturges and producer-tycoon Howard Hughes for "The Sin of Harold Diddlebock " (1947), a labor of love-turned-uneven comedy that was spoiled by the director's inflexibility behind the camera. Meanwhile, the actor never stepped before the camera again, realizing once and for all that his time had passed. But the spotlight shone his way once more when he was presented an honorary Oscar in 1952 for his comedic mastery, putting the icing on the cake to his illustrious career. Lloyd wound down the remainder of his days in his famously grand Beverly Hills home, Greenacres, while making occasional guest appearances on shows like "The Ed Sullivan Show" (CBS, 1948-1971), "What's My Line?" (CBS, 1950-1967) and "This Is Your Life" (NBC, 1952-1961). An avid photographer, Lloyd became known for his nude photos of several celebrity women, as well as a bikini-clad Marilyn Monroe lounging poolside in 1952. Some 200 of his alleged 300,000 photos where published in Harold Lloyd's Hollywood Nudes in 3D! (2004), which included a pair of appropriate glasses. Meanwhile, Lloyd owned the rights to his films and zealously guarded them from exploitation, keeping them out of view for so long that his reputation as a comic star faded into near obscurity, while his contemporaries Charlie Chaplin and Buster Keaton only grew in stature. After the passing of wife Davis in 1969, Lloyd followed on March 8, 1971, dying from prostate cancer at 77 years old. Following his death, there was renewed interest in his work when the films were finally released by Time-Life Films in 1974. Since then, the pictures were restored and re-released, which helped propel the innovative comedian back upon the pedestal beside Chaplin and Keaton where he belonged.
By Shawn Dwyer