share:
Recent DVDs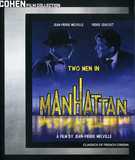 Two Men in... The dark shadows of New York come to life in this rarely-seen, moody,... more info $26.95was $38.99 Buy Now
Two Men in... The dark shadows of New York come to life in this rarely-seen, moody,... more info $24.95was $30.99 Buy Now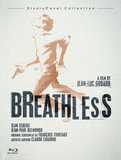 Breathless... UK digibook Blu-ray/Region A+B pressing. There was before Breathless, and there... more info $23.95was $37.99 Buy Now
MEDIA:
WATCH MOVIE CLIPS
|
VIEW TRAILER
|
VIEW PHOTOS
|
WATCH A TCM PROMO
| | | | |
| --- | --- | --- | --- |
| Also Known As: | Jean-Pierre Grumbach,Jean Pierre Melville | Died: | August 1, 1973 |
| Born: | October 20, 1917 | Cause of Death: | cardiac arrest |
| Birth Place: | Paris, FR | Profession: | Writer ... director producer actor production designer cameraman textile worker traveling salesman |
RATE AND COMMENT
BIOGRAPHY
A highly-influential French filmmaker, Jean-Pierre Melville's innovative visual style and frugal mode of production highly influenced the movement of the French New Wave, even as its adherents dismissed his later work. Denied entrance into the heavily unionized French film industry, Melville took matters into his own hands and formed his own production company in 1946. From the beginning, such films as "Silence of the Sea" (1949) and "The Terrible Children" (1950) impressed fellow filmmakers with their lyrical quality and unadorned technique. Crime dramas like "Bob the Gambler" (1956) and "The Finger Man" (1962) made explicit Melville's fascination with American noir, although his increasingly polished films soon lost him support within France's critical circles. After working with New Wave leading man Jean-Paul Belmondo on several projects, Melville found his definitive "beautiful destructive angel" with Alain Delon, who starred in the director's existential masterpiece, "The Samurai" (1967), as well as "The Red Circle" (1970) and "Dirty Money" (1972) prior to the writer-director's death in 1973. Under-documented as a leading mid-century director for decades, in the mid-1990s Melville was thankfully reappraised by the critical establishment in France, as well as international filmmakers like Quentin Tarantino, John Woo and Jim Jarmusch, who helped introduce his body of work to a new generation.
Born Jean-Pierre Grumbach on Oct. 20, 1917 in Paris, France, he was the son of a Jewish Alsatian couple. While studying in Paris in his youth, the young Grumbach fell in love with early cinema, American films, in particular. Early efforts from the aspiring young filmmaker included home movies shot with a 16mm camera given to him by his father. As all able-bodied young men were required to do, Grumbach entered the French military service in the late-1930s. Following the Nazi occupation of France in 1940, the young soldier joined the Gaullist Resistance and, in a move that reflected his deep abiding interest in all things American, gave himself the nom de guerre of "Melville," after one of his favorite American novelists. Despite later efforts to return to Grumbach, it was a moniker that remained with him for the rest of his days.
After the war, intent on breaking into the film industry, Melville applied to the French Technician's Union with the hope of working as an assistant director, but was denied. Disgusted by what he viewed as a politicized and corrupt system, Melville moved forward on his own, undeterred. In 1946, he created his own film production facility - Studio Jenner - a first of its kind. After getting his feet wet with a short film, Melville paved the way for the French New Wave filmmakers to come when he independently produced, wrote and directed his first feature film, "Le Silence de la Mer" ("The Silence of the Sea") (1949). The story of a French family's relationship with an occupying Nazi officer who takes up residence in their home, the film was an adaptation of a novel of the same name and marked the beginning his long-term association with cameraman Henri Decae.
For his second feature, Melville collaborated with French novelist Jean Cocteau on an adaptation of the author's "Les Enfants Terrible" ("The Terrible Children") (1950), the story of a sibling relationship with incestuous undertones. Filmed on location and making ingenious use of available lighting, the director's homage to American film noir "Bob le Flambeur" ("Bob the Gambler") (1956) also heralded both the production values and narrative themes soon to be employed by young New Wave directors like François Truffaut and Jean-Luc Godard. Stylishly shot in black and white, "Bob the Gambler" followed the get-rich scheme of a down-on-his-luck gambler (Roger Duchesne), whose scheme to swindle a casino goes awry when his luck at the tables suddenly takes an ironic turn for the better. Praised in both France and America, the film placed Melville firmly at the forefront of rising post-war French filmmakers.
Less well-received, however, was "Deux Hommes dans Manhattan" ("Two Men in Manhattan") (1959), an outright love letter to American noir, as well as a cinematic travelogue for the titular section of New York City. Featuring the only starring role for occasional actor Melville, the light-hearted affair did little to capitalize on the sensation created by his previous effort. Soon thereafter, "Léon Morin, Pretre" ("Leon Morin, Priest") (1961) marked a turning point for Melville as a filmmaker. Far more exacting and meticulously crafted than his earlier works, it was yet another story of the Nazi occupation, this time starring New Wave heartthrob Jean-Paul Belmondo in a surprisingly effective role as a priest attempting to bring a bitter young widow (Emmanuelle Riva) into the fold of Catholicism. Although revered for his earlier use of handheld cameras and innovative jump cuts, the New Wave critics of the influential film magazine Cahiers du Cinema dismissed Melville's more polished offering out of hand.
In a more familiar role, Belmondo returned to work with Melville as a criminal anti-hero in "Le Doulos" ("The Finger Man") (1962), a hard-boiled crime story of friendship, honor and betrayal. Five years and two more films later, Melville delivered what many considered his masterpiece, the existential noir thriller "Le Samourai" ("The Samurai") (1967). Starring the preternaturally handsome Alain Delon as a solitary assassin-for-hire whose code of honor and perfectionism lead inexorably to his own destruction, the highly-stylized film proved hugely influential to later generations of filmmakers. Melville went on to make one final picture focusing on the French Resistance - "L'Armée de Ombres" ("Army of Shadows") (1969) - prior to delivering two more crime films starring Delon - the intricately executed heist film "Le Cercle Rouge" ("The Red Circle") (1970), followed by the sordid tale of "Un Flic" ("Dirty Money") (1972), in which, for a change, Delon played a detective.
Melville died of a heart attack on Aug. 2, 1973 while having lunch with a journalist in Paris. Although a commercially successful filmmaker during his lifetime, his reputation faded somewhat over the two decades that followed, overshadowed by the emphasis on the likes of Truffaut and Godard and the prevailing tastes of the Cahiers du Cinema crowd. That all changed in the mid-1990s, thanks in part to long-admiring directors like Quentin Tarantino and John Woo, who publicly praised Melville's oeuvre, bringing newfound attention to his body of work. The period also saw a change of heart from the previously dismissive Cahiers du Cinema, which devoted an entire issue to Melville in 1996.
By Bryce Coleman