share:
Recent DVDs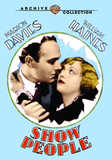 Show People ... Marion Davies has stars in her eyes in this "delightful look at silent... more info $16.95was $19.99 Buy Now
Love & Money ... Byron Levin has two sides. One is Byron the workaday L.A. banker quick to defend... more info $15.95was $17.99 Buy Now
MEDIA:
WATCH MOVIE CLIPS
|
VIEW TRAILER
|
VIEW PHOTOS
|
WATCH A TCM PROMO
| | | | |
| --- | --- | --- | --- |
| Also Known As: | King Wallis Vidor,King W. Vidor | Died: | November 1, 1982 |
| Born: | February 8, 1894 | Cause of Death: | |
| Birth Place: | Galveston, Texas, USA | Profession: | Director ... director actor teacher projectionist studio clerk |
RATE AND COMMENT
BIOGRAPHY
King Vidor's films range across all genres, but they are unified by a concern with the struggle for selfhood in a pluralistic, mass society. Influenced both by D.W. Griffith's realism and Sergei Eisenstein's montage aesthetic, Vidor has come closer to reconciling these strains than any other American director.
Raised in Texas, Vidor shot local events for national newsreel companies before forming the Hotex Motion Picture Company in Houston in 1914. Moving to Hollywood with his actress wife Florence, he supported himself with a variety of production jobs before settling at Universal as a writer. His first directing work in Hollywood was independently produced. He made a series of ten inspirational shorts in 1918, followed by "The Turn in the Road" (1919), an extremely successful feature with Vidor's Christian Science beliefs as thematic material.
After a series of further successes released through Robertson-Cole and First National between 1919 and 1921, the director founded "Vidor Village," a small studio from which he planned to produce independently. The experiment failed, but in the meantime Florence Vidor had become a star, and Vidor directed several films featuring her before beginning work for the Metro and Goldwyn studios in 1922. The merger which created MGM in 1924 also made Vidor a senior director for the company, and his fifth film for the young studio, "The Big Parade" (1925), was a landmark critical and popular success.
"The Big Parade" was the first serious screen treatment of WWI, and its harrowing story of a disinterested heir (John Gilbert) experiencing passion, fear and loss in wartime struck a responsive chord. The film, reportedly one of the most profitable silent films ever produced, made Gilbert a star, vaulted MGM to front-rank studio status and gave Vidor unheard-of creative control.
Vidor's record as a bankable director accounts for the freedom with which he was able to make the unusual urban parable, "The Crowd" (1928). Though a financial failure, the film garnered further prestige for MGM and reinforced Vidor's now international reputation for stylistic experimentation and uncompromising concern for social issues. Subsequent critical milestones were "Hallelujah" (1929), a pioneering black film; "Street Scene" (1931), an adaptation of Elmer Rice's socially conscious drama; and "Our Daily Bread" (1934), the story of a Depression agricultural cooperative, clearly indebted to Soviet montage filmmaking. Notable box-office successes for Vidor were "The Champ" (1931) and "Stella Dallas" (1937). Vidor was instrumental in founding the Screen Directors' Guild in 1936, and alongside John Ford, Frank Capra and Ernst Lubitsch, was a central figure in 30s American filmmaking.
After some three weeks' work on "The Wizard of Oz" (1939) and the spectacular and innovative location Technicolor photography of "Northwest Passage" (1940), Vidor became frustrated with MGM's apparent lack of commitment to his increasingly epochal vision of American life. His "An American Romance" (1944) was drastically cut by MGM and led him to sever ties with the studio where, except for prestigious loan-outs, he had been directing for over 20 years.
Vidor's epic "Duel in the Sun" (1947) pioneered the "adult" western genre, but he quit the project before completion and the final result is the product of several directorial hands, as well as producer David O. Selznick. After his episode of the omnibus film "On Our Merry Way" (1948) was cut by producer Benedict Bogeaus, Vidor signed with Warner Bros. for what would eventually be a three-picture deal. The first of these projects was "The Fountainhead" (1949), which skillfully combined novelist Ayn Rand's radical egoism with the director's own, more quizzical, individualism. The story of an architect's battle with professional and social hypocrisy, the film was among Vidor's most fully realized productions of the postwar period. Although equally striking, "Beyond the Forest" (1949) was thematically bizarre: the tale of a small-town doctor's wife (Bette Davis) and her ambitions ended Davis' 20-year career at Warners amid poor box-office returns and much resentment.
On concluding his deal with Warners, Vidor experimented as an independent producer with two films, "Japanese War Bride" (1952) and, in the same year, "Ruby Gentry"--the last picture to fully manifest his bleak point of view and operatic visual style. His last three features were the inconclusive and bloodless "Man Without a Star" (1955) and the spectacles "War and Peace" (1956) and "Solomon and Sheba" (1959).
Vidor spent his last years producing two short films on metaphysics, lecturing at film schools and retrospectives of his work, and trying to interest producers in various projects, including a film based on his investigation of the 1924 William Desmond Taylor murder case.
Vidor's darkly humanistic vision, accompanied (especially in the 1925-35 period) by a striking and eclectic visual style, made him one of the most influential directors of his time. His oeuvre is as rich, diverse and intelligent as any in the history of cinema.