share:
Recent DVDs
Traffic... TRAFFIC examines the question of drugs as politics, business, and lifestyle.... more info $28.95was $39.95 Buy Now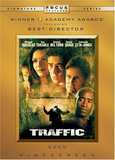 Traffic... Michael Douglas, Catherine Zeta-Jones, Benicio Del Toro. The war on drugs is... more info $11.95was $14.98 Buy Now
MEDIA:
WATCH MOVIE CLIPS
|
VIEW TRAILER
|
VIEW PHOTOS
|
WATCH A TCM PROMO
| | | | |
| --- | --- | --- | --- |
| Also Known As: | Ed Zwick | Died: | |
| Born: | October 8, 1952 | Cause of Death: | |
| Birth Place: | Winnetka, Illinois, USA | Profession: | Producer ... director producer screenwriter journalist author magazine editor |
RATE AND COMMENT
BIOGRAPHY
Often considered to be a throwback to an older Hollywood era, director Edward Zwick was an extremely cerebral director whose movies consistently featured fully rounded characters, difficult moral issues and plots driven on the ambiguity of authority and on individual conscience as the ultimate arbiter of truth. Zwick got his start in television, directing episodes of long-gone shows until he partnered with friend Marshall Herskovitz to produce the Emmy Award-winning drama, "thirtysomething" (ABC, 1987-1991). While enjoying the fruits of his small screen success, Zwick struck a major chord with his second feature, "Glory" (1989), which told the often neglected story of African-American soldiers fighting for the Union during the Civil War. He parlayed this award-worthy epic into a string of financial and critical hits, including "Legends of the Fall" (1994), "Courage Under Fire" (1996) and "The Siege" (1998), before he settled into a producer's role on "Shakespeare in Love" (1998) and "Traffic" (2000). Though he would take more time off between directing projects later in his career, Zwick continued to make epic films that were large in scope while remaining intensely personal, confirming that he was one of the more well-rounded directors working in Hollywood.
Born on Oct. 8, 1952 in Winnetka, IL, Zwick came of age during the Vietnam War, which would later fuel his artistic obsessions with war and the men who fought it. Zwick discovered theater while in high school, where he both directed and acted in school productions, which eventually led to an apprenticeship at the Academy Festival in Lake Forest, IL. Following stints as a writer and editor for both The New Republic and Rolling Stone, Zwick attended Harvard University, where he received his bachelor's in literature in 1974. He was accepted to Harvard Law School, but he instead accepted a Rockefeller Fellowship to study experimental theater in Europe, much to the dismay of his parents. It was while in Paris that Zwick had the most unlikely and serendipitous of encounters - out of the blue, he ran into Woody Allen on the street. Mustering his courage, Zwick introduced himself to the filmmaker and asked if he needed any help. Soon enough, he was Allen's assistant on "Love and Death" (1975).
Back in the United States, Zwick set up camp in Los Angeles, where he enrolled at the American Film Institute to study directing. While there, he directed "Timothy and the Angel" (1976), a short film that nabbed first place at the student film competition at the 1976 Chicago Film Festival. It brought him to the attention of the producers of "Family" (ABC, 1976-1980), who hired him as a story editor in 1976. Over the next four years, Zwick had his first taste of mainstream success as a writer, director and finally producer - in its last season - of the warmhearted drama series. After helming the television movies "Having It All" (ABC, 1982) and the soapy "Paper Dolls" (ABC, 1982), he scored a major critical success with the Emmy-winning "Special Bulletin" (NBC), which marked the beginning of his collaboration with writing-producing partner Marshall Herskovitz. Two years later, they formed Bedford Falls Productions. Meanwhile, Zwick directed episodes of "The Insiders" (ABC, 1985-86) and "The Best Times" (NBC, 1985), before making his feature debut with "About Last Night..." (1986), a rather tepid adaptation of the David Mamet play, "Sexual Perversity in Chicago."
Zwick returned to the small screen for Bedford Falls' first successful venture, "thirtysomething," an Emmy Award-winning drama about a group of baby boomer yuppies who emerged from the 1960s counterculture to become part of the establishment they once railed against. For four seasons, "thirtysomething" was one of the top-rated shows on television, though its focus on upper-middle class problems sparked some ridicule, while its occasional forays into liberal politics earned the producers their share of angry letters. Still, the show made a lasting impression and a lot of money for all involved. Amidst the show's run, Zwick directed his second feature, "Glory" (1989), a stirring and long overdue tribute to the black soldiers who fought for the Union cause during the Civil War. The film firmly established his reputation as a director of scope and ambition. The combative relationship of an unbroken runaway slave (Denzel Washington in an Oscar-winning role) and his boyish commanding officer (Matthew Broderick) who orders him whipped unjustly for going AWOL to find shoes, provided the dramatic heart of the film, which epically portrayed combat in all its horror, with a ferocity matched in previous cinematic recreations only by John Ford's Shiloh sequence in "How the West Was Won" (1962).
With "Leaving Normal" (1992) Zwick attempted "to tell a story that was just as epic as 'Glory', but on the smallest scale - epic in the lives of the people involved, not in the canvas." The female buddy-road movie - following in the tire marks of "Thelma and Louise" (1991) - left many viewers cold, despite Ralf Bode's incredible photography of Canadian vistas. Zwick returned to large brushstrokes for "Legends of the Fall" (1994), a sprawling family saga adapted from Jim Harrison's novella about a retired officer (Anthony Hopkins) and his three sons (Brad Pitt, Aidan Quinn, Henry Thomas) living in Montana and affected by world events - like World War I - and personal tragedies. The director once again proved to be a fine judge of cinematographers, as John Toll walked off with an Oscar for his stunning Montana perspectives. Back on television, Zwick and Herskovitz brought the much-praised "My So-Called Life" (ABC, 1994-95) to the small screen, but failed to repeat their earlier success despite the show's cult following. The show was, however, rebroadcast on MTV in 1995 and made a star of Claire Danes.
Easily oscillating between the small screen and the silver screen, Zwick next directed two features - both starring Denzel Washington. First was "Courage Under Fire" (1996), which employed a multi-voiced structure based on Akira Kurosawa's "Rashomon" (1950) in telling the compelling tale of a career Army officer (Washington) who is wrestling his own demons over his involvement in an accidental death when he is assigned to investigate the death of a female Captain (Meg Ryan). An intelligent, multi-layered story about integrity, personal honor and public hypocrisy, it was easily Zwick's best work since "Glory." He then moved on to "The Siege" (1998), a tantalizing "what if" scenario about martial law following an attempted terrorist takeover of New York City that expanded on Zwick's scrutiny of the military bureaucracy to include that of the FBI and CIA and touched on the concept of blowback, a colorful term to describe the phenomenon of American-trained foreign operatives who come to the United States and exercise their dubious talents.
Zwick would next enjoy a successful string of big screen hits - both critical and commercial - as a producer, helping to shepherd such projects as "Shakespeare in Love" (1998), "Traffic" (2000) and "I Am Sam" (2001). Only the middling thriller "Abandon" (2002), starring Katie Holmes, and the well-received but little-seen "Lone Star State of Mind" (2002) would break his long streak of hits. On the small screen, Zwick and Herskovitz's highly-praised but low-rated relationship drama "Relativity" (ABC 1996-97) disappeared quickly. But their compelling and nuanced drama "Once & Again" (ABC, 1999-2002) starring Sela Ward and Billy Campbell as two divorced parents who fall in love and must mingle their families, was a critical darling that commanded a fiercely loyal audience. Along with launching the careers of young actors Shane West and Evan Rachel Wood, Zwick also appeared on the series in a recurring role as a therapist.
After a five year absence behind the lens, Zwick made a strong return as the director of the Tom Cruise vehicle, "The Last Samurai" (2003), which he also executive-produced and shared screenplay credit with John Logan and Herskovitz. A visually arresting film with samurai battle sequences every bit as impressive as "Glory," the film cast Cruise as a drunken, battle-weary Civil War officer sent to Japan to train the nation's soldiers in Western warfare, only to be captured by the opposing samurais whose warrior code he soon embraces. Though "The Last Samurai" covered much of the same ground as "Glory," Zwick nonetheless crafted a compelling story of a man who regains his honor with the help of those whom he once hated. After another three years removed, Zwick directed "Blood Diamond" (2006), a large-scale thriller about a South African mercenary (Leonard DiCaprio) who teams up with a fisherman (Djimon Hounsou) trying to save his family while on a quest to find a rare pink diamond. After producing the short-lived, but much-hyped twenty-something drama "Quarterlife" (NBC, 2008), Zwick directed the acclaimed World War II thriller, "Defiance" (2008), which told the story of three Jewish brothers (Daniel Craig, Liev Schreiber and Jamie Bell) who vow vengeance for the deaths of their families after narrowly escaping the Nazis.