share:
Recent DVDs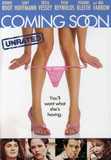 Coming Soon ... When 3 New York prep school friends discover that one of them has never had an... more info $6.95was $9.98 Buy Now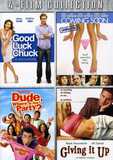 Good Luck... Directed by Mark Helfrich, Christopher Kublan, Benny Mathews, Colette Burson.... more info $9.95was $14.98 Buy Now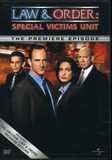 Law & Order:... Christopher Meloni, Mariska Hargitay, Richard Belzer, Dean Winters. The first... more info $16.95was $19.98 Buy Now
MEDIA:
WATCH MOVIE CLIPS
|
VIEW TRAILER
|
VIEW PHOTOS
|
WATCH A TCM PROMO
| | | | |
| --- | --- | --- | --- |
| Also Known As: | | Died: | |
| Born: | | Cause of Death: | |
| Birth Place: | | Profession: | Cast ... |
RATE AND COMMENT
BIOGRAPHY
Well-versed in crafting stylish, glossy images and particularly adept at creating suspense, film director Gore Verbinski made short films and worked on award-winning advertising campaigns - winning four Clio awards, one Cannes advertising Silver Lion, and created the Budweiser Frogs - before moving into film. While making a rather inauspicious debut with the family comedy "Mouse Hunt" (1997), Verbinski propelled himself into the upper echelon of film directors with "Pirates of the Caribbean: The Curse of the Black Pearl" (2003), a wild and fun return to a genre Hollywood had long ago abandoned. Thanks to the swashbuckling derring-do and comically over-the-top turn from Johnny Depp as Captain Jack Sparrow, "Pirates" went on to earn over $650 million in worldwide box office, making it one of the highest-grossing films of all time and giving Verbinski the type of success most directors envy.
Verbinski was born on March 16, 1964 in Oak Ridge, TN the son of a physicist. Like most burgeoning filmmakers, Verbinski ran around with an 8mm camera when he was a kid, filming Monty Python-esque skits with his friends. After graduating from the University of California at Los Angeles in 1987, Verbinski began directing music videos for L7, then switched to commercials, churning out spots for Nike, Coca-Cola and Skittles. After his feature debut with the cartoonish "Mouse Hunt," Verbinski followed with "The Mexican" (2001), an awkward road romance that failed to deliver the sparks expected with its star combo of Julia Roberts and Brad Pitt. Verbinski then gained greater acclaim and exposure after venturing into thrillers with the suspenseful and critically hailed "The Ring" in 2002, a film which solidified the director's future and made a star out of Naomi Watts.
He went on to direct "Pirates of the Caribbean: The Curse of the Black Pearl," which was based on the old Disney theme-park ride and boasted highly stylized direction, swashbuckling adventure and a tour-de-force performance Depp that earned a rare Academy Award nomination for acting in a summer blockbuster film. The movie proved to be a juggernaut at the box office, paving the way for other lucrative sequels. Continuing to demonstrate his versatility, Verbinski's next effort was a completely different kind of project. "The Weather Man" (2005) was a darkly comic, introspective study of a successful Chicago weather forecaster (Nicolas Cage) who struggles with his own mediocrity and his failures to connect with the people who mean the most to him.
Verbinski laid all on the line for his next two projects-"Pirates of the Caribbean: Dead Man's Chest" (2006) and its sequel, both of which were filmed back-to-back. Well, sort of -- about half of the third installment, "At World's End," was shot by the time the second film was released in July 2006. After the first movie became a surprise hit -- even actress Keira Knightley, who played the plucky Elizabeth Swann, had thought the original "Pirates" was doomed to fail -- Disney immediately ordered two more films which Verbinski felt would be best shot one after the other. In hindsight, this was a decision he might have regretted. Working on location in the Caribbean islands, Verbinski had to contend with numerous hurricanes -- particularly Wilma, which was the largest, most intense storm ever recorded in the Atlantic basin -- sick and injured actors, and the typical technical problems that usually plague large-scale shoots. With a budget upwards of $200 million, Verbinski knew a lot was at stake.
Despite the exhausting undertaking, Verbinski remained confident in the movie's potential to do well at the box office and with critics. "Dead Man's Chest" resumed the antic adventures of Captain Jack Sparrow (again played by a morally and otherwise ambiguous Depp) whose quest to find a fabled chest containing the heart of Davy Jones (Bill Nighy) leads him to join forces once again with Will Turner (Orlando Bloom) and Elizabeth Swann (Knightley). Pursued by Jones and his undead crew aboard the fabled Flying Dutchman, Sparrow and company must also deal with ruthless pirate hunter Lord Cutler Beckett (Tom Hollander), whose ambitions as a bigwig at the East India Trading Company threaten the very existence of piracy itself. "Dead Man's Chest" went on to break several box-office records, including biggest single-day gross and biggest opening weekend ever, as it made in excess of $135 million. Verbinski, however, had little time to enjoy his success, as he immediately began shooting the remaining part of the third installment, "Pirates of the Caribbean: At World's End" (2007), the highly anticipated wrap-up to the popular franchise.
Taking a much-needed break from swashbuckling, Verbinski proved that he certainly hadn't tired of his main leading man, working with Depp again on the oddball CGI-animated movie "Rango" (2011), which found the quirk-embracing actor voicing an unlikely chameleon hero to considerable success. Verbinski and Depp's next collaboration, "The Lone Ranger" (2013), however, didn't fair so well. Despite Depp as Tonto and up-and-coming young actor Armie Hammer as the lead, the film tanked at the box office, giving Verbinski the unfamiliar feeling of helming a flop.