share:
Recent DVDs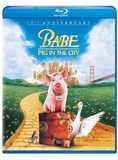 Babe: Pig in... 'Even more imaginative than the original' (The Washington Post), Academy Award®... more info $11.95was $14.98 Buy Now
MEDIA:
WATCH MOVIE CLIPS
|
VIEW TRAILER
|
VIEW PHOTOS
|
WATCH A TCM PROMO
| | | | |
| --- | --- | --- | --- |
| Also Known As: | | Died: | |
| Born: | | Cause of Death: | |
| Birth Place: | | Profession: | Visual Effects ... |
RATE AND COMMENT
BIOGRAPHY
With a keen eye for trends and an insatiable love for pop culture, Andy Cohen helped reshape television viewing in the new millennium. As an executive of original programming and development for the Bravo network, Cohen oversaw the creation and production of a number of hit series, from the groundbreaking makeover program "Queer Eye for the Straight Guy" (Bravo, 2003-07), to the Emmy Award-winning reality competition series "Project Runway" (Bravo, 2004-08; Lifetime, 2008- ). In addition to his work as an executive producer, Cohen also hosted various Bravo reunion specials, including the provocative "The Real Housewives of." franchise (2006- ). In 2009, Cohen's late night talk show "Watch What Happens: Live" premiered, with the witty and charming host providing off-kilter commentary on various shows, trading punch lines with Hollywood's A-list, and interacting with loyal viewers. The top-rated program, much like the slew of others he launched on Bravo, established the hardworking Cohen as one of the most visionary and formative television personalities of his time. He parlayed that fame into best-selling books and multimedia ventures ranging from appearing in a Lady Gaga video to launching his own satellite radio channel.
Born in St. Louis, MO, Andy Cohen graduated from Boston University where he received a BA degree in broadcast journalism. He spent 10 years at CBS News, where he produced entertainment segments. Cohen also produced news features for the network's "48 Hours" (1988- ) and "CBS This Morning" (1987-1999), from the Oklahoma City bombing, to Hurricane Andrew, to the crash of TWA Flight 800. Cohen received his first feature film credit as co-producer of the 1995 Mary-Kate and Ashley Olsen comedy vehicle "It Takes Two." In July 2000, Cohen became Vice President of Original Programming for the cable network TRIO, where he developed original productions such as the critically praised documentary "Gay Republicans" (2004) and the Peabody Award-winning special, "The N Word" (2004). He landed at Bravo in 2005 and began overseeing unscripted series and specials that launched the once-fledgling network into the mainstream orbit. Amongst the series Cohen executive produced was "Project Runway," a reality competition show where aspiring fashion designers vied for a spot in New York Fashion Week and a $100,000 prize. The commercial and critical successes of "Project Runway" and the makeover series "Queer Eye for the Straight Guy" turned Bravo into a pop culture phenomenon with a reputation for fearless programming. Both shows also earned Cohen and his Bravo team multiple Emmy Award nominations for Outstanding Reality Program and Outstanding Reality-Competition Program.
The Bravo network eventually hit Emmy gold with back-to-back wins in 2007 and 2008 for the reality program, "Kathy Griffin: My Life on the D-List" (2005-10), and once again in 2010 for the gastronomic reality competition series, "Top Chef" (2006- ). As the Senior Vice President of Original Programming and Development, Cohen also oversaw creation and production of the network's highly addictive "The Real Housewives of." documentary series. The franchise launched in 2006 with "The Real Housewives of Orange County," which followed a group of well-to-do matriarchs living in the affluent, suburban neighborhoods of Orange County, CA. Cameras followed the permanently tanned and bejeweled cast members as they raised their families, bickered with each other, and shopped-till-they-dropped. The series' runaway success spawned an East Coast version two years later titled "The Real Housewives of New York City." By 2010, Bravo had a total of seven "Real Housewives" series, with installments in Orange County, New York, Atlanta, New Jersey, Washington, D.C, Beverly Hills and Miami.
Even though Cohen's background was in production, he began showing interesting in appearing onscreen around 2007. Bravo president Lauren Zalaznick offered Cohen a job as a Web blogger reporting behind-the-scenes dish from the set of shows such as "Project Runway" and "The Real Housewives." This eventually led to Cohen hosting various reunion specials for the network's hit series. These highly anticipated specials featured hilarious gag reels, never-before-seen clips, and heated confrontations between cast members. One of Bravo's most explosive moments happened during "The Real Housewives of New Jersey" (2009- ) season two reunion special when cast member Teresa Guidice violently pushed host Cohen out of the way in an attempt to throw punches at her co-star, Danielle Staub. The unscripted and unpredictable style of such reunion specials, coupled with Cohen's love for all things pop culture, set the wheels in motion for "Watch What Happens: Live." Hosted by Cohen, the late night talk show premiered in 2009 and incorporated recaps of Bravo series' episodes, interviews with the network stars and A-list celebrities like Sarah Jessica Parker, and viewer interaction via call-ins and emails. The casual, tongue-in-cheek tone of "Watch What Happens: Live" made it a suitable and entertaining supplement to Bravo's provocative programming. In 2010, TV Guide magazine included Cohen in its annual list of the "25 Most Influential People in Television." Cohen began to branch out following this success, publishing the best-selling memoir Most Talkative: Stories from the Front Lines of Popular Culture (2012) and The Andy Cohen Diaries: A Deep Look at a Shallow Year (2014). Cohen's unique pop culture take moved to Bravo's parent network when he took over hosting duties of NBC's New Year's Eve coverage beginning in 2015.