share:
Recent DVDs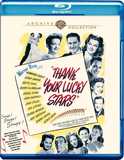 Thank Your... The stars come out to play in the joyous World War ll-era Thank Your Lucky... more info $14.95was $21.99 Buy Now
MEDIA:
WATCH MOVIE CLIPS
|
VIEW TRAILER
|
VIEW PHOTOS
|
WATCH A TCM PROMO
| | | | |
| --- | --- | --- | --- |
| Also Known As: | | Died: | December 21, 1947 |
| Born: | March 21, 1903 | Cause of Death: | |
| Birth Place: | New York City, New York, USA | Profession: | Producer ... producer journalist writer |
RATE AND COMMENT
BIOGRAPHY
A prolific, though largely unsung performer of stage and screen, Randee Heller was a consummate character actress who essayed hard-working, often brassy women, including numerous mothers, teachers, and the occasional judge. But it took a good 40 years to earn her breakout role playing the ancient Miss Blankenship on "Mad Men" (AMC, 2007-15). A veteran of Broadway in the 1970s, Heller moved to Los Angeles at the end of the decade and worked steadily on television and in films, including a turn as one of the first lesbian television characters on "Soap" (ABC, 1977-1981) and as Ralph Macchio's mother in "The Karate Kid" (1984) and "The Karate Kid, Part III" (1989). Decades of small and silver screen appearances followed before she landed the role that brought her to national prominence, playing the elderly, shamelessly inappropriate Miss Blankenship, whose short tenure as Don Draper's secretary brought a sense of madcap comedy to the often gravely dramatic series. Heller's turn earned her a devoted fan base, and proved once again that persistence and talent paid off for those willing to wait.
Born on June 10, 1947 in Brooklyn, New York, Heller relocated with her parents to West Hempstead, Long Island at the age of two. Her career began on the New York stage in the early 1970s, where she was a staple in musicals like "Godspell" and "Grease," playing the brassy Rizzo in the latter. In 1978, she relocated to California and began landing roles on television and in the occasional feature. Her first significant part was as comedian Freddie Prinze's kindly secretary, Carol, in the TV biopic "Can You Hear the Laughter?" (CBS, 1979). But it was her turn as a hapless, near-suicidal lesbian on the controversial sitcom "Soap" generated more attention, though mostly negative due to the character's stereotypical behavior. The unfortunate publicity appeared to have little impact on Heller's career, as she went on to log numerous guest appearances on television in the years that followed, most notably as a series regular on the short-lived sitcom "Mama Malone" (CBS, 1984).
That same year, Heller landed her first hit movie with "The Karate Kid" (1984), which cast her as Ralph Macchio's loving and hardworking mother. Heller would not reprise the role in the film's sequel, "The Karate Kid, Part II" (1986), but did return in a minor capacity for the franchise's third picture, "The Karate Kid, Part III" (1989). Between entries in the series, Heller maintained her steady diet of television appearances, including several stints as a series regular on shows like "Better Days" (CBS, 1986) as a tough English teacher at an inner city school, and the comedy-fantasy "Second Chance" (Fox, 1987), which featured a young Matthew Perry in its cast. Heller worked steadily on the small screen throughout the late 1980s and into the 1990s with occasional forays into features, including a minor role in Warren Beatty's acclaimed political satire, "Bulworth" (1998). In 2000, she earned her most unusual credit to date as Barbra Streisand's mother in autobiographical video segments that screened as part of the singer's "Timeless" concert tour. For the next decade, she appeared regularly on TV and in features until receiving what could only be described as the second act of her career on "Mad Men."
Buried under layers of old age makeup, Heller stole countless scenes as the doddering, seemingly senile secretary Miss Blankenship, who is foisted upon Jon Hamm's Don Draper as punishment for his dalliance with previous assistants. Salty-tongued, humorless and oblivious to basic office politics, Blankenship made her tenure with Draper miserable by failing to announce visitors on time, chastising him for napping in his office and revealing personal details about his day, including visits to the bathroom, to all within earshot. Viewers quickly fell in love with Miss Blankenship, and a Facebook page devoted to her activities lit up with glee after an episode revealed that in her youth, Blankenship was the female equivalent of Draper and earned the nickname "Queen of Perversions." But all good things come to an end, as critics and audiences alike were saddened to see Miss Blankenship quietly expire at her desk in the 2010 episode "The Beautiful Girls." For her indelible performance on the series, Heller received an Emmy nomination for Outstanding Guest Actress in a Drama Series in 2011. Meanwhile, she made more age appropriate guest appearances on other hit shows like "Grey's Anatomy" (ABC, 2005- ) and "In Plain Sight" (USA, 2008-12).
Contributions
Tony Scott ( 2006-05-08 )
Source: The Stars of Hollywood Forever: 1901-2006
Noted journalist and columnist, Hellinger wrote short stories and several Broadway revues and worked with Damon Runyon and Walter Winchell. In 1923 he began working with the 'New York Daily News' writing articles on Broadway, the stars, the soda jerks, the cleaning women and others. He began his film career writing the screenplay for "Night Court" in 1932. He was hired by Warners to work as associate producer on a number of their high profile films of the early 1940s.
albatros1 ( 2007-11-02 )
Source: Wikipedia The Internet Encyclopedia
Mark Hellinger (March 21, 1903 - December 21, 1947) is primarily known as a New York theatre critic and reviewer. The Mark Hellinger Theatre (now the Times Square Church) in New York City is named for him. Produced a number of films including his last film The Naked City (1948), a black-and-white film noir for which he also provided the narration. Hellinger also provided the story for the classic 1939 Jimmy Cagney/Raoul Walsh gangster movie The Roaring Twenties. He based the story on his own experiences during the turbulent decade. In a forward that appears at the beginning of the film, he wrote " It may come to pass that, at some distant date, we will be confronted with another period similar to the one depicted in this photoplay. If that happens, I pray that the events, as dramatized here, will be remembered. In this film, the characters are composites of people I knew, and the situations are those that actually occurred. Bitter or sweet, most memories become precious as the years move on. This film is a memory - and I am grateful for it. Mark Hellinger " Hellinger and his wife Gladys Glad, a cast member of the Ziegfeld Follies, are buried in Sleepy Hollow Cemetery, Sleepy Hollow, New York