share:
Recent DVDs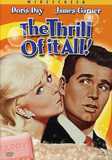 The Thrill of... Doris Day, James Garner. TV commercials, suburbia and daytime soap operas all... more info $8.55was $14.98 Buy Now
The Hurricane ... Denzel Washington. The shocking true story of Rubin Hurricane" Carter, a highly... more info $7.46was $9.99 Buy Now
MEDIA:
WATCH MOVIE CLIPS
|
VIEW TRAILER
|
VIEW PHOTOS
|
WATCH A TCM PROMO
| | | | |
| --- | --- | --- | --- |
| Also Known As: | Norman Frederick Jewison | Died: | |
| Born: | July 21, 1926 | Cause of Death: | |
| Birth Place: | Toronto, Ontario, Canada | Profession: | Director ... director producer screenwriter actor cattle breeder cabdriver |
RATE AND COMMENT
BIOGRAPHY
A consummate craftsman known for eliciting fine performances from his casts, director Norman Jewison addressed important social and political issues throughout career, often making controversial or complicated subjects accessible to mainstream audiences. Jewison transitioned from directing variety shows on television to feature films in the early 1960s, helming several forgettable studio-driven comedies. He emerged later in the decade with the gritty gambler drama "The Cincinnati Kid" (1965) and the Cold War farce "The Russians Are Coming, The Russians Are Coming" (1966). But it was his simple, but superbly acted small-town crime drama, "In the Heat of the Night" (1967), that etched Jewison's name in stone, thanks to an Oscar-winning performance from Rod Steiger and the immortal line, "They call me Mister Tibbs," uttered by co-star Sidney Poitier. Jewison went on to helm the unforgettable adaptation of the Broadway musical "Fiddler on the Roof" (1971) before enjoying counterculture success with his take on the rock opera "Jesus Christ Superstar" (1973). Following the futuristic satire "Rollerball" (1975), Jewison had a series of critical and financial setbacks until the moving drama, "A Soldier's Story" (1984), which he soon followed with the box office smash, "Moonstruck" (1987). He again settled into a bit of a funk until emerging once again with the biopic "The Hurricane" (1999), perhaps his finest work since "In the Heat of the Night." Over the course of his long and venerable career, Jewison managed to keep himself relevant by continuing to tell stories that had universal appeal.
Born on July 21, 1926 in Toronto, Ontario, Canada, Jewison was raised by his father, Percy, who ran a dry goods store, and his mother, Dorothy. After developing a love for film at an early age, Jewison spent his high school years at Malvern Collegiate Institute, from which he graduated in 1944. After briefly serving in the Canadian Navy at the close of World War II, he attended Victoria College at the University of Toronto, where he earned his bachelor's degree and received an honor award for writing and directing several college productions. Returning to Toronto and finding the job market in television wanting, Jewison drove a taxi cab to earn his bread before moving to London, England where he landed occasional work as a script writer for a children's show and bit actor for the BBC while working odd jobs in-between. His long struggle to find consistent television work ended when he received an invitation to join a training program at the Canadian Broadcasting Corporation. Jewison started work as an assistant director and quickly rose up the ranks to director and producer, helming such major variety and comedy programs as "The Big Review" (1952) and "The Barris Beat" (1956).
In 1958, American television network CBS took note of Jewison's talents and hired him to revitalize the weekly live music show, "Your Hit Parade" (NBC/CBS, 1950-59) during its last season on the air. His good work on the show led to several made-for-television specials starring artists such as Frank Sinatra, Danny Kaye and Harry Belafonte. But his biggest contribution to the small screen at the time was directing "The Judy Garland Show" (CBS, 1962), which served as a successful comeback vehicle for the embattled actress and singer. Jewison returned to direct episodes of "The Judy Garland Show" (CBS, 1963-64), an hour-long variety series that materialized from the previous year's hit television special. Disillusioned by the effects of the ratings wars on the quality of television programming, Jewison relocated from New York to Hollywood to helm his first film, "40 Pounds of Trouble" (1963), an updating of the classic "Little Miss Marker" (1934), about a selfish casino manager (Tony Curtis) who adopts a spunky orphaned waif (Claire Wilcox). The film did well enough for Universal Studios to offer him a seven-picture contract, which resulted in his second film, "The Thrill of It All" (1963), a star vehicle for Doris Day and James Garner and scripted by Carl Reiner that became one of the studio's biggest hits that year.
Still under contract with Universal, Jewison continued directing light-hearted comedies, showing no early signs of the socially and racially conscious director yet to come. He helmed "Send Me No Flowers" (1964), which paired Doris Day with Rock Hudson, and worked again with Reiner and Garner for "The Art of Love" (1965), a comedy of errors about a struggling artist (Dick Van Dyke) in Paris trying to fake his own death to make enough money to return home. Growing tired of the lightweight scripts offered by the studio, he eagerly delved into more serious fare after finding a loophole in his contract that allowed him to switch professional loyalties to MGM. Jewison replaced Sam Peckinpah at the helm of "The Cincinnati Kid" (1965), a tense and gritty tale about a New Orleans poker player (Steve McQueen) who challenges reigning champ The Man (Edward G. Robison) to a private game. Jewison reached new creative heights - not to mention achieved full artistic control - with "The Russians Are Coming, The Russians Are Coming" (1966), a farcical take on the Cold War that featured an all-star cast, including Carl Reiner, Alan Arkin and Eva Marie Saint. After winning a Golden Globe for Best Motion Picture - Musical or Comedy, the film earned the director-producer an Oscar nod in the same category.
Ever since his critical and box office success with "Russians," Jewison enjoyed the coveted final cut on his films ever since. He followed with perhaps his most significant film, the pioneering race drama "In the Heat of the Night" (1967), which told the tale of a black Yankee detective (Sidney Poitier) who partners with a racist Southern police chief (Rod Steiger) to solve a murder in a small Georgian town. The dynamic pairing of Poitier and Steiger - the latter of whom won an Oscar for his performance - became one of the most memorable in cinema history, thanks in part to Poitier's famous line, "They call me Mister Tibbs." Meanwhile, the film itself earned top honors at the Academy Awards, winning a total of five awards, including for Best Picture. "In the Heat of the Night" was a landmark film, long remembered for being among Jewison's finest work. Following up, he reunited with Steve McQueen to make "The Thomas Crown Affair" (1968), an action-packed heist flick that was a triumph of style over substance which Jewison called "the only amoral-immoral film I've ever done."
Jewison returned to comedy, albeit with a harder edge, for "Gaily, Gaily" (1969), adapted from Ben Hecht's autobiographical novel of his apprenticeship on a Chicago paper. He made up for that film's lack of commercial success with his next two movies; both of which were adaptations of very successful stage musicals. For the first, "Fiddler on the Roof" (1971), Jewison faced one of the most agonizing casting decisions of his career, turning down both Zero Mostel, who had originated the role of Tevye on Broadway, and his good friend Danny Kaye in favor of the little-known Israeli actor, Topol. He let the press know that he wanted an Israeli Jew who didn't speak English well in order to make the character more believable. His gamble paid off in a big way, as Topol made a distinct and lasting impression as the poverty-laden milkman who finds himself facing challenges to long-held traditions. Filmed on location in Yugoslavia, "Fiddler" received eight Academy Award nominations, including Best Picture and Best Director and earned three, for Best Sound, Best cinematography (Oswald Morris) and Best Musical Scoring (John Williams). The film also raked in the profits while becoming one of the most beloved musicals of all time.
A similar commercial fate awaited Jewison's take on Andrew Lloyd Webber's rock opera hit, "Jesus Christ Superstar" (1973), which he filmed in Israel while managing to simultaneously produce Ted Kotcheff's offbeat Western, "Billy Two-Hats" (1973). Employing a contemporary feel to an ancient story, including Roman soldiers carrying machine guns instead of swords "Superstar" starred Ted Neeley as the rock 'n' roll Messiah who is put to death for claiming he is King of the Jews. Not as cohesive or critically lauded as "Fiddler," Jewison's quirky musical was significant for being a sharp look at the late-1960s counterculture world from which it derived. Proving his flexibility as well as his versatility, Jewison jumped to the future the helm the sci-fi satire, "Rollerball" (1975), which was a pointed critique on modern corporations hijacking both democracy and humanity. His next film, a labor movement political drama, "F.I.S.T" (1978), was a giant flop despite the director's careful attention to detail and casting of Sylvester Stallone as the leader of a fledgling union. Jewison continued on in a similarly disappointing vain, directing a powerful Al Pacino in the otherwise limp legal drama, "...And Justice for All" (1979), and the Goldie Hawn-Burt Reynolds vehicle, "Best Friends" (1982), which bombed at the box office despite both stars being at the top of their game.
Jewison finally turned things around with the socially conscious military drama, "A Soldier's Story" (1984), adapted from the 1981 Pulitzer Prize-winning play by Charles Fuller. A solid whodunit atop a probing look at racism within blank ranks during World War II, the film featured most of its original Negro Ensemble Company cast, including Adolph Caesar in his Oscar-nominated role as the bigoted master sergeant found shot to death on a country road near a Louisiana army base. It also marked Jewison's first collaboration with Denzel Washington, as well as his return to the ranks of Oscar nominees when "A Soldier's Story" earned a nod for Best Picture. Though it had not completely escaped its theatrical origins, the movie was nonetheless riveting and well-received by both critics and audiences. The same cannot be said for his next stage-to-film transfer, "Agnes of God" (1985), a fleshed-out adaptation of John Pielmeier's minimalist Broadway play that was bogged down by a confusing murder mystery. Jewison enjoyed mighty box office at the helm of playwright John Patrick Shanley's original screenplay "Moonstruck" (1987), deftly handling the romantic comedy about a widowed bookkeeper (Cher) married to a man she d s not love (Danny Aiello), only to be romanced by his younger brother (Nicolas Cage). "Moonstruck" was a huge success all around, wining Oscars for Best Actress (Cher), Best Supporting Actress (Olympia Dukakis) and Best Screenplay (Shanley).
With "In Country" (1989), however, Jewison delivered a disappointing treatment of Bobbie Ann Mason's acclaimed novel, despite a fine performance by Bruce Willis as a cynical, shell-shocked recluse and beautifully-handled concluding scenes at Washington D.C.'s Vietnam Veterans Memorial. He served up another disappointing comedy with "Other People's Money" (1991), which starred Danny DeVito as the nefarious Larry the Liquidator, only to fall in love with the daughter-in-law (Penelope Ann Miller) of the company's president (Gregory Peck). Following a three-year hiatus, Jewison reemerged to direct the tepid romantic comedy "Only You" (1994), starring Marisa Tomei as a bride-to-be who leaves her groom at the altar to go search for her true soul mate (Robert Downey, Jr.). He followed with the sappy comedy-drama "Bogus" (1996), featuring Whoopi Goldberg and Gerard Depardieu in a story of a young boy's reliance on an imaginary friend to cope with the death of a parent. Marking a return to the small screen after several decades removed, Jewison served as executive producer of the historical biopic, "Geronimo" (TNT, 1993), which chronicled the rise and fall of the famous Apache chief.
Continuing to find new life in television, Jewison executive produced and directed the "Soir Bleu" segment of the Showtime anthology series, "Picture Windows" (1994). Back in Canada, he executive produced Bruce McDonald's feature "Dance Me Outside" (1994) and then shared executive producing responsibilities with McDonald on the Canadian series, "The Rez," in 1996. On the heels of accepting the prestigious Irving G Thalberg Memorial Award, he helmed the feature-length Showtime documentary "Norman Jewison on Comedy in the 20th Century: Funny Is Money" (1999). But all that he did during the entire decade was just prelude for "The Hurricane" (1999), his masterful, albeit controversial, biopic about Reuben 'Hurricane' Carter (Denzel Washington), a former middleweight boxing champion unjustly imprisoned 19 years for murders he did not commit. Aided by three Canadian activists (John Hannah, Liev Schreiber and Deborah Unger), who helped him earn an appeal that overturned his conviction, Carter is finally released from prison a new and rehabilitated man. A grand tribute to the power of the human spirit, "Hurricane" was surpassed only by "In the Heat of the Night" as being one of Jewison's best films. But it was largely shut out of consideration at the Academy Awards, save the Best Actor nod for Washington.
After directing "The Hurricane," Jewison slowed down his output to a practical crawl, directing only one motion picture in the next decade. He did return to the small screen to helm "Dinner With Friends" (HBO, 2001), an adaptation of Donald Marguiles' play about a seemingly perfect and happy couple (Andie McDowell and Dennis Quaid) who are shocked to hear that their best friends (Toni Collette and Greg Kinnear) are divorcing, forcing them to reexamine both their friendship with the couple and their own marriage. Jewison next directed "The Statement" (2003), a compelling thriller about an elderly man (Michael Caine) whose past as an executioner for the Vichy regime during World War II is revealed in 1992 after a failed attempt on his life necessitates an investigation spearheaded by an aggressive French prosecutor (Tilda Swinton) and a military colonel (Jeremy Northam). While he remained in the public eye by appearing onscreen in several interviews, Jewison remained unofficially retired from the film business, though he emerged in 2005 to release his autobiography, This Terrible Business Has Been Good to Me. In 2010, the Directors Guild of America bestowed upon him their highest tribute when they announced that he would be receiving the DGA Lifetime Achievement Award for his outstanding contributions to motion pictures.