share:
Recent DVDs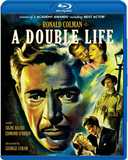 A Double Life ... George Cukor's perfectly mannered direction confidently guides this brooding and... more info $20.97was $29.95 Buy Now
MEDIA:
WATCH MOVIE CLIPS
|
VIEW TRAILER
|
VIEW PHOTOS
|
WATCH A TCM PROMO
| | | | |
| --- | --- | --- | --- |
| Also Known As: | Fay Mitchell Kanin,Fay Mitchell | Died: | March 27, 2013 |
| Born: | May 9, 1917 | Cause of Death: | Natural Causes |
| Birth Place: | New York City, New York, USA | Profession: | Writer ... screenwriter actor playwright |
RATE AND COMMENT
BIOGRAPHY
A celebrated screenwriter and playwright, Fay Kanin began working in Hollywood in the early 1940s in collaboration with her screenwriter husband, Michael Kanin, before branching out on her own in the late 1960s to become an Emmy-winning TV writer. After starting with "Sunday Punch" (1942), Kanin and her husband began to take off in the early 1950s with scripts for star vehicles like "My Pal Gus" (1952) starring Richard Widmark and "Rhapsody" (1953) for Elizabeth Taylor. They went on to write the romantic comedy "The Opposite Sex" (1956) and earned an Oscar nomination for "Teacher's Pet" (1958), starring Clark Gable and Doris Day. In between Hollywood scripts, they wrote Broadway plays like the 1959 stage adaptation of Akira Kurasawa's "Rashomon," which they adapted for the screen as "The Outrage" (1964). With Michael stepping back from his Hollywood career, Kanin moved over to the small screen and won Emmys for the television movies "Tell Me Where it Hurts" (CBS, 1974) and "Friendly Fire" (ABC, 1979). Also in 1979, Kanin became the second woman behind Bette Davis to be elected president of the Academy of Motion Picture Arts and Sciences, a post she served in until 1983. Though she stopped writing for the screen in 1984, Kanin remained heavily active in promoting film preservation and maintaining a strong influence inside the Academy.
Born Fay Mitchell on May 9, 1917 in New York City, Kanin was raised by her father David and her mother Bessie in Elmira, NY, where, as a middle school student, she won the New York State Spelling Championship. She was presented with her trophy by then-Governor Franklin D. Roosevelt. Encouraged to become a writer, Kanin wrote and produced a radio show while in high school and wrote pieces that were published in the Elmira Star Gazette. She went on to earn a full scholarship at the all-female Elmira College, where she wrote, acted and edited her yearbook while keeping up with her studies. Long desirous of a career in Hollywood, Kanin convinced her parents to move to Los Angeles, where she finished her undergraduate studies at the University of Southern California while becoming involved in college radio. Upon graduation, she sought work with the Marx Brothers, but was deemed to be too young. Instead, Kanin landed a job as a story editor at RKO Pictures, where she read scripts, wrote coverage, and soaked up as much knowledge about the moviemaking business as possible.
While performing in a production of Irwin Shaw's "Bury the Dead," Kanin met commercial artist Michael Kanin through a mutual friend, whom she married in 1940. A couple years later, both embarked on screenwriting careers, though his developed faster with his Oscar-winning script for MGM's "Woman of the Year" (1942), the first of the Spencer Tracy-Katharine Hepburn collaboration. Kanin's career was slower to start, but she contributed the story to "Blondie for Victory" (1942), one of the low-budget second feature series based on the popular comic strip, while with her husband and Allen Rivkin she co-wrote "Sunday Punch" (1942), a sports drama about a pair of prizefighters (William Lundigan and Dan Dailey, Jr.) both fighting for love of the same showgirl (Jean Rogers). After appearing onscreen with a small role in "A Double Life" (1947), George Cukor's psychological thriller that earned Ronald Colman the Academy Award, Kanin went to Broadway with "Goodbye My Fancy" (1949), about a female congressional representative renewing past loves, which her husband produced.
Returning to Hollywood in the early 1950s, the Kanins finally developed into one of the more successful of many wife-husband writing teams starting with "My Pal Gus" (1952), a domestic comedy that starred Richard Widmark as a divorced father who falls in love with his son's teacher (Joanne Dru). Kanin and her husband hit a speed bump in the form of the Hollywood blacklist, where a loose association with a group of organized writers led to work drying up for a couple of years. But they were brought back into the fold when Charles Vidor hired them to write the Elizabeth Taylor vehicle, "Rhapsody" (1953), where she played a wealthy young woman who follows her love (Vittorio Gassman) to Zurich, where he trains as a classical violinist at a conservatory. From there, the couple wrote "The Opposite Sex" (1956), a remake of "The Women" (1939) starring June Allyson and Joan Collins, and earned an Oscar nomination for Best Screenplay for "Teacher's Pet" (1958), which starred Clark Gable as a veteran news editor who poses as a student in order to romance a journalism teacher (Doris Day).
After adapting Akira Kurasawa's 1950 classic "Rashomon" for a the Broadway stage in 1959, the Kanins wrote the drama "The Right Approach" (1962) for director David Butler, and returned to the world of "Rashomon" to adapted their play into the Martin Ritt Western, "The Outrage" (1964), starring Paul Newman, Laurence Harvey and Claire Bloom. With Michael's interest in writing for Hollywood on the wane, Kanin went solo and found greater success on the small screen, beginning with the TV movie "Heat of Anger" (CBS, 1972). She went on to win an Emmy Award for "Tell Me Where it Hurts" (CBS, 1974), a drama about a woman (Maureen Stapleton) who wants something more out of life after being a wife and raising children. The next year, she helped launch the career of Jill Clayburgh, who played a prostitute recounting her life to a reporter (Lee Remick) in "Hustling" (ABC, 1975). Kanin followed up as the writer and one of the producers of "Friendly Fire" (ABC, 1979), a heralded TV movie starring Carol Burnett as a mother who challenges the military to get to the bottom of how her son died in Vietnam. Kanin won an Emmy Award for Outstanding Drama or Comedy Special and was nominated for another for Outstanding Writing.
In 1979, Kanin became the second woman behind Bette Davis to be elected as the president of the Academy of Motion Picture Arts and Sciences, a post she held for four terms until 1983. Meanwhile, she went on to form a production company with fellow "Hustling" producer, Lillian Gallo, which yielded "Fun and Games" (ABC, 1980), a drama about a professional woman (Valerie Harper) who sues her employer for sexual harassment and gender discrimination. Kanin next wrote "Heartsounds" (ABC, 1984) for producer Norman Lear, a drama about a woman (Mary Tyler Moore) coping with her husband (James Garner) battling heart disease. After making a brief return to Broadway with the Tony-nominated musical "Grind" (1985), adapted from an unproduced screenplay, Kanin by and large retired from writing and coped with the death of Michael Kanin in 1993. She did remain active behind the scenes in becoming an articulate industry spokesperson on such matters as film preservation while serving as vice president on the Academy's Board of Trustees in 1999. In 2007, she sat on the Academy's Board of Governors until the following year, when she retreated into retirement. On March 27, 2013, Kanin died from unknown causes at 95 years old.
By Shawn Dwyer