DVDs from TCM Shop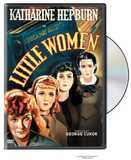 Little Women The four March sisters fight... MORE&nbsp> $9.71 Regularly $14.98 Buy Now
NOTES
An October 1932 Film Daily news item stated that RKO production head David O. Selznick had first assigned John S. Robertson to direct this picture. Both Selznick and director George Cukor left RKO for M-G-M in early 1933. However, Cukor, who had directed Hepburn in A Bill of Divorcement, "owed" RKO a picture, and returned to the studio to work on Little Women. In an early pre-production news item, Hollywood Reporter claimed that production associate Del Andrews and Cukor were writing the script. Although Andrews is credited in studio production files as a contributing writer, no source confirms Cukor's contribution. Production budget records list actor John Davis Lodge as receiving payment for directorial services, but the exact nature of his contribution has not been determined.
According to production files, Billie Burke, Phoebe Foster and Ann Shoemaker were tested for the role of Mrs. March; Florine McKinney, Connie Jones, Helen Mack, Jennie Dark and Adelyne Doyle tested for Beth; Howard Wilson and Richard Houghton were tested for Laurie; and Leonard Mudie was tested for Mr. March. In addition, Betty Furness was tested for an unknown role. Jennie Dark and Howard Wilson appear in the film in small parts. According to various pre-production Hollywood Reporter news items, Dorothy Wilson, Anita Louise, Phyllis Fraser, Florence Enright and Dorothy Jordan were also considered for parts in the film. Of these actresses, only Enright appears in the film. Three-year-old Lily Lodge was the daugther of John Davis Lodge, and Joan Macgowan was producer Kenneth Macgowan's eighteen-year-old daughter. Both made their screen debuts in the film. According to production files, the role of Aunt March was first performed by Louise Closser Hale, but after her death on July 26, 1933, Edna May Oliver took over the role. Production files also indicate that Douglass Montgomery replaced Eric Linden in the role of Laurie. Hollywood Reporter announced that Conrad Nagel had completed a part in the picture, but his appearance in the final film is doubtful. In a modern interview, Cukor states that he decided to cast Joan Bennett as Amy after he saw her "a little tight" at a party.
A contemporary article in Los Angeles Times claimed that the film's budget was $1,000,000 and that 4,000 people were employed over a one-year production schedule. Several months were spent duplicating the book's "locales and incidents," and 3,000 separate items, such as "costumes, furniture and household appliances," were "authenticated" by research, according to the same article. RKO borrowed Hobe Erwin, a former New York artist and interior decorator, from M-G-M for the production. According to the modern interview with Cukor, Erwin modeled the interior of the film's "March house" after Louisa May Alcott's actual Massachusetts house. Cukor also states that the actresses playing the March sisters shared costumes to increase the film's realism. A news item in Hollywood Reporter announced that RKO was borrowing cinematographer James Wong Howe from Fox to shoot the film. Production files confirm that Cukor requested Howe as his cinematographer, but no evidence that he actually worked on the picture has been found. Exterior scenes were shot at the Warner Bros. Ranch, in Pasadena, CA, and at Lancaster's Lake in Sunland, CA. In addition, the exterior of the March home was shot at the Providencia Ranch, Universal City, CA. Although temperatures during production exceeded 100 degrees Fahrenheit, real snow was used for the winter scenes, according to studio files.
During its first week at Radio City Music Hall, Little Women broke theater attendance records and collected over $100,000 in receipts. According to modern sources, the film made RKO a total of $800,000 in profits. The film was nominated for an Academy Award for Best Picture but lost to Fox's Calvacade. Cukor was also nominated as Best Director but lost to Frank Lloyd, who directed Calvacade. Mason and Heerman won Academy Awards in the Best Adaptation category. Film Daily's annual poll of critics honored the film as one of the ten best pictures of 1934. Little Women also won first prize at the Austrian/Vienna film festival, and Hepburn won the 1934 Best Actress award at Cannes.
Modern sources give the following additional information about the production: At the start of the project, Selznick persuaded his executive superiors to maintain the novel's period setting and not update the story. New England-bred Hepburn had costumer Walter Plunkett make a copy of a dress that her late maternal grandmother had worn in a photographic tintype. During the filming of Beth's death scene with Jo, amateur sound men, who had been brought in to replace the regular sound men who were out on strike, were used. Because of their lack of experience, the substitute sound men had to re-record the difficult, emotional scene many times before an acceptable take was achieved. Several scenes with Joan Bennett, who was pregnant during the entire production, had to be re-blocked by Cukor so that her condition was not obvious to viewers. Modern sources credit Harry Redmond with special effects.
Little Women was re-issued by RKO on July 8, 1938. In 1934, Mascot Pictures filmed Alcott's 1871 sequel to Little Women, Little Men , as did RKO in 1940 . The first motion picture adaptation of Alcott's novel was the 1917 British film directed by Alexander Butler and starring G. B. Samuelson. In 1919, William Brady produced and Harley Knoles directed the first American film version of Alcott's novel, which starred Isabel Lamon and Dorothy Barnard (see AFI Catalog of Feature Films, 1911-20; F1.2566). In 1949, M-G-M made a third version, directed by Mervyn LeRoy and starring June Allyson and Elizabeth Taylor. Modern sources state that Selznick, who initiated but did not complete the 1949 production, tried to persuade Cukor to take over directing the film from LeRoy, but that Cukor turned down his offer because he felt that Hepburn, not Jennifer Jones, Selznick's wife and the originally cast star of the re-make, was the definitive Jo March. A "made-for-television" version of Alcott's story, starring Meredith Baxter Birney and Susan Dey, was broadcast in 1978.