DVDs from TCM Shop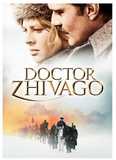 Doctor Zhivago Illicit lovers fight to stay... MORE&nbsp> $20.95 Regularly $24.98 Buy Now blu-ray
USER REVIEWS
See Detailed Ratings
Acting of Lead Performers

Acting of Supporting Cast

Director

Music Score

Title Sequence

Screenplay

Cinematography

Historical Importance

Would You Recommend?

0 Member Ratings
Rate the acting of the Lead Performers

Rate the acting of the Supporting Cast

Rate the Director

Rating of the Music Score

Rating of the Title Sequence

Screenplay

Creatively uses the camera to tell the story

Importance in Cinema history

Would you recommend for fans of this genre
Submit Ratings
Cancel
Write a Review
Read Reviews
NO REVIEWS AVAILABLE
The title has not been reviewed. Be the first to write a review by clicking here to start.
novel story

the movie made me want to look at moments from the book.that is not a negative thing.some people want to say this is not the best work of lean. maybe they are right..maybe they are wrong.the only thing i know is it made me respect the effort and the work of the person who wrote the book and the effort of so many people who made the movie.it is stunning to think we live in a time in which more money will be put in to films without thought.this film..for any complaint..had genuine thought.

Is there no place free from political screeds?

Robert Hutchings

10/26/17

I read the reviews and was very disappointed to see people using this amazing movie to push their own political agenda. True, this movie is set in the era of the Russian Revolution of 1917 and the resulting Civil War. But, that is the BACKDROP for a love story. This movie is not a documentary of communism in Russia. Nor is it a documentary of fascism or democracy or totalitarianism.Beautifully filmed and with great performances from many actors and actresses, this is STORY of a doctor and a nurse who fall in love during a dramatic period in Russian history. The "October Revolution" of 1917 is the setting and the movie presents a believable account of that historical epic. It does not "take sides" in my opinion.Watch this movie for the beauty, the historical backdrop, the music and the acting. You will not be disappointed!

Magnificent

One of the best epic movies of all time. The Russian winter, the musical score the romance and loss all come together beautifully. Omar and Christie look beautiful.

Change the Channel at Intermission

The first half of Dr. Zhivago is pretty good, but then it bogs down in the second half. The lead characters affair as as well as the repetitive theme music become tiresome. I think David Lean has long been overrated as a director and although he had some great films early in his career such as Brief Encounter, his output beginning with Great Expectations consists mainly of overblown "epics" like Dr. Zhivago.

DOCTOR ZHIVAGO

Where to begin, when history is an intricate part of a film? The critique of it and the culture that won't allow history, the film and personal views of reality to be seen as a study in objectivity, makes a review difficult, without including those aspects of a world charged with assimilating history, film and reality. Much of the criticism if this film stems from the time when it was released, the film as much a revelation about politics, specifically communism, as it was about love, poetry, revolution and the aftermaths impact on each. There wasn't one emotion evoked by the movie that a viewer with sensibility could not, connect with, and make their own. Pasternak, lived through those times and knew how to reveal them, through fates and muses, age-old means to convey facts and truth, regardless how cruel, brutal and awesome to one's sense of understanding. I was struck by one reviewer's callous identifying of Dr Zhivago as boring, some such tripe, giving it a C minus as if anyone should care about his caveman, Neanderthal view about love, the meaning of it and the atmosphere in which it is asked to subsist and be nourished, with only the most meager of resources. Communism and an expose on it, have always been difficult for the elitists who find the Marxian nirvana, something beyond criticism, and hushing it, paramount. Those who live in their own realities, have no quarrel with me? It is those who would ask us to live in those realities, who confound and highlight why communism has never worked and will never, for its reality does not include the understanding of human nature, a point the movie made, well. Another sense that is lost on the elitist is the belief that Communism and fascism are on opposite ends of the reality spectrum? They aren't, they are of kindred spirit and sleep with one other, toward ends that deprive man and woman, of free will, liberty and freedom. KS, give people a chance to incorporate things, you haven't the intellect to understand!

Dr. Bizaaro

There's nothing like 'revolution' i.e. where, for over 200 years, the haters of western civilization (now defunct) disabled the physical & mental resistance of their targeted beneficiaries through tortuous executions & total mind laundering- that inspires infidelity on the part of a bourgeois husband/doctor for the circumstantially tragic but voluptuous blonde over his straighter laced brunette wife! Why think, say, or do anything with regard to decency & propriety anymore (a rhetorical question)? K.S. chose an apt adjective in describing 'Lara's Theme'!

Doctor Zhivago

With an array of characters connected with life around Moscow and later the Bolshevik revolution of 1917 we focus on Yuri Zhivago, a medical student and later doctor, and how his life combines with many others when Russia was changing ways. There was Tonya his wife, Lara his love and mistress, Pasha a revolutionary, Yevgraf who is Zhivago's half-brother, the Gromeko's who are Zhivago's step-parents, and others including the girl who we see at the start and may be Zhivago's long-lost daughter. Robert Bolt's screenplay of the Boris Pasternak novel won an Oscar as he worked the many differednt characters during the changing times that took Yuri and his family out of Moscow and eastward toward the ural mountains. This was epic filmmaking by British director David Lean with many of those that helped him make "Lawrence of Arabia" for "Zhivago" was a wintry folk classic of romance and intrigue within the changes of the Bolshevik Revolution in this sweeping epic with Academy Award music and photography. A grand entertainment that gives each character enough stress as this was the "Gone With The Wind" of Russia.

Doctor Zhivago

Epic David Lean film of Pasternak's Russian Revolution story of people getting caught up in the changes taking place. There is Yuri Zhivago and Tonya who he marries and Yuri and his great love Lara who he notices around Moscow and then later when his family is forced out of Moscow. Winner of 5 Academy Awards it beame a huge hit in the mid 60s. The story rambled a bit too long but Pasternak's characters and Robert Bolt's screenplay keep the interest.

Impeccable

There are few films that last and last and last, no matter the era , simply because they put all the elements together into a perfect formation: plot, cinematography, acting, direction,vision, and that elusive quality: the viewer can find something new each time the film is watched.David Lean's Zhivago is so brilliant, ,so alive with humanity, truth, compassion and beauty that it staggers me each time I see it. Lean was the master at composing a shot, and there are so many examples of his craft in Zhavago: the intitial brush -by meeting of Yuri and Lara on the streetcar(sparks flies above on the line), as they watch a stranger running to catch the train and unable, unknown to each other, a moment presages the final trolley scene when Yuri collaspses trying to reach Lara's coach; the slow decaying of the sunflowers in the WW1 hospital, just as Lara leaves at war's ends and Yuri is left without her; the quiet appearance of sunflowers in a corner of Lara's apartment when the as yet unconsummated lovers are reconnected in Yuriatkin; the moment when Yuri views Lara embracing her decadent, corrupting lover ,thru the smoked window of her mother's dress shop, just after her mother has attempted Suicide and Yuri has been called to pump the mother's stomach; the moment when Yuri's Uncle reads the newspaper announcing the Czar's murder and cries out "why" :Yuri's reply,"To show that there is no going back." And on and on and on. For many years I thought "Passage to India" was Lean's greatest accomplishment("Mrs. Moore!") but having re-viewed Zhivago several times, I am convinced that this is his signature film. It still has much to teach us about the fallibility of human beings, about the foolishness of historical platitudes, about the perseverance of love in the midst of loss, the difficulty in determining good from evil, and the importance of finding the trace of beauty in every living moment.Were I a film professor, this would be ever on my list.

Dr ZZZ

My hat's off to anyone who can watch the entire movie. It feels more 60s to me than 19th C Russia. It has some great scenes and some beautiful sets to gaze at but honestly it's a snooze.

zhivago

It's a little better than "Sound of Music," but it's still a film you have to detox from after watching it. It took me about two days to get that cloying "Lara's Theme" outa my head. Cutting an hour and adding some humor might have helped this celluloid monster, but as it is "Zhivago" is one of the great bores of the cinema. Give it a C minus.

My Favorite Movie of All Time

I was in High School when I first saw this movie. I fell in love with everything about it. I have seen it more times than I can count--on TV whenever it's on, rented the movie countless times, finally bought the DVD a couple of months ago through TCM and have watched it three times since. I even ordered the book for my Kindle and I'm almost through reading it (even though it's not much like the movie at all). I especially like to watch it in the summer when it's about 110 outside because it seems to cool things off considerably! This is my most favorite movie of all!

DR. ZHIVAGO

COLDEST Winter in twenty years and WHAT do I find on TCM, DR.ZHIVAGO. True one of the greatest films of the twentieth century, but guys, how about Lawrence OF Arabia, or The Lost Patrol, or Beach Blanket Bingo even, or Elvis in Blue Hawaii. Something. Any Thing with Sun and Sand. IM FREEEEEEEEEZING.

Reply to Randy...

Sir, the song is entitled "Lara's Theme" and it is known as such around the world. It was written by Maurice Jarre. Nobody who has seen this film can ever forget that music! Words were put to it later on and it was recorded by Connie Francis under the title "Somewhere My Love;" however, without the balalaika, it isn't the same.

Dr. Zhivago

This movie was an all time favorite for my wife,( God rest her soul), we never bought the movie, but when ever it was shown on our favorite station we would watch it. We enjoyed the theme music but never knew the title to the tune. If anyone can help with it please let me know. GREAT MOVIE!. Randy.

Outstanding!

When I first read Pasternak's Nobel Prize winning masterpiece, I dismissed it ever being made into a film, as it was so wide-reaching in depth and scope. Leave it to the incomparable David Lean to prove me wrong! This is the grand epic type of film they cannot make anymore, as it is simply too expensive and laborious. A few years later, after viewing the film, I found myself playing bridge in London w/Mr. Sharif. He said he was shocked when he was offered the role of Dr. Zhivago, as so many stars wanted it. Of course, he WAS Zhivago - complicated, gorgeous, a poet. For my money, the real "star" of this film is David Lean. You must have a vision before you begin shooting a film and Lean has always had the clearest conception of the stories he has brought to the big screen. If nothing else, view this film for the spot on historical value it brings. It is simply one of the best films ever made.

THE TINY INDIVIDUAL

Is it mere chance, mere coincidence that our hero here is a poet as well as a physician--a man who simply wants to live his life as an experience in itself? In its weaving together of institutions and individuals, slogans and felt experience, fearand spontaneous passions, mechanical activity and mere human stillness, this film becomes the great big book of life like no other on such a grand scale. And above all it's the best possible film for our time because it reminds us that the moments that count are those that simply refuse to fit into the frenzied chaos of everday life with all of those practicalities and sayings and obligations and mandates and demands that are imposed on us from without. Instead, this gem is all about what's within--the beauty and celebration of things that refuse to kneel down before the purely objective mandates. Here we see a man gazing up at a beautiful tree bending its branches in the freezing Russian air while all around him countless individuals force themeselves into herds in order to implement the latest slogan of political salvation which had its first origins on paper but now finds true objectifiction in the blood-stained snowy streets of downtown Moscow.

David Lean Perfectionist

After 2 trimuphs with legendary Producter Sam Spiegel at Columbia, The Bridge On The River Kwai and Lawrence of Arabia both winning Best Picture Oscars, David Lean went to MGM under the auspices of Carlo Ponti to make one of MGM's greatest hits Dr. Zhivago. Starring Omar Sharif, Alec Guinness and the magical Julie Christie this is one of the best remembered movies of my youth. The scene where Christie looks up and sees Zhivago after years of separation is to me one of the great scenes of all time in movies. Christie is magnficent as Lara. I will always remember Rita Tushingam in this film.Lean and Ponti pulled out all the stops and the superb production values are noteworthy. This was the 2nd biggest hit in MGM's history after Gone With The Wind

Doctor Zhivago

Director Lean's lavish adaptation of Pasternak's novel that won the Golden Globe for Best Motion Picture-Drama. A married poet-doctor falls for a WWI nurse during Russia's turbulent years. Sharif, in a Golden Globe-winning performance, is magnificent as the title character, as are Chaplin & Christie as the two important women in his life, Courteney was nominated for an Oscar for his supporting performance. In total the film won Academy Awards for Bolt's adaptation, art direction, cinematography, costume design & score; literally recreating Russian history authentically. A visually-stunning, engaging & epic story. I give it a 5/5.

"Ah, then, it's a gift"

That last utterance in this epic speaks volumes. Yevgraf's line pays tribute to Yuri, a man who continuously lived in the light when surrounded by darkness. It also shows that a once cutthroat collectivist like Yevgraf had come to regret the devastating decision in his ignorant youth to forsake God for the (always) broken promises of man. This fine film with scintillating cinematography captures the evil inherent in a putrid philospophy and should serve as a cautionary tale for all time. Rod Steiger is especially good as a bad man who does some good things and Omar Sharif is good as a good man who does a bad thing, but this movie (as with countless others) portrays it as good.

A motion picture for the ages

If Omar Shariff and Julie Christy had each only made one movie in their entire acting careers then this was the one. He IS Zhivago. She IS Lara. A masterpiece. I was 15 when this came out and I am still stunned by this extraordinary motion picture. Stunningly photographed!! I am still after all these years in love with Laura. Every role in this film for the ages is brilliantly acted.

One of the Great Love Stories of the 20th Century.

Frank Harris Horn

7/28/10

Oscar-winning director, Sir David Lean goes on location in Spain, Finland and (the former) Yugoslavia to film one of his greatest achievements since "The Bridge on the River Kwai", as he brings Boris Pasternak's world-renowned novel to life on the silver screen. Omar Sharif leads an international cast, as he stars in the title role of Yuri Andreyevich Zhivago, the Russian doctor/poet, and Julie Christie and Geraldine Chaplin are the two women, he falls in love with during World War I and the outbreak of the Bolshevik Revolution. Winner of five Academy Awards including Best Cinematography (Color), Maurice Jarre won for Best Original Score, Best Art Direction-Set Decoration (Color), Best Screenplay Adaptation and Best Costume Design (Color). Listen for the hauntingly beautiful "Lara's Theme" and "Somewhere, My Love". Also starring Sir Alec Guinness, Rod Steiger, Siobhan McKenna, Sir Ralph Richardson, Tom Courtenay, Geoffrey Keen, Lucy Westmore, Klaus Kinski, Rita Tushingham, Jeffrey Rockland, Bernard Kay, Adrienne Corri, Tarek Sharif, JAck MacGowran, Gerard Tichy & Noel Willman.

AN OUTSTANDING FILM

This movie remains as one of the best I have ever seen -- even 50 years later. With outstanding direction, cinematography, acting performances, settings, costumes and of course the score with Lara's Theme makes for a truly outstanding film. Julie Christie and Omar Shariff are stunning in their performance. The give magnetic performances which captures the viewer through the entire movie. I had no problem sitting through this rather long movie, due to such beautiful settings and dramatic performances. I believe the time frame also enhances this, as it is set in Russia during the Russian Revolution -- an exotic country going through dynamic changes which would change all of history. Rarely do you come across such a magnificent film.

May be Lean's technically best movie

I believe Lean is one of the best directors ever. And there are techniques used in this production that are as good, or better, than any of his movies. The editing in this picture is spectacular. Although I will probably always love watching Lawrence of Arabia more than any other film, from a technical point of view this maybe Lean at his best.

Doctor Zhivago

This is a wonderful story but have never seen it on your program. I have seen it several times on Channel 13. Would enjoy seeing it on the TCM station.

A Great Favorite

Lean's films are dependably interesting and well-made, though this is my sentimental favorite. All the elements seem to combine beautifully--music, exotic and stunning locales, performers, sweeping and romantic story. A gorgeous treat!

Play it again and again.

This is one of the best movies ever made. You must show it again really soon.

What a movie

Although this movie is quite long it keeps moving and keeps your interest. Omar Sharif gives such a good performance, one of his better ones in my opinion. This is definitely a must see movie.

Blink or Go Blissfully Snowblind

Rate the title sequence? Really? It's been such a coon's age since TCM showed Dr Zhivago (unless I've missed the ever-looked-for opportunity), I have no recollection of the title sequence off the top of my head.Of the musical score, I have childhood sense memories that will last my lifetime. As will the poignancy of ever so many scenes--sufficient to make the film almost too painful to watch during certain periods when I've found myself particularly vulnerable.Yes, it's longer than an episode of Family Guy, but so gripping I have to purposefully remember to blink my eyelids before my corneas dessicate. So, if you haven't seen Dr Zhivago, you gotta. And personally, I'd love to have it shown as many bazillion times a year as Gigi and Topkapi and a few others that, for the life of me, I don't see the need to run more often than once or twice a year, max.Looking forward to Feb 27, 2009. Thanks, TCM--couldn't live without you.

lean Lean

It may be over 3 hours , but David Lean doesn't endulge like most epics. His vision and point of view are always clean and clear and never sappy - which this story could easily have been handled by a lesser director. Mr. Lean was a true artist. I so enjoyed this movie - great story, beautiful visually and great acting by a stellar cast. My favorites were Tom Courney, Rod Steiger, Ralph Richardson and Cheraldine Chaplin. Let me say something about Omar Shariff. He rarely if ever gets credit as an actor probably due to his astounding good looks. I found his performance quite moving - sweet and simple. This flick is worth its length. Put a Sunday afternoon aside - skip football and watch David Lean's absolutely beautiful DR. ZHIVAGO.

HAS TCM seen the synopsis for this film?

It makes no sense. Run on sentences and confusion. Please redo.

Movie Masterpiece

A simply mezmerizing cinematic achievement by David Lean. This spine-tingling, eye-moistening experience has memorable scenes that is very effective right to this day-- The cinematography is some of the best ever. I'm still touched and moved by this movie masterpiece... . I shed a tear whenever I see this film or even think about it. Even now--

David Lean's Stunning Epic

Michael O'Farrell

5/20/07

It seems as though film critics have always been divided over David Lean's film of "Doctor Zhivago". Although most have been unanimous in their praise of the film's production values, the Oscar winning screen adaptation of Pasternak's novel by Robert Bolt has received the most brickbats. True, Bolt reduced the story to a series of main plot points, eliminating many characters and subplots that filled the Nobel Prize winning author's hefty novel. So if the screenplay was a mere sketch of the book, director Lean, production designer John Box and cinematographer Freddie Young filled in the gaps with some of the most stunning set pieces ever committed to film. The casting of the main protagonists helped immensely: has there ever been a more beautiful pairing of lovers as Omar Sharif and Julie Christie? With a strong supporting cast (dominated by a brilliant Rod Steiger and Tom Courtney) and a memorable music score, "Doctor Zhivago" lives on as both monumental spectacle and affecting love story.

Excellent Drama

Bob Galvin-Oliphant

2/16/06

What a fine David Lean epic, not always appreciated by critics. Julie Christie, Omar Sharif and Rod Steiger are all excellent, giving powerful, emotional performances. Strong visuals add to the magic of this masterpiece.
*We protect your personal infortmation and will not provide it to anyone without your consent. For a complete explanation, please refer to TCM's Privacy Policy. By submitting your contribution, you agree to TCM's Terms of Use.