DVDs from TCM Shop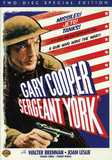 Sergeant York True story of the farm boy who... MORE&nbsp> $19.97 Regularly $26.98 Buy Now
USER REVIEWS
See Detailed Ratings
Acting of Lead Performers

Acting of Supporting Cast

Director

Music Score

Title Sequence

Screenplay

Cinematography

Historical Importance

Would You Recommend?

0 Member Ratings
Rate the acting of the Lead Performers

Rate the acting of the Supporting Cast

Rate the Director

Rating of the Music Score

Rating of the Title Sequence

Screenplay

Creatively uses the camera to tell the story

Importance in Cinema history

Would you recommend for fans of this genre
Submit Ratings
Cancel
Write a Review
Read Reviews
NO REVIEWS AVAILABLE
The title has not been reviewed. Be the first to write a review by clicking here to start.
Too bad...

What a shame this particular airing of this film was so full of technical difficulties. I discovered that TCM, as big as it is, has no provision to take care of reports of technical difficulties. Forum after forum I looked at said the same thing. When it comes to a bad viewing experience due to technological problems, the TCM viewing family may be flat out of luck. What a shame for an outfit that professes being a "family". Why not do something about this? There really is no excuse in this time of such high technological knowledge resources.Thank you. In the meantime, TCM, let's show this wonderful treasure again.

Increasing in importance

I have lost count of the number of times I have watched this film; also, how many copies I have given away. This film is such an excellent example beautifully illustrating the foundational values and principles that made our country great. It would be horrible to lose this vehicle, so beautifully produced, as a teaching tool to show younger citizens what it truly means to be an American and that our country has unique values so worth fighting for. Shame on us if we throw away the foundational values of love of God, love of man, love of country. These values have been and are still worth fighting for. Our Declaration of Independence summarized some of these values as "Life, Liberty, and the Pursuit of Happiness".Oddly enough, this film also beautifully exemplifies the basic principle of self defense; to save lives, not take lives. Watch the film and see for yourself.

Star spangled Americana

This is an incredible period piece. Made at a time when every American kid would have know the story of Sergeant York, it is a patriotic and moral laden film and beautifully acted. It is remarkably true to the life of Alvin York. He represents the hundreds of thousands of Americans who set aside geographic, political, religions and social differences to serve our nation in a time of crisis--1917. And the story helped to trigger a new generation of Americans who were about to be asked to do the very same thing the year the movie came to theatres. It sparked patriotism as the US just as we were forced into war with Japan. The real Alvin York was a proud Democrat, a supporter of FDR and an advocate for military preparedness at a time when isolationism gripped the nation. He often spoke about against Lindbergh and his America First followers. This movie is filled with wonderful character actors who capture and convey life in rural Tennessee in the early 20th Century. Margaret Wycherly is excellent as Alvin's mother and Dickie Moore wins the day as Alvin's younger brother and admirer of Alvin's hard work and values. Walter Brennan plays a very believable rural pastor who helps Alvin find a better path in life. Of course, Gary Cooper hits a home run as the young Alvin who learns to find a direction life and whose deeply embedded values lead him to honor and accolades and military honors. This film reminds us why we are Americans and what unites us especially at this politically divisive time in our history.

Sergeant York

Gary Cooper won an Oscar for playing a pacifist in World War I and then later sees the need of what he should do and during battle rounds up hundreds of German soldiers single handedly. Now we see something of the same in the Mel Gibson film "Hacksaw Ridge". "Sergeant York" is a great war film directed by Howard Hawks with emphasis on Gary Cooper and how he makes sense for himself to become a war hero. Howard Hawks directed many fine war films and westerns and detective films and ranks as one of Hollywood's greatest directors.

History

I saw this movie on Dec 7, 1941. The movie was interrupted to announce the bombing of Pearl Harbor and half the house left.

Sergeant York

I first saw the movie, as a teenager, in 1947,(And have it on VHS and DVD) then read the Alvin York biography, "Last of the Long Hunters", two years later, in my high school library. More recently, I've read York's biography and journal of his military experience on the internet, and visited his grave, farm, mill, etc, in Pall Mall, TN. He refused permission for the movie for many years, until he needed the funds for delinquent taxes, and to fund his agricultural school, in Jamestown. ("Jimtown") He was embarrassed and upset about the highly fictionalized content of the movie, but did agree that it was a well done production, especially the portrayal of of himself Gary Cooper, his own choice for the lead. There were many misleading factors to the movie, the two most important being, that he was a conscientious objector, and that his actually lukewarm religious, "Conversion" was instilled by, "Pastor Pyle", really just a store keeper. His fiance, Gracie Williams, made it a condition of their marriage.

Excellent!

One of my favorite movies! Appreciate it being as true as possible.

Champion of Integrity

Gary Cooper, Top 10 film star, personifies integrity in more than 70 films, as the quintessential American individualist. In the beginning Paramount made him a contract player and notoriously randy A-list actress Clara Bow gave him a role in her picture "It" (1927). The "It-girl" romance made Cooper the original "It-boy." That led to his first top-billing as a hero-cowboy in "Arizona Bound" (1927), then he played with Bow in "Wings" (1927), the first film to win the Academy Award as Best Picture. Additional highlights include Coop's first cowboy talkie "The Virginian" (1929), Frank Capra's "Mr. Deeds Goes to Town" (1936) and "Meet John Doe" (1941), then celebrated biopics "Sergeant York" (1941 Oscar), "Pride of the Yankees" (1942), and "The Fountainhead" (1949, architect Frank Lloyd Wright), plus his Oscar2 in "High Noon" (1952). Cooper codified "Deeds" the character, as an archetype of integrity and innocence in the face of smug, sophisticated charlatanry. Longfellow Deeds, a small-town Vermonter inherits a fortune, then beats NY City's lying lawyers and grifters. "had to symbolize incorruptibility, and in my mind Gary Cooper already was that symbol," Capra wrote. His intuition paid off with a hit, earning Cooper his first Oscar nomination for Best Actor. Director Howard Hawks has Cooper, as Sgt. Alvin C. York, the World War I hayseed-pacifist drafted into the U.S. Army, overcome conscientious objections and capture a German Army company single-handed. "Sergeant York" earned 11 Oscar nominations. Cooper won his first, Best Actor Oscar, playing Mr. Integrity, Alvin York.

HAIL HOWARD HAWKS !

As any serious scholar or student of the studio system in Hollywood's heyday knows, Howard Hawks is in the top 3, of the most successful directors. Intelligent people worldwide are still fascinated by John Ford's westerns. Alfred Hitchcock's suspense-filled mysteries intrigue five-generations of the intelligencia. Rivaling these two aces, is the ace of aces among world-class film directors, Howard Hawks. He created more 4-star films (the highest of ratings among most critics) in many more genres than any other director in the history of film. Howard Hawks is famous as a movie-making maverick with a distinctive talent for creating sassy female characters that enchant male bosses. Please consider his hits: "A Girl in Every Port" (1928), "The Dawn Patrol" (1930), "The Crowd Roars" and "Scarface" (1932), "20th Century," "Barbary Coast," "Bringing Up Baby," "Only Angels Have Wings," "His Girl Friday," "Sergeant York," "Ball of Fire," "Corvette K -255,", "To Have And Have Not," "The Big Sleep" (1946), "Red River" (1948), "A Star Is Born," "I Was A Male War Bride," "The Thing From Another World," "The Big Sky," "Monkey Business," "Gentle Prefer Blondes," "Rio Bravo" (1959), "Hatari" (1962), and "El Dorado" (1967). Twenty-three successes. Who else compares to this heroic champion, across so many different genres, among film directors? Hail Howard Hawks!

Still love this film!

What a great film this is. What a great role model for a great American Alvin York was. This film is a "must see" for everyone, especially, young people. Please keep showing this terrific gem of a film every year.

sgt. york.

I had the honour of meeting some of the York family (sorry not Alvin) at Friendship Indiana during the National Muzzle Loading Rifle shoots, some years ago. Lovely, hospitable, friendly people, as were all the people I met there. BUT! Don't cross them ,Don't make them angry, and Respect there privacy. No exaggeration, they can shoot the eye out of a needle at 200 yards in the dark, Just like in the movie, with a flintlock or percussion rifle or pistol. and can the ladies cook. All you have to do was say hello, strike up some friendly conversation and the next thing you know you've been invited for supper, at there camp site. It doesn't get any better than this. Love the movie . one of the best Anti war films ever made, without slandering the Americans. The message is so clear. We don't want a war, but if were pushed into it, look out. The only thing I found over the top in the movie, was the exaggerated way they spoke to each other, with the shuckins ,gollys and derns and setch. Other wise a great film.

Not so bad

I didn't hate this movie, but I found it to be a little long. Gary Cooper was an amazing actor, and well deserved his Oscar, but he looked much too old for the role. The question that I came away with: just what was that thing on Walter Brennan's head?

A great great movie!

This is a top 5 all time movie and I can see building a case for number 1. This is a powerful movie with a powerful theme. We all need to live a life with roots that we can believe in and there are many scenes with real humor that keep the movie moving along. The best fact is that it helped get us prepared for fighting for our country in WWII.One minor fact that I find very interesting is that Dickie Moore, June Lockhart and Joan Leslie are all about the same age. The first time I saw it, I thought there was at least a ten year age difference. I would love to interview the 3 of them today about the effect the movie had on their lives.

Seargant York

I give the movie a 6 Star! The main crew was excellent, and thismovie was so moving that you almost can feel the innocence ofSeargant York. I would watch this movie over and over again! ThanksTCM for showing it! TJ

G.r.e.a.t !

I've lost count of the number of times I've watched this wonderful film. The best part of it is that the story is a true one. Love it, love it, love it. What a treat whenever you show it. I cannot imagine anyone but Gary Cooper playing the lead. Walter Brennan played a great country preacher, also.

Brilliant

One of the best films ever made and still remember how good it was 60yrs after watching it

Sgt. York and the meaning of being an American

Sergeant York is one of those 30's and 40's movies about what it is to be an American. Comparable works are Knute Rockne, All American (which, like Sgt. York, has some religious themes); and war propaganda pictures Wake Island, Bataan, Guadalcanal Diary, and chronological outliers The Gallant Hours (1960) and Midway (1976). Sgt. York has obvious themes of freedom of religion and freedom of conscience. As would be needed as the United States approached entry into World War II, York's pacifist convictions are overcome by the greater good of defending his country, and frankly, fighting Evil. He is not forced to reach this conclusion; he reaches it of his own Free Will. Cooper's somewhat stiff, wooden performance is actually perfect for the character of York, who is a backwoodsman, not some kind of sophisticate. Walter Brennan in particular renders an outstanding supporting performance. The only movie I can recall that had this kind of organic integration of character development with the war action is The Fighting Sullivans, a largely forgotten and underrated film. The common theme of Sgt. York, Bataan, and so forth, and including Midway, is that the American thinks for himself, sizes up the situation, at times improvises, and ultimately triumphs due to moral righteousness mixed with cool calculation. This is a formula which works for the two World Wars, which had unambiguous sides, and interests; it works less well in a post VietNam War environment (see Kubrick's Full Metal Jacket). Nonetheless, you have to admit, there are giants on whose shoulders we stand; Sgt. York among them.Sgt. York and films like it serve to remind of the sacrifices given for the freedom we enjoy.

Great Wartime Propaganda

The only thing wrong with this movie is Gary Cooper giving another fence post performance. They said actors had trouble acting with him on set because he seemed too wooden, they were getting nothing back from his. Directors said that his performance was only visible on film.I seem to be the only person who can't "see" that special Gary Cooper "spark". Handsome man, excellent in light comedies, but to me his dramatic performances are painful to watch.

Sergeant York

A grand film to build the U.S.A's morale into going into WWII. Cooper won a well deserved Academy Award for playing the real- life war hero. His performance is enough to make this film great. Excellent story combined with Hawks' direction makes this a classic. A great war film from the library of Hawks films. I give it a 4.5/5.

BEST EVER!

BEST MOVIE EVER MADE ! SIMPLE AS THAT !

sergeant york

this is in my opinion one of the greatest movies of all time, gary cooper was a great actor, i love this film i could actually watch it over and over again go coope go.

Sergeant York

VexingConfection

12/31/10

With the understanding, Sergeant York is not a factually accurate movie, it still needs to be seen. The few minor details which were glamourized and neglected, however; are trivial. Sergeant York remains a true American hero of the highest caliber whose distinguished service to our nation was not only his time in uniform but the legacy of his life and choices.No one but Gary Cooper could have played this role. Motivational, patriotic, beautiful-I weep.Just never in front of anyone at the VFW- ;)

sergeant york

Wonderful overall movie,my personal favorite of all time!Storyline,cast,characters,and add that it's almost a documentary in the aspect of not straying far from the actual events that shaped this fellow Tennesseeans life.His modesty,character,patriotism,and most of all,his unwavering faith shine through from Alvin(Cooper)and Pastor Pyle(Brennan),to Mother York(Wycherly).Hailing from rural Tennessee,I can attest to the accuracy of the mannerisms and dialects,as well as the scenery.Nothing lacking in this movie for old and young!

Sergeant York

I fell in love with Gary Cooper at the tender young age of 5. This movie is so wonderfully done! It's one of my favs of Mr. Coopers!

Love this movie!

Liz in love with classics

5/25/09

I finally came to appreciate movies of this genre when I saw Gary Cooper in Sgt. York. It's not just a war movie. The establishment of character in the beginning of the movie sets it apart from other war movies. And, yet, it all flows so well together. Cooper's stature truly helps him to bring forth the ideals of this upstanding young man. The inner turmoil is evident, but not overpowering. This is one of the few war movies I will watch repeatedly. A fine choice for Memorial Day, TCM. You couldn't have picked a better movie!

one great story

in my opinion seargent york is one of the top greatest stories ever told. gary cooper is exelent as alvin york i can see why the real mr. york requested that cooper play the role of alvin york, i can honestly say that i can never tire of this movie, i am a big gary cooper fan love him in all films i have seen him in and sergeant york is my favorite cooper movie

Superb movie!

I finally got the opportunity to watch this all the way through on TCM, and I am so glad I did! This is one of the best movies I have seen in a long time! Gary Cooper was a very likeable man, kind & unassuming & modest. He is the kind of person every man should aspire to be like. I love the beginning, when he tries to get a piece of "bottom land", and his trials in doing so. Thankfully, he is converted, and this really shows in his upstanding character & conviction. This is a true gem of a movie, and one I will continue to highly recommend!

One Of My Favorite Movies

I've been a fan of this classic for almost twenty years. There is not much that hasn't already been said, but its message is timeless and is a true bona-fide classic.

A fantastic movie!

Sgt. York belongs in the pantheon of great American war films. Like other reviews, this film needs to be re-released on DVD. It is as relevant today as it was the day it was released. Sadly, Hollywood doesn't make movies like this anymore. Watch this film and you'll understand why Gary Cooper and Walter Brennan are some of the best actors in Hollywood history. I love this film.

Best movie ever.

Makes you won't more.

Please release Sergeant York!

Quite simply one of the finest films of all time and not a part of my DVD collection. Please release this film on DVD.

Is a must that you release this outstanding movie

I will tell you that every time i know that this movie is being shown on TV Im there ready to watch it and enjoy a truly remarkable story about a humble man that wants peace, and a piece of the american dream: a wife and a home. My wife and I love this movie i actually got her hooked on the story and once she saw it she was like "wow" please release this movie as soon as you can dont get me wrong Audie Murphy to hell and back is great also but i believe that Sgt York compared side by side with To hell and back is a no brainer Sgt York captures an essence of the natural way of things feels more real.

This movie needs to Be realeased!

This movie was to have been a staple while I was in Iraq for myself and the rest of my unit. We unfortunatelty were unable to enjoy this incredible movie due to it's not being released when we were told it would.

Release this movie on DVD soon please!

This movie Sergeant York is a true piece of americana rarely seen in these times. This is not just another old war movie,actually it's a story of love and levity, in another era, posing some of the same questions of war posed today! It's a true story set back in the hills about a God fearing family and the many life lessons they are faced with in pre WWI rural america. Many fine actors portray these roles in a movie that will touch your heart and your mind like no other! One of the greatest movies ever made!

Sergeant York Needs to be put on DVD

I watched this movies for the first time a thought it was awesome. I would be first in line to buy this movie.

Needs to be released on DVD

This is no doubt one of the best movies ever made. It has a great story line, terrific acting, and shows why this country is so great. Anyone wanting to see a heartwarming, entertaining movie they will watch again and again needs to see this. I have this movie on laser disk, which is an excellent transfer, but I am disappointed it has not been released on DVD.

The best movie ever made

I bought this movie about 10 years ago by searching the net, I have it on vhs and love it so much that I am now trying to get it on dvd because im afraid that I am wearing out the vhs , It is a gem .I LOVE IT

One of my favorite movies!!!

I love this movie so much. My boyfriend has never seen it and I know he'd love it too. I can't wait for it on DVD.

What an exciting movie

Sergeant York is a Brilliantly written movie. We would love to add it to our collection. We very much appreciate movies like this. The actors were wonderful. Everything was very impressive. I wish there were more movies with true meaning, so little have that anymore.

What a great film...

This film is such a magnificent, heart-warming movie. There aren't many movies made these days that can elicit such heart-felt emotion as the films of yesteryear. Everyone nowadays, it seems, depends so much on the power of "special effects" to carry a movie through, they lose sight of the "potential" made possible by a simply great storyline, along with the "magic" emanated through the performances of some "truly gifted" actors. This "classic" carries itself by the sheer virtue of the latter. A phenomenal "anti-war" parable reflecting the actual introspective of a character based in fact.
*We protect your personal infortmation and will not provide it to anyone without your consent. For a complete explanation, please refer to TCM's Privacy Policy. By submitting your contribution, you agree to TCM's Terms of Use.