DVDs from TCM Shop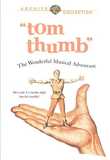 tom thumb A six-inch-tall boy takes on a... MORE&nbsp> $14.95 Regularly $17.99 Buy Now
NOTES
DVDs from TCM Shop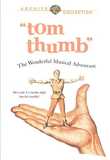 tom thumb A six-inch-tall boy takes on a... MORE&nbsp> $14.95
Regularly $17.99 buy now
The literary source credit card reads: "Based on a story from the pen of the Brothers Grimm." German writers Wilhelm and Jacob Grimm created their tale, "Daumesdick," around a well-known European folk character. An earlier use of the tiny man known as "tom thumb" was in the late 17th century fairy tale in French author Charles Perrault's collection Tales of Times Past: or Mother Goose Tales (Paris, 1697).
The film differed somewhat from the popular Grimm's fairy tale,which featured tom convincing his father to sell him to two traveling men in order to have adventures. Tom experiences hiding in a hole with a mouse, being swallowed by a cow and later a wolf, yet he returns home safely. The Perrault story also took liberties with the original tale, featuring an Ogre that terrorized tom's family. In that story, tom was the youngest of seven children.
A June 1957 Hollywood Reporter news item stated that, in addition to Peggy Lee, Fred Spielman and Janice Torre, songs for tom thumb would be written by Dave Barbour. In August 1957, another Hollywood Reporter item added songwriters Clarence Wheeler and Irving Bibo, but their contribution, if any, to the released film has not been confirmed. Principal photography took place in England at M-G-M's British Studios in Boreham Wood, Elstree. Hollywood Reporter news items revealed that producer-director George Pal and several members of the production also shot a portion of the film in Endhoven, Holland in December 1957. According to Hollywood Reporter in May 1958, Pal photographed background shots in Mexico. As noted in an Los Angeles Times article, tom thumb marked the return to the screen, after a fifteen-year absence, of British music hall star Jessie Matthews. Her previous film appearance was in the 1944 British production, Candles at Nine. Following tom thumb, Matthews did not make another film until 1977 when she appeared in The Hound of the Baskervilles. The Los Angeles Times article also credited Matthews as singing the film's title song, but the music played over the opening and closing titles is instrumental. tom thumb marked the American film debut for famed British comedian Peter Sellers (1925-1980), who had previously acted in several British films.
Hollywood Reporter casting lists added the following: Zack Matalon, Terry Skelton, Ann Delaney, Ann Lascelles, Peter Perkins, Tutte Lemkow, Ian Wilson and Sheldon Lovely, but their appearance in the finished film has not been confirmed. tom thumb won an Academy Award for Special Effects. Several films, both feature length, shorts and animated shorts feature the character of "tom thumb," including two French films from Path Freres, one released in 1906 and another in 1909. A July 1958 Daily Variety article noted that Mexico's Clasa Film Mundiales produced a film version of the Perrault fairy tale, Pulgarcito. That film was released in 1958 in foreign markets, but was not distributed in the U.S. until 1967.