DVDs from TCM Shop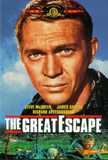 The Great Escape Thrown together by the... MORE&nbsp> $7.46 Regularly $9.98 Buy Now blu-ray
Trivia
Paul Brickhill, who wrote the book from which the film is based, was piloting a Spitfire aircraft that was shot down over Tunisia in March 1943. He was taken to Stalag Luft III in Germany, where he assisted in the escape preparations.
The film was shot entirely on location in Europe, with a complete camp resembling Stalag Luft III built near Munich, Germany. Exteriors for the escape sequences were shot in the Rhine Country and areas near the North Sea, and 'McQueen, Steve' 's motorcycle scenes were filmed in Fussen (on the Austrian border) and the Alps. All interiors were filmed at the Bavaria Studio in Munich.
When the Bavaria Studio's backlot proved to be too small, the production team obtained permission from the German government to shoot in a national forest adjoining the studio. After the end of principal photography, the company restored (by reseeding) some 2,000 small pine trees that had been damaged in the course of shooting.
For the train sequences, a railroad engine was rented and two condemned cars were purchased and modified to house the camera equipment. Scenes were shot on the single rail line between Munich and Hamburg, and a railroad representative was on hand to advise the filmmakers when to pull aside to avoid hitting scheduled oncoming trains.
During the climatic motorcycle chase, Sturges allowed McQueen to ride (in disguise) as one of the pursuing German soldiers, so that in the final sequence, though the magic of editing, he's actually chasing himself.
Contributions
Holz (2007-03-08)

Source: http://en.wikipedia.org/wiki/Focke-Wulf_Fw_190

In the classroom scene where Donald Pleasence (Blythe) is describing birds, he draws and explains "The Butcher Bird". Ironically, this was the name of a Luftwaffe fighter which may have shot down some of the airmen who were prisoners. The Focke-Wulf Fw 190 Würger ("shrike"), often called Butcher-bird, was a single-seat, single-engine fighter aircraft of Germany's Luftwaffe, and one of the best fighters of its generation.