DVDs from TCM Shop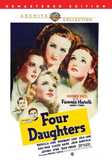 Four Daughters A small-town family's... MORE&nbsp> $14.95 Regularly $17.99 Buy Now
FULL SYNOPSIS
DVDs from TCM Shop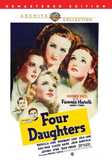 Four Daughters A small-town family's... MORE&nbsp> $14.95
Regularly $17.99 buy now
Music professor Adam Lemp has four daughters, Thea, Emma, Kay and Ann. Thea feels that love is an overrated reason for marriage and plans to marry Ben Crowley for money. Emma is loved by shy, awkward Ernest, whom the family assumes she will marry. Kay, the only one of the four to have real musical amibition, is a singer. The youngest, at eighteen, is irrepressible Ann, who pledges with Emma that neither will marry, but will live together forever. This changes with the arrival of handsome Felix Deitz, a composer who has come to town to compete for a music prize. Adam invites Felix to live at the house, and all the girls immediately develop crushes on him. Mickey Bordon, a piano player, arrives to assist Felix in writing his compositions. Mickey has a glum attitude that offends most people. Only Ann and the girl's aunt Etta see through his moroseness to the lonely person underneath and befriend him.

During a family excursion to the country, Felix proposes to Ann. When they announce their engagement, Mickey, who also loves Ann, is shattered and the other sisters are taken aback. Kay declares that she is leaving for Philadelphia to study singing. Thea, in turn, tells the family that she and Ben will also marry soon. Emma is the most upset, but she hides her feelings from Ann. Shortly before her wedding, Ann encounters Mickey, who confesses his love and informs her that Emma is in love with Felix. Ann is shocked. Then, thinking she can make both Mickey and Emma happy, she elopes with Mickey, leaving Felix for her beloved sister. Emma and Felix do not marry, and shortly afterward, he leaves for Seattle.

In New York, where they settle, Mickey and Ann face constant disappointments. Hoping to lift Mickey's spirits, the couple returns to the Lemps' at Christmas time. Everyone is home except Kay, who is singing that evening on the radio. Even Felix is visiting for the holidays. Emma tells Ann that she is engaged to Ernest, having fallen in love with him when he took care of the family after the elopement. Mickey notices that Ann and Felix are still in love, although they do their best to hide it. He offers to drive Felix to the train station and agrees to drop Ben along the way. On the way home, Mickey drives the car into a tree. When news of the accident reaches the Lemp home, Thea believes that Ben is the one who was injured and realizes that she loves him. The whole family races to the hospital, where they learn that Mickey is dying. He and Ann say their goodbyes. In the spring, Felix returns to the Lemps' to renew his proposal to Ann.