DVDs from TCM Shop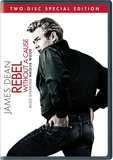 Rebel Without a Cause An alienated teenager tries to... MORE&nbsp> $12.95 Regularly $19.94 Buy Now blu-ray
Articles
SEE ALL ARTICLES
Rebel Without a Cause (1955)
SYNOPSIS

Teenager Jim Stark (James Dean) struggles to make sense of his middle class upbringing and the gnawing restlessness within himself, made worse by a mother and father completely out of touch with his problems and concerns. As the new kid at the local high school, Jim is treated like an outsider but he eventually finds a kindred spirit in fellow students Judy (Natalie Wood) and Plato (Sal Mineo). The three form an unconventional "family" of their own but their strong bond only temporarily brings them love, acceptance, and security before outside forces tear them apart.

Director: Nicholas Ray
Producer: David Weisbart
Screenplay: Stewart Stern from an adaptation by Irving Shulman and a story by Nicholas Ray
Cinematography: Ernest Haller
Production Design: Malcolm C. Bert
Music: Leonard Rosenman
Cast: James Dean (Jim), Jim Backus (Dad), Ann Doran (Mom), Virginia Brissac (Grandmother), Natalie Wood (Judy), William Hopper (Judy's Dad), Rochelle Hudson (Judy's Mother), Corey Allen (Buzz), Sal Mineo (Plato), Dennis Hopper (Goon), Nick Adams (Chick).
C-111m. Letterboxed.

Why REBEL WITHOUT A CAUSE is Essential

One of the cinema's most enduring, masterfully-directed troubled-youth pictures, Rebel Without A Cause (1955) launched James Dean's career even as it signaled its abrupt end. Released just one month after Dean died in a car accident near Paso Robles, California at the age of 24, Rebel Without A Cause captured both the young star's astounding screen magnetism and tinderbox emotions, as well as the angst of an entire generation.

In Rebel Without a Cause, Dean embodied the 1950s conflict between American youth and their parents. It was a conflict marked by various symptoms of social unrest - drugs, violence, sexual promiscuity, anxiety over the future, and alienation. More than some predecessors, like Blackboard Jungle (1955), confined their juvenile delinquents to a specific place (an inner city high school). Rebel Without a Cause presented troubled youths that could have lived right next door to Ozzie and Harriet.

Taking his cue from the current pop culture fixation with the juvenile delinquent, director Nicholas Ray found his inspiration for Rebel Without A Cause in the true account authored by Dr. Robert Lindner, of a young criminal being treated in Pennsylvania's Lewisburg Federal Penitentiary. But Ray went his own way when it came to adapting Lindner's tale of a teen sociopath to the screen, treating their problems with insight and empathy and investing his teenage characters with a greater emotional depth.

Ray claimed that he wanted Rebel Without A Cause to work beyond the juvenile delinquency newspaper headlines and films of the day, like The Wild One (1954). Instead, Ray strove for a classical tone, and claimed Romeo and Julie as inspiration, "the best play written about 'juvenile delinquents.'" Ray said.

Ray cast the then relatively unknown James Dean, who had distinguished himself in TV but had yet to make a mark in film (though his star-making performances in East of Eden (1955) and Giant (1956) were about to reach the screen), as the charismatic, vulnerable, terminally misunderstood teenager of the title. Natalie Wood, who has proven so enduringly luminous and tragic as Judy, was initially rejected for the role of Jim Stark's girlfriend because of her previous fame as a child star. But Ray soon changed his mind about Wood's goody two-shoes image when she was involved in a car crash with some other Hollywood hooligans like DennisHopper, and convinced the director she was more than just a pretty face. The casting of Sal Mineo as the fragile, troubled Plato was equally fortuitous considering Mineo's own recent expulsion from his Bronx high school for running with some young toughs.

Ray and Dean shared not only a passion for "reefer" and a common past as struggling actors, but possessed a more uncommon spiritual affinity. Trusting in Dean's vision, Ray gave free rein to the actor to interpret the script as he saw fit and to improvise both acting and dialogue in the film. The cast often took its cues not from Ray, but from the Method-acting entranced Dean who later confessed that Rebel Without A Cause "used me up. I could never take so much out of myself again."

Since its October 1955 release, Rebel Without A Cause has become one of the archetypal films of teenage angst, an enduring hit with successive generations and a harbinger of things to come in the tumultuous Sixties. The fact that all of the film's stars, Nick Adams, Dean, Wood and Mineo died tragically and early has also lent a mystique to this powerful, groundbreaking film that continues to this day.

by Felicia Feaster and Scott McGee
back to top
---
Rebel Without a Cause (1955)
Nicholas Ray "wanted a Romeo and Juliet feeling about Jim and Judy, and their families. Romeo and Juliet has always struck me as the best play written about juvenile delinquents."

Rebel Without a Cause was released in France as La Fureur de Vivre (The Fury of Life) and in Germany as Denn Sie Wissen Nicht Was Sie Tun (For They Know Not What They Do).

Rebel Without a Cause gave birth to a whole movie subgenre- the juvenile delinquent film, which includes such colorful titles as Teenage Doll(1957), T-Bird Gang (1959), High School Confidential (1958), and even I Was a Teenage Werewolf (1957), in which an angst-ridden Michael Landon seeks help for his uncontrollable anger through hypnotherapy, unwittingly unleashing the beast within.

Director Tony Richardson's 1962 British drama The Loneliness of the Long Distance Runner is also known in Europe as Rebel With a Cause.

In addition to James Dean's premature death, Sal Mineo and Natalie Wood all met tragic fates. Sal Mineo was murdered in West Hollywood in 1976, while Wood mysteriously drowned in Catalina Bay near her yacht in 1981. Nick Adams died in 1968 at the age of 41 from undisclosed reasons.

by Scott McGee
back to top
---
Rebel Without a Cause (1955)
In the late summer of 1954, director Nicholas Ray proposed a film about juvenile delinquency to Warner Bros. executive Lew Wasserman, based on the recent box office success of two juvenile delinquency films, The Wild One (1954) and Blackboard Jungle (1955). Luckily, Warner Bros. already owned such a property on which Ray could base his film.

Rebel Without a Cause was initially based on Dr. Robert Lindner's book by the same name, a 1944 true case history of a juvenile delinquent named Harold. Because the case addressed topical issues of interest to the general public like the then-unusual practice of hypnotherapy and teenage sexual mores, the studio bought the screen rights in 1947.

Long before Nicholas Ray's involvement in the film, however, the project was originally offered to Marlon Brando. When he turned it down, the property was shelved.

The Rebel Without a Cause project began in earnest when Nicholas Ray submitted an original 20-page treatment called "The Blind Run" to Warner Bros., who offered to buy it for $5,000.

After submitting a story treatment, Nicholas Ray sought a collaborator for the screenplay. Novelist Leon Uris was brought on board, but his vision did not gel with Ray's, so Uris left. Writer Irving Shulman then entered the picture and contributed a few bits that remained in the final film, including the planetarium and "chickie run" sequences. But Shulman didn't work out either, so he was replaced by Stewart Stern, the writer who completed the final version of the script by March 1955.

The basic structure of the screenplay was not based on the original book. It's Plato, the Sal Mineo character, and not the James Dean character, who bears the most resemblance to Dr. Robert Lindner's Harold.

by Scott McGee
back to top
---
Rebel Without a Cause (1955)
It was by luck that James Dean was available for Nicholas Ray's new picture. He had been under contract to start work on George Stevens' Giant (1956), but when Elizabeth Taylor's pregnancy delayed the start of shooting, Dean had plenty of time to make Rebel Without a Cause.

Before the camera rolled, Nicholas Ray went to concerted efforts to get to know his star. Ray visited Dean's New York stomping grounds to get a feel for his life. Ray said, "I wanted to find out all about this guy. I ran around with him, and met his friends, got drunk a couple of times and we were pretty close by the time we were ready to go to work. Whatever else Jimmy was, he was a searcher, ever on the lookout for some trick or other he could store up and use. I could see him soaking them up and I knew he had to play that part, because he could do it like no one else I knew."

Even though she was under contract to Warner Bros., Natalie Wood was not at the top of the list of choices to play Judy. Nicholas Ray had originally discounted her because of a credibility issue; she had been a famous child actress (Miracle on 34th Street, 1947). Ray tested various actresses from Debbie Reynolds to Jayne Mansfield, but he couldn't find his Judy.

Nicholas Ray finally cast Natalie Wood after he picked her and Dennis Hopper up from a Van Nuys police station after an automobile accident. While she was being held, one police officer called her a juvenile delinquent, which prompted Wood to angrily ask Ray, "Now do I get the part?"

James Dean, Natalie Wood, Nick Adams, and Sal Mineo were an inseparable foursome while filming Rebel Without a Cause.

Realizing the actor's power to touch youthful audiences, director Nicholas Ray gave James Dean free reign to improvise his scenes.

Ann Doran, who played Dean's mother in Rebel Without A Cause said, "Jimmy did most of the directing. He gave us our lines; he dominated the entire thing." Dean and Ray's working relationship was equally bizarre. Ray often rehearsed with Dean at his Chateau Marmont bungalow, and felt the energy between them there was so powerful that he actually recreated his own living room on the set to inspire Dean.

Ann Doran also revealed that "Jimmy was a strange boy. On the first day, Jim Backus couldn't believe it. We were watching Jimmy doing his scene and someone had said, 'Quiet, we're going to shoot now.' And they got up speed and were ready for action. Jimmy went down on the floor in the fetal position for the longest time. It seemed like half a can of film...and Nick said, 'Action.' Jimmy stood up and went into the scene...(Jim and I) had never seen this method of doing things. Nick seemed to be mesmerized by Jimmy."

For the scene in which Jimmy batters a desk, the actor prepared for it by getting drunk in his trailer. When he emerged, he performed the shot in one take, though it was said he broke two bones in his hand as a result.

When the crew began night shooting at the Griffith Park Planetarium in Hollywood, downtown Los Angeles residents saw the bright production lights in the hills and flooded switchboards with reports of raging forest fires.

Based on the strong sneak preview response to Rebel Without a Cause, Warner Bros. proposed a long-term contract for James Dean. But on September 30, 1955, Dean died in a high speed automobile accident near Paso Robles, California. He was 24 years old.

by Felicia Feaster, Scott McGee and Jeff Stafford
back to top
---
Rebel Without a Cause (1955)
One of the cinema's most enduring, masterfully- directed troubled-youth pictures, Rebel Without A Cause (1955) launched James Dean's career even as it signaled its abrupt end. Released just one month after Dean died in a car accident near Paso Robles, California at the age of 24, Rebel Without A Cause captured both the young star's astounding screen magnetism and tinderbox emotions, as well as the angst of an entire generation.


Rebel Without A Cause focused on a perpetually on-the-move family, the Starks, whose antidote to their son Jim's misbehavior is to move to another town. This pattern, of a family blaming teenagers for its own problems, was a theme repeated in the character of Judy (Natalie Wood), whose blossoming sexuality drives a wedge between her and her formerly dotingfather. Judy in turns hangs with a pack of local hoodlums who challenge new-boy-in-the-hood Jim (James Dean) to a "chickie run" where one boy dies. Fleeing from the police, their families and their own demons, Judy, Jim, and the friendless loner Plato (Sal Mineo) form a substitute family and take refuge in an abandoned mansion until the film's dark, unforgettable conclusion.


Taking his cue from the current pop culture fixation with the juvenile delinquent, director Nicholas Ray found his inspiration for Rebel Without A Cause in the true account authored by Dr. Robert Lindner, of a young criminal being treated in Pennsylvania's Lewisburg Federal Penitentiary. But Ray went his own way when it came to adapting Lindner's tale of a teen sociopath to the screen, treating their problems with insight and empathy and investing his teenage characters with a greater emotional depth.


Ray claimed that he wanted Rebel Without A Cause to work beyond the juvenile delinquency newspaper headlines and films of the day, like The Wild One (1954). Instead, Ray strove for a classical tone, and claimed Romeo and Julie as inspiration, "the best play written about 'juvenile delinquents.'" Ray said.


Ray cast the then relatively unknown James Dean, who had distinguished himself in TV but had yet to make a mark in film (though his star-making performances in East of Eden (1955) and Giant (1956) were about to reach the screen), as the charismatic, vulnerable, terminally misunderstood teenager of the title. Natalie Wood, who has proven so enduringly luminous and tragic as Judy, was initially rejected for the role of Jim Stark's girlfriend because of her previous fame as a child star. But Ray soon changed his mind about Wood's goody two-shoes image when she was involved in a car crash with some other Hollywood hooligans like DennisHopper, and convinced the director she was more than just a pretty face. The casting of Sal Mineo as the fragile, troubled Plato was equally fortuitous considering Mineo's own recent expulsion from his Bronx high school for running with some young toughs.


Ray and Dean shared not only a passion for "reefer" and a common past as struggling actors, but possessed a more uncommon spiritual affinity. Trusting in Dean's vision, Ray gave free rein to the actor to interpret the script as he saw fit and to improvise both acting and dialogue in the film. The cast often took its cues not from Ray, but from the Method-acting entranced Dean who later confessed that Rebel Without A Cause "used me up. I could never take so much out of myself again."


Ann Doran, who played Dean's mother in Rebel Without A Cause said, "Jimmy did mostof the directing. He gave us our lines; he dominated the entire thing." Dean and Ray's working relationship was equally bizarre. Ray often rehearsed with Dean at his Chateau Marmont bungalow, and felt the energy between them there was so powerful that he actually recreated his own living room on the set to inspire Dean.


Since its October 1955 release, Rebel Without A Cause has become one of the archetypal films of teenage angst, an enduring hit with successive generations and a harbinger of things to come in the tumultuous Sixties. The fact that all of the film's stars, Nick Adams, Dean, Wood and Mineo all died tragically and early has also lent a mystique to this powerful, groundbreaking film that continues to this day.


Director: Nicholas Ray
Producer: David Weisbart
Screenplay: Stewart Stern from an adaptation by Irving Shulman and a story by Nicholas Ray
Cinematography: Ernest Haller
Production Design: Malcolm C. Bert
Music: Leonard Rosenman
Cast: James dean (Jim), Jim Backus (Dad), Ann Doran (Mom), Virginia Brissac (Grandmother), Natalie Wood (Judy), William Hopper (Judy's Dad), Rochelle Hudson (Judy's Mother), Corey Allen (Buzz), Sal Mineo (Plato), Dennis Hopper (Goon), Nick Adams (Moose).
C-111m. Letterboxed. Closed captioning.

by Felicia Feaster
back to top
---
Rebel Without a Cause (1955)
On October 25, 1955, Rebel Without a Cause opened in New York to ecstatic reviews.

Variety found Rebel Without a Cause to be "exciting, suspenseful and provocative," but the film could not "escape comparison with Metro's recent Blackboard Jungle (1955)." The critic predicted that James Dean's performance would "excite discussion, especially in connection with the irony of his own recent crash death under real-life conditions of recklessness which form a macabre press-agent frame as the picture goes into release." The critic also warned that after seeing Rebel Without a Cause and other recent youths-gone-wild pictures, adults might come away "with a need to believe the facts hideously exaggerated and a silent prayer that they never meet such youths except upon the motion picture screen."

New York Times critic Bosley Crowther found Rebel Without a Cause to be "violent, brutal and disturbing," but he wished that James Dean "had not been so intent on imitating Marlon Brando in varying degrees."

Time magazine rightly recognized that the best thing about Rebel Without a Cause was undoubtedly James Dean, an actor "of unusual sensibility and charm."

In his essay on the movie for The A List (Da Capo Press), film critic Jay Carr wrote "Rebel Without a Cause, an allegory of growth and the painfulness of growth, transcends its own lurid excesses and now-dated topicality to stand as the kind of big pop myth that defines the Hollywood studio movie at its most potent."

In Cult Movies (Delta Press), Danny Peary wrote "Rebel Without a Cause isn't a very didactic, moralistic film. It is in some ways strongly pessimistic: the dawn that brings on a new better life (hopefully) for Jim and Judy signals Plato's death....Watch the film - see how essential it is for each character to be touched, hugged, and kissed by his/her lovers, friends, and family members....In order for the characters in Rebel to have strength enough to make it through another day, they must revive themselves through physical contact. That is why Rebel Without a Cause is the most emotional of films."

In The International Dictionary of Films and Filmmakers, film scholar Doug Tomlinson wrote this about Rebel Without a Cause: "In this, his first film in Cinemascope, Nicholas Ray signalled his reputation as the American master in the format. Having studied on a Frank Lloyd Wright scholarship, Ray had a clearly defined sense of spatial relations, an ability which made much of his film noir work especially charged. In the Cinemascope features he developed an aesthetic of the horizontal which, particularly in Rebel Without a Cause, lent a sensuality to the images of alienation. If this feeling pervaded exteriors, a sense of claustrophobia permeated the spatial tensions of the cluttered interiors."

Rebel Without a Cause was nominated for three Academy Awards: Sal Mineo for Best Supporting Actor, Natalie Wood for Best Supporting Actress, and Nicholas Ray for Best Motion Picture Story. That same year, James Dean was nominated for Best Actor, but for his first film, East of Eden (1955).

Rebel Without a Cause earned a place on the National Film Registry in 1990.

by Scott McGee and Jeff Stafford
back to top
---