DVDs from TCM Shop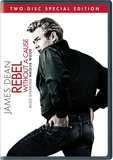 Rebel Without a Cause An alienated teenager tries to... MORE&nbsp> $12.95 Regularly $19.94 Buy Now blu-ray
FULL SYNOPSIS
DVDs from TCM Shop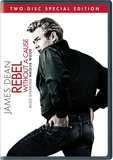 Rebel Without a Cause An alienated teenager tries to... MORE&nbsp> $12.95
Regularly $19.94 buy now
Late one night, in a well-to-do part of Los Angeles, police find teenager Jim Stark sprawled drunk on the sidewalk, playing with a toy monkey. He is taken to the police station, where two other young people have also been brought in: sixteen-year-old Judy, who was found wandering the streets, and John Crawford, nicknamed "Plato," who was caught shooting puppies. Ray Framek, the juvenile division counselor, interviews the three children individually. After talking to Judy, he realizes that her father has been withholding his affection because he is uncomfortable with her passage from adolescence to womanhood. The only affection Plato receives is from the family housekeeper, a sympathetic and caring black woman, as his father permanently abandoned the family and his mother, neglectful of her lonely son, travels frequently. When the Stark family arrives, Jim's father, an ineffectual man who is henpecked by Jim's mother and grandmother, tries to make light of his son's drunkenness. His reminiscence that he got "loaded" when he was a young man sparks a family argument, prompting Jim to cry out, "You're tearing me apart!" After taking Jim into his office to talk to him alone, Ray learns that the family, who recently moved to the area, has changed residences often to give Jim a new start whenever he gets into trouble. Instead of helping him, the uprootedness has prevented Jim from making meaningful friendships. Jim is further frustrated that his father does not stand up to the women.

Sympathetically, Ray offers Jim an open invitation to visit and talk with him. On the first day of school, Jim learns that Judy is a neighbor. He tries to befriend her, but she refuses his offer of a ride to school and instead joins her boyfriend, Buzz Gunderson, and their rowdy friends in his crowded convertible. Jim proceeds alone to school, where he is harassed by fellow students for stepping on the school's insignia embedded on the front steps. Later in the day, Jim drives alone to Griffith Observatory for a school field trip. During the planetarium show, the lecturer remarks about man's insignificance in the vast universe and presents a light show demonstrating the end of the world. After listening to Jim make a joke meant to impress Judy and her friends, Plato warns him that the group is cliquish. After the lecture, Buzz and his restless friends decide to harass Jim. Plato warns Jim about their intention and points out an abandoned mansion in the nearby hills, where they can escape. However, the troublemakers, among them Judy, reach Jim's car first and Buzz punctures his tire with a switchblade. While Jim calmly changes the tire, his classmates call him a "chicken," an insult that is particularly hurtful to him, and Buzz taunts him into a knife fight. After knocking the switchblade out of Buzz's hands, Jim offers to settle the matter elsewhere, without knives. When Buzz invites him to meet at a cliff overlooking the sea that evening for a "chickie run," Jim agrees, without knowing what a "chickie run" entails. Later, at home, Jim is ashamed to find his father on his knees wearing an apron, cleaning up a spilled tray of food. Wanting guidance from his father, Jim talks about a matter of honor, but his father lets him down by evading his question. At Judy's house, her father scolds her for kissing him, saying she is "too old for that," causing her to leave the house in tears. When Jim later arrives at the cliff that night, he finds a crowd waiting to watch, including Plato, who hitchhiked there to support him. While explaining the procedure for the "chickie run" to Jim, Buzz reveals that he is beginning to like him. When Jim asks why they are continuing, Buzz says enigmatically, "Because you have to do something." Meanwhile, Judy, intrigued by Jim, questions Plato about him, and Plato, claiming that Jim is his best friend, describes him as "sincere."
At Judy's signal, Buzz and Jim drive two stolen cars toward the cliff's edge, where the first to jump out of the car will be declared the "chickie." However, Buzz's leather jacket catches on the door handle, preventing him from escaping at the last minute, and he plummets, trapped in the car, to his death in the sea. Fearing the arrival of the police, the observers drive off and Jim takes Judy's hand and drives her and Plato home. Later, Jim tells his parents what happened and reminds his dad about their conversation regarding "a matter of honor." Heedless of Buzz's death, the Stark adults worry whether anyone can identify Jim as having been there and his mother announces they must move again. Wanting to do the right thing, Jim says he will go to the police, but his family urges him not to get involved. Their voices rise and soon they are screaming at each other. Feeling that his father will not "stand up" for him, Jim attacks him, and then leaves the house, heading for the police station. Finding that Ray is out on a call, Jim phones Judy and she sneaks out to meet him. Apologizing for the way she treated him when she was with her friends, she says, "Nobody acts sincere." Buzz's friends, who were brought to the police station for questioning, see Jim there, and concerned that he might inform on them, beat up Plato to get his address. Afterward, the frightened Plato finds his mother's gun and goes out to warn Jim, and eventually finds Jim and Judy at the mansion. There Plato fantasizes that Jim and Judy are his family, while they pretend to be married. When Plato falls asleep, Jim and Judy explore the mansion. After hanging a chicken on the Starks's doorframe, Buzz's friends realize that Jim is not there and cruise the streets until they spot his parked car. Entering the mansion, they torment Plato, who awakens thinking Jim and Judy deserted him. Plato shoots one of the boys, then runs out toward the observatory, where he is seen by a policeman. Plato breaks into the observatory and shoots at the policeman. The shots bring backup police cars, Plato's housekeeper and Ray and the Starks, who have been searching for Jim since the hoodlums' visit. As they all converge on the front lawn, Jim and Judy feel obligated to help Plato, run into the building and find the boy hiding in the planetarium. After calming Plato, Jim asks to see his gun, promising to return it, and secretly removes the bullets. Remembering the lecture, Plato asks if the end of the world will come at night and Jim says it will come at dawn. Jim and Judy accompany Plato outside after asking Ray, at Plato's request, to turn off a spotlight aimed at the door. However, when a policeman points a light at them, Plato panics and runs, brandishing the gun. Although Jim calls out that the weapon is empty, the policemen shoot and kill the boy. Jim cries over Plato's body, while his father tries to comfort him, saying that he "did everything a man can do." Jim's father promises to try to be strong for Jim and to stand beside him in whatever happens next. After Plato's body is taken away, Jim introduces Judy to his parents. As they all leave, a man with a briefcase walks toward the planetarium and a new day begins.