DVDs from TCM Shop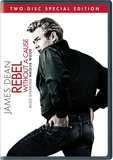 Rebel Without a Cause An alienated teenager tries to... MORE&nbsp> $12.95 Regularly $19.94 Buy Now blu-ray
NOTES
DVDs from TCM Shop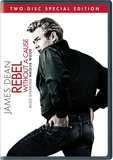 Rebel Without a Cause An alienated teenager tries to... MORE&nbsp> $12.95
Regularly $19.94 buy now
The Hollywood Reporter review erroneously listed the film's duration as 116 minutes. The film's story spans twenty-four hours in the lives of its characters. Although some character names, such as Jim's father "Frank," can be gleaned from viewing the film, all cast lists in reviews and production notes refer to the parents in relation to their children, e.g., "Jim's father," "Jim's mother," "Judy's father," etc. During the police station sequence, director Nicholas Ray employed the use of three frames within a frame, using glass partitions of office windows and doorways to split the screen, in order to show simultaneously the three main characters, "Jim," "Judy" and "Plato." During the Stark family sequence, after the "chickie run," the entrance of Jim's mother is shown upside down, from the perspective of Jim, who is lying on the couch. The camera then pans 180 degrees vertically as she walked down the stairs.
In February 1946, a Hollywood Reporter news item reported that Warner Bros. purchased the screen rights to Rebel Without a Cause: The Hypnoanalysis of a Criminal Psychopath (New York, 1944), Dr. Robert M. Lindner's true case history of a young inmate in a Pennsylvania penitentiary. Files on the film in the Warner Bros. Archive at the USC Cinema-Television Library contain several script versions of that incarnation of the story, all of which were titled Rebel Without a Cause: a February 1946 treatment by Jacques Le Mareschal based on Lindner's book; a June 1946 first draft by Theodor Seuss Geisel (known later as children's book author Dr. Seuss); an April 1947 screenplay by Peter Viertel; and a May 1949 screenplay credited to H. L. Fishel and Lindner. In 1947, Warner Bros. screen tested the rising young New York actor Marlon Brando for the part of the psychopathic "rebel." Brando, who was then unknown to films, had had great success portraying "Stanley Kowalski" in Broadway's A Streetcar Named Desire.
The project was dropped for several years. However, in the early 1950s, black and white B movies about teenage rebellion were finding markets, and Columbia would soon produce its 1954 The Wild One, and M-G-M, the 1955 The Blackboard Jungle (see entries below and above). In mid-September 1954, Ray wrote, within a few hours, according to modern sources, a film treatment about three teenagers, Eve, Demo, who would be tried and condemned to death during the course of the story, and gang leader Jimmy. Ray's treatment minimized Lindner's psychopathic element and veered away from other films's concept that juvenile delinquency was the problem of lower-income classes. He instead focused on the discontent and isolation of modern teenagers.
Within a few weeks, Warner Bros. bought Ray's treatment, which was titled The Blind Run, and according to a late September 1954 Hollywood Reporter news item, Ray was also hired to direct. According to modern sources, Ray consulted with the Culver City, CA police, and legal and psychiatric professionals specializing in juvenile delinquents, as he prepared for the film. A Hollywood Reporter news item reported that, during pre-production, Dr. Douglas M. Kelly, a University of California, Berkeley professor of criminology, analyzed the psychiatric motives of all the characters and viewed rushes during filming.
Modern sources state that Ray's first choice for screenwriter, Clifford Odets, was unavailable. Writer Leon Uris was assigned only briefly to the project, because, many modern sources suggest, Uris' vision of the story required a larger cast and scale than Ray's. Uris was soon replaced by writer Irving Shulman, whose December 1954 script based on Ray's treatment was titled Juvenile Story. Modern sources credit Shulman with setting the story in upper middle-class Southern California, and adding the first planetarium sequence and the "chickie run," which was inspired by a real-life event he and Ray read about in the newspaper. The final character names of the three protagonists, Jim, Judy and Plato, were first used in Shulman's version. Although a January 1955 Variety news item reported that writer Stewart Stern was "joining" Shulman in the writing of the screenplay, modern sources state that either Ray fired Shulman or that the studio rejected his screenplay. Stern worked alone on subsequent versions of the script, which reverted to Lindner's original title, Rebel Without a Cause.
Notes found on the Shulman screenplay in the Warner Bros. archive suggest that the studio had been considering actors James Dean and Tab Hunter for the part of Jim, and Lois Smith for Judy. Modern sources say Ray fought studio heads against casting Hunter and Jayne Mansfield in the lead roles. Although a December 1954 Hollywood Reporter news item reported that Ray flew to New York to test young television and stage players for the lead, modern sources say that he wanted Dean after seeing screenings of his portrayal of "Caleb," Dean's first major film role, in East of Eden (see entry above). Dean had been scheduled to appear in Warner's Giant, but production of that film was postponed until June 1955 because of Elizabeth Taylor's pregnancy, freeing Dean to take the role in Rebel Without a Cause. According to modern sources, to train for the role, Dean spent time with Los Angeles gang members and befriended Frank Mazzola, a former gang member hired as a consultant and actor for Rebel Without a Cause.
February 1955 Hollywood Reporter news items reported that many young people were tested for various roles in the film. According to lists found in the Warner Bros. Archives, Debbie Reynolds and Carroll Baker were top contenders for the role of Judy, which Natalie Wood ultimately won. Another of the many actresses considered for the part was Patricia Crowley. Some of the actresses considered for the roles of either Judy's or Plato's mothers were Ruth Hussey, Maureen Stapleton, Jeanette Nolan, Barbara Billingsley and Adele Jergens. Marsha Hunt was initially cast as Jim's mother, according to a March 1955 Hollywood Reporter news item, but was replaced by Ann Doran. For the role of Jim's father, Rod Cameron, Walter Matthau and Raymond Burr were considered. James Whitmore, Peter Gray, Richard Crane, George Reeves and Walter Reed were considered for the sympathetic juvenile division counselor "Ray Framek," a character modern sources report was named for the film's director. Modern sources also state that Jeff Silver, Billy Gray and Dennis Hopper were considered for the role of Plato. Despite concerns about child welfare regulations, Ray cast minors Wood and Sal Mineo for the roles of Judy and Plato. Although their appearance in the film has not been confirmed, an April 1955 Hollywood Reporter news item adds Joel Smith and Charles Fredericks to the cast as police officers, Tom Hennesy as a teacher, and Chris Randall, Georgette Michele, Stephan Michael and Richard Espinosa.
According to information in the film's file in the MPAA/PCA Collection at the AMPAS Library, the Breen office had many concerns about the film. In letters to studio head Jack L. Warner, the censors warned against the general brutality of the delinquent teenagers, the latent homosexuality of Plato, hints of sexual activity between Jim and Judy in the mansion sequence, the inference of the idea of incest in the relationship between Judy and her father, and Judy's promiscuity, which was more pronounced in an earlier version of the script in which she was brought to the police station for soliciting. Modern sources state that the script continued to change. In one version, Plato did not die. The sex and violence were, in some cases, minimized. Modern interviews with actors and crew from the film reveal that, after shooting commenced, Ray allowed Dean to make improvisatory changes to his lines on the set.
The film was conceived as a black and white B movie, and several scenes, particularly at Griffith Observatory, were shot only in black and white and never used. In some of the black and white footage, Dean appears wearing eyeglasses. Another scene shot in black and white shows a large group of teenagers on the driveway behind the observatory; when the scene was later shot in color, few extras were retained, leaving only a handful of teenagers to taunt Dean's character. A different opening scene for the film was made during black and white shooting, in which an innocent person is harassed by a mob of teenagers, resulting in a toy monkey falling to the street. In the later color version, the scene was cut, allowing the film to begin with a drunken Jim Stark lying on the street playing with the monkey. That scene, according to a modern source, was shot at four a.m. on Hollywood Blvd. A different ending scene, filmed through the aperture of the planetarium dome, was also shot in black and white, but discarded for the ending in the released film.
Soon after the premiere of East of Eden, it became clear that Dean had achieved star status. Modern sources speculate that, because of his new box-office appeal and the growing success of teenage rebel movies, Warner decided to "upgrade" Rebel Without a Cause, budgeting it more money and production time, and ordered that it be filmed in color. One supporting gang member's character was excised and sequences depicting the teenage gang were also cut from the script, resulting in the loss of the individual personalities in the group. Modern sources suggest that the cuts were made to give Dean more screen time.
As mentioned above, portions of the film were shot at Los Angeles' Griffith Park Observatory. The former J. Paul Getty mansion built in the 1920s at the corner of Wilshire Blvd. and Crenshaw Blvd., which also served as a shooting site for the 1950 Paramount production Sunset Blvd (see AFI Catalog of Feature Films, 1941-50), appeared as the mansion in the film shortly before the house's real-life demolition.
A Los Angeles Examiner article reported that Dean was injured several times while shooting the switchblade fight, during which a real weapon was used. He also injured his hand, according to a modern source, when he pounded on Ray's desk at the police station and Ray had to shoot around his bandaged hand for a week. That scene was later cut from the British version of the film, according to a November 1955 Daily Variety news item, because British censors found the scene excessively emotional.
Rebel Without a Cause soon developed the reputation as being the first film to tackle problems of middle-class youth, but when it opened, the impact of its violence and sexuality shocked some reviewers into mixed, albeit strong, criticism. Some reviews found the development of the parental characters weak or unfair. The film marked Wood's first adult role, and one for which she was nominated for an Academy Award for Best Supporting Actress, losing to Jo Van Fleet in East of Eden. Mineo, whose role is considered by critics the first instance of a homosexual boy on film, was nominated for Best Actor in a Supporting Role, but lost to Jack Lemmon in Mister Roberts. Ray was nominated for Best Motion Picture Story, but lost to Daniel Fuchs's Love Me or Leave Me. In 1998, Rebel Without a Cause was rated fifty-nine in AFI's list of the 100 greatest movies of the century.
In 1958, James Fuller adapted the film for the stage in a play bearing the same title. According to Warner Bros. files, there were plans to produce a television show in 1962 based on the film; however, this project never reached fruition. An April 1966 Daily Variety news item reported that Mayo Simon was to write a musical remake of the film and a June 1967 Hollywood Reporter news item reported that playwright Sidney Michaels was rewriting a musical version for Hal Wallis. No further information about these productions has been found. Although Dean made only three major motion pictures, he became the subject of several films. Among them are Warner's 1957 documentary, The James Dean Story, directed by George W. George and Robert Altman; the 1997 Mars production, Race With Destiny, which was directed by Mardi Rustam and starred Casper Van Dien; and James Dean, starring James Franco, which was directed by Mark Rydell and aired on TNT cable network in 2001.
Immediately after completing Rebel Without a Cause in late May, Dean reported to the set of Giant, his third major film. On September 30, 1955, having just completed his role and experiencing only six and a half months of stardom, Dean, aged twenty-four, was killed in a car accident at the junction of highways 46 and 41, near Cholame, CA. When Rebel Without a Cause had its premiere four weeks after his death, reviews continued to compare Dean to Brando. However, most reviews allowed that he was no longer using what the Daily Variety review called "the Marlon Brando mannerisms" that some reviewers had accused him of in East of Eden. Most reviewers mourned Dean's death, as did Variety, which expressed "genuine artistic regret, for here was a talent which might have touched the heights."
In 1988, a bronze bust of Dean, which was a casting of Kenneth Kendall's 1956 original that was placed at Dean's Indiana gravesite, was unveiled outside Griffith Observatory, where Rebel Without a Cause was filmed. In 1999, Dean was declared by AFI one of the century's top twenty-five male actors. Partly due to the way Warner Bros. advertised Rebel Without a Cause after his death, Dean's name became synonymous with the film and the rebel teenager. His line in the film, "You're tearing me apart," the epitome of teenage anguish, still has impact and is often parodied. Into the twenty-first century, Dean remains an icon of rebellious youth and the story of "Jimmy Dean's" short life is frequently examined in film documentaries.