DVDs from TCM Shop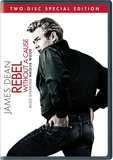 Rebel Without a Cause An alienated teenager tries to... MORE&nbsp> $12.95 Regularly $19.94 Buy Now blu-ray
USER REVIEWS
See Detailed Ratings
Acting of Lead Performers

Acting of Supporting Cast

Director

Music Score

Title Sequence

Screenplay

Cinematography

Historical Importance

Would You Recommend?

0 Member Ratings
Rate the acting of the Lead Performers

Rate the acting of the Supporting Cast

Rate the Director

Rating of the Music Score

Rating of the Title Sequence

Screenplay

Creatively uses the camera to tell the story

Importance in Cinema history

Would you recommend for fans of this genre
Submit Ratings
Cancel
Write a Review
Read Reviews
NO REVIEWS AVAILABLE
The title has not been reviewed. Be the first to write a review by clicking here to start.
Proves Once And For All----

This film proves once and for all, what we all suspected, that Hollywood, the film capital, is the largest mental institution in the world.

Rebel without a Clue

Well, finally saw the legendary REBEL WITHOUT A CAUSE with the legendary JAMES DEAN. I do not understand all the gushing over this movie. James Dean was nothing special as an actor and brought nothing special to the movie. And the movie itself struck me as insulting to adults and teens alike. I think this was one of the dullest movies I've ever seen. Only the title struck me as clever, since all the angst was so overwrought. If James Dean hadn't died at around the time the movie came out, I think it would have faded into B-movie land and him along with it. Over-rated movie. Over-rated actor. Might have some appeal to narcissists who think the world owes them perfect parents and perfect lives, but otherwise don't waste your time with this one.

Cool, maybe too cool...

I can't remember when I first saw it; probably the early '60s, just before I became a teenager. I suppose my admiration for Rebel Without a Cause coincided with looking forward to being a part of the cool high school 'scene'. Well, high school wasn't so cool, and Rebel actually portrays a disturbing 'scene'.Still, I find the knife-fight and the suicide car race exciting stuff. That might seem nutty; but remember that Jim and Buzz realize that they actually like and understand each other--if just at the moment before Buzz dies. From then on, though, the movie focuses almost exclusively on Plato, which changes the tone into noir-like psychological territory. That's fine, but Rebel seems to become something different, junking the teen-angst plot, and elevating Jim into something of a therapist for Plato. Maybe this shows Dean's character maturing emotionally. Given the trauma of Buzz's death, that makes some sense, but it's too sudden. For half the movie Jim acts out instead of thinking things over, then he develops incredible communication skills. The ending has a redemptive quality. Having seen two friends die, Jim grieves. But in fact he also gains two people--his parents, who belatedly accept him as he is. Anyway, having seen Rebel plenty of times, I still find in it something new to ponder; and find more to feel nostalgic for (for a time that wasn't quite as I imagined).

Tour de Force of Exceptional Young Talent

James Dean, Sal Mineo, and Natalie Wood let it all hang out as misfit teens who buck the status quo. The young actors are superb in their roles. The rebel Dean in search of life's meaning beyond his working class American family. The sensitive mouth-off Mineo whose raw talent here was never matched in subsequent performances. The former child actress Natalie Wood in a striking portrayal of leaving the cool teen crowd for the losers. As the title suggests, the trio of rebels really have no cause. Their search for themselves and meaning in teen life gives way to tragedy--similar to West Side Story--and they are left knowing that the perspective of reality they've gained was acquired at the price of their innocence. Awful casting of the adults here, particularly Jim Backus as Dean's father. But the young lions rule this one.

Rebel Becomes the Cause

Boy, if it weren't for the largest generation born of the greatest generation (the last caucasic generation commercialized for eternity as the baby boomers), there would have been no mass mind to sterilize against maturity, fidelity, inner courage, honor & self control, etc.which would have put alot of Hollywood, pop/rock demigods & their marketers, intelligence agencies, NASA, & the United Nations out of business! This iconographic movie was one of their best efforts!

Classic For ITS Time

Sure the film seems dated, but it had a strong message that is over-looked in a lot of these reviews; they talk about teen angst, but the film is about non-conformity, being an individual. James Dean accepts Plato (played excellently by Sal Mineo) for how he is, and doesn't care what anybody else says. These issues of conformity and the in-crowd still play out no matter how much time has passed. Natalie Wood's character Judy comes to realize she has just been following the pack before she takes up with Jim and Plato. Yeah, the parents are portrayed as out of touch, but this was the Fifties when conformity was at its highest after the War.

Against the grain.

I wish I could come back a century from now, and see if anyone heard of a flash in the pan actor named, what was his name? As for the film, it was loved by the youngsters because it was proof their parents were idiots. Now we see those children are idiots now. The film marked the beginning of a new genre. TV was sucking the blood from the film industry. In order to compete, they went to big screens, films that appealed to the young who had to go to drive ins to make out. (Now they make out at home, watching pornography on their electronic stuff, which is changing the industry again. This film is a landmark. A bad one.From a guy who hated The Great Gatsby. Forced to read and write about it, and received a "D". I would add my prof was young female who acted like I had committed mass murder. Ask any college kid today who wrote The Great Gatsby and who is VP of the US. You probably will get a "duh".

REBEL WITHOUT A CLUE

Over rated soup opera. (As the stomach turns) , over acted, especially by (James Dean) and company. Never could understand what the big deal was with this guy. I believe and I could be wrong, it Groucho Marx who said, (and Groucho never backed down or minced words) if James Dean had lived a few more years, he would have been quickly forgotten by the movie public. He played James Dean in every film he was in. I lived through that era, and I can tell you, Yes we played chicken and took risks, but not like these idiots. Didn't Anyone realize that there was a what, 200 foot cliff at the end of the drag race track? Well Duh. There Must have been more than ONE door at the museum, to sneak out of, to avoid the cops.

Not every teen liked this in 1955

Saw this on first release, I was 13. My family resembled Dean's. My friends and I thought Dean's character a "cry baby". We did like N. Wood. Did Dean ever play any role except a moody, outside the norm character in his short career. Was he capable? Even Brando, another "moody" actor played a few comedic roles, in Tea House of August Moon, and in Gun's and Dolls, where he sings with Sinatra.

best movie ever for me

I was a teenager when I saw "Rebel" for the first time. It so enthralled me and said things I wanted to say that I stayed in the theatre and watched the whole film a second time. James Dean and Natalie Wood were outstanding in this film, and Sal wasn't bad either. This movie spoke to a whole generation of young people as no movie had ever done before.

Rebel Without A Cause

Reading a few reviews, I felt compelled to write my very first review because I never liked "Rebel... I could never watch it all the way through, thinking the acting too dramatic at times, wondering what they were whinning about. Never uderstood it, didn't like it. Then recently I watched it again this time all the way through and It was like a light bulb went off. I really enjoyed it, loved it! I get it, I don't know if it's because I'm older now with a son in College..., I looked at James Dean's mother thinking.... I hope I'm not like that mother. I don't think it's about spoiled kids rather about average kids of that time dealing with their own personal demonds. I always looked at it and thought they have, what seems like a good life, what are they whinning about. It's it's more than what we see physically material wise. All the parents had faults that contributed to their childrens behavior. It just shows that every individual is different in what they are able to tolerate.

I Have Seen This Movie WAY TOO Many Times

Every time I see this movie is on TCM I have to roll my eyes. I just don't get it. To me, James Dean seems like a whiny baby. Natalie Wood seems like a tramp that has something weird going on with her father that I don't get. Sal Mineo kills puppies! I feel sorry for Jim Backus. I agree with some of the other reviewers here that this movie had to be overrated. I was born in the 70's so maybe there is the age gap, but there are other classic movies that I love, that seem timeless. This movie is not one of them. It's an okay movie, not bad, but not great either. And it gets way too much play on TCM.

The Rebel just doesn't stand up to time.

Nicolas Ray became pass not long after Rebel was released. His films for the most part died, figuratively that is, almost as completely as James Dean. With good reason. Watch the film, it is half soap-opera, half cartoon. The characters are all caricatures, overly melodramatic, and over layered with even more melodramatic music. All the parents are shown as fools and all delinquents are trouble pseudo-existentialist. I first saw 'Rebel' not long after it first came out. I wasn't a teenager yet. The one thing I recall after first seeing it was my mother saying how this movie got switch blade knives banned in Los Angeles.Later, in UCLA film history class, the film was treated with reverence as a modern classic. But each time I saw it, it seemed more boorish and empty than the time before. The dialogue is forced, dull and silly, as is the acting.I have probably seen it way too many times, as now it reminds me of what Oscar Wilde said about the death scene in Dicken's "Little Nell": "you would have to have a heart of stone not to laugh."I do watch 'Rebel' occasionally, if I happen to see it is on, but with the sound muted. I watch for the scenes that show the Griffith Observatory and the view of 1950's Los Angeles, Hollywood High, and some scenes of the vacant mansion (now gone) that was actually located at the end of Crenshaw Blvd. on Wilshire Blvd. This was the same mansion used in "Sunset Boulevard."It seems a very silly and dated film that now just doesn't stand up.

Great watch

This movie stars James Dean, Natalie Woods co stars and with Sal Mineo. This is a good film considering this is the movie that made the hansom James Dean a icon.

STILL ONE OF THE BEST!!

SUNDAY MORNING MOVIE

2/3/13

JUST FINISH WATCH "REBEL WITH OUT A CAUSE" ..The movie is so great, the way it take you into the life of all the teens. JAMES DEAN show he's side perfect the hard and soft side...but all of the star's where perfect and was so great to see a young NATALIE WOOD very cool. also a very young SAL MINEO who was amazing THANK YOU TCM.........HOORAY FOR HOLLYWOOD FROM "SUNDAY MORNING MOVIE" http://sundaymorningmovie.blogspot.com/2013/02/rise-and-shine-are-you-rebel.html

My ALL TIME FAVORITE!

This movie changed my life, it means so much to me words cannot merely describe the feeling. I first became aware of Rebel when i was very young. It was on tv one night and my father was watching it. The one thing that stood out in my mind was James Dean (of course) as a little girl no older than 7 i became intrigued with this guy. Being that young and watching the scene in the police station where he famously screams "youre tearing me apart" i remember being really scared of this intense brooding but ridiculously good-looking man. And thus my factuation with all that is James Dean began. It wasnt until i was much older that i was actually able to view it and appreciate the film for what it is. A brillant portrayal of 1950's youth. You ask anyone that was around to witness the theatrical release and they will all say the same thing, this film was madness when it hit screens! Everyone wanted to be Mr. Dean; guys, girls, you name it. He spoke for that generation, he gave them a voice when society snubbed them and reguarded them as just another dumb kid with no input. James Dean made that possible for them. With Jimmy Dean in tow teenagers now had their voices heard. Almost a martyr in the sense. The film still stands the test of time, 50 years later. Every decade has a film, this film owned the fifties, and rightfully so!

5 outta 5

Dashielle Barnes hit it right on the nose about Rebel Without a Cause because it carries themes that were true back then and to this day. Look at all of the teen suicides and acts of anger that so many young people resort to because they don't feel understood. Several of my co-workers at DISH recommended this movie to me since I'm writing a paper on teenage behavior. I added it to my Blockbuster @Home queue, and I fortunately didn't have to wait long to get it. I found it very interesting that decades later, we're still facing the same social issues. I've already added this to my Christmas wish list because James Dean's performance was stellar!

Just Don't Get It!

I watched it for the first time the other day and kept wondering what all the hubbub was about. I don't think it lived up to all the hype given to it. I think James Dean was an overacting scenery chewer! PU!! I give it a 1 and that's being quite generous!

Rebel Without a Cause

The most iconic drama from the mid 50's that speaks for every new generation. This is Dean's best-recognized film. Co-stars Mineo & Wood earned give well-deserved, Oscar-nominated performances. Ray's direction helps express the difficulties of being teenagers & all the personal chaos that erupts in this story. A terrific film that was Dean's second-last performance. I give it a 5/5.

Nah!

Sorry...but this movie is way over rated. I cannot relate to those who call it a classic. It's a film about bunch of spoiled bratty kids who are convinced they have it so tough because nobody "understands" them. Perhaps this was the beginning of a downward spiral that has brought us to where we are today? Needy greedy personalities who feel entitled to everything without doing any hard work.

Tremendous

Tremendous says it all about this film. Wood and Dean and Mineo were all outstanding and the story still seems up to the minute in 2012. I know some people like to look "intelligent" by panning great movies, but I have no problems raving about "Rebel Without A Cause".

Nope!

Just cannot accept the premise of this movie, and all that screaming by Dean drove me around the twist. It was indicative of that generation and the one that followed, replete with spoiled brat kids who wanted a perfect life when no such thing exists. Even Dean's friends in the film didn't understand his being so overwrought so how am I to do so as a viewer? I've watched this film twice and have not changed my mind about it. It's totally implausible and the acting is way too over the top. Dean was beautiful and a superb actor but his best film will always be "Giant" IMO. This one is trash and not worthy of his ability.

JAMES DEAN'S ICONIC ROLE

About 1974,Nicholas Ray said that if Dean had lived,he would have been bigger than Olivier,Brando,& a few others he knew.Ray knew both of these fellows,by the way.It was a documentary called,"JAMES DEAN-THE FIRST AMERICAN TEENAGER".But let's talk about THIS film. I finally got to see this film in or around 1983-84.I hate to say this,BUT I REALLY LOVE THIS MOVIE.Sure,Dean is a bit older than he really is,but it doesn't take anything away from the numerous performances.My favorite scene is where Jim confronts his parents,& let's them know about the events of the CHICKEE RUN,& how he's being effected by it.THEY JUST DON'T GET IT! Natalie Wood,Sal Mineo,Jim Backus,Ann Doran,Edward Platt(LATER "THE CHIEF"ON "GET SMART"),Corey Allen,Dennis Hopper,ETC.An outstanding cast.In 1993,I met a photographer here in Las Vegas,& he informed me that at one time,he & Dean were roomates.I asked him if Dean was aware of what was going on(THE MOVIES,THE FAME,ETC.),& he said YES,he was very much aware of what was going on.As most of you probably know,the ONLY film Dean ever saw,was"EAST OF EDEN",an equally awesome performance.James Dean made 3 films............the other being "GIANT".By Sept.1955,he was gone.THIS FILM TURNED HIM INTO AN AMERICAN ICON.

I loved this movie!

I've always heard the expression "Rebel without a cause" but I never saw the movie. Tonight was my first time watching it, and I must say that it was marvelous. I'm straight edge (Means I'm totally against alcohol/drug use in it's entirety) so I thought I would hate it in the beginning.Turns out, I loved it. The performers gave it their all. I really liked Natalie's performance the most, next to James', but everyone's was marvelous. The Father played his role as a "Effeminate man" very well, I was surprised how it ended up with him standing tall. I recommend all watch this, a true classic.

Still Not Impressed

I remember seeing this as a teenager and thinking the James Dean character was a big whiner. I watched again to see if I had a different view and I don't. He's still a needy whiner. He threw himself into the part too much. He looked like 24. Very sincere movie, but just doesn't work for me. Just because it's "seminal" doesn't mean it's for everyone.But always catch a Nicholas Ray film - always something interesting.

Profound effect on me.........

I saw this movie when I was a young teenager at the theatre. I was so impressed and fascinated with the first movie I had ever seen that dealt with teenager problems that I stayed in the theatre and watched it twice. It is still one of my all time favorites.

Not a favorite

This is a film that always seemed overblown to me. I was 18 at the time of the release and I have to say that the actors never seemed to be anyone that I could identify with , even though the situation certainly was. The film was popular with my friends here on the west coast but I don't think it was ever taken very seriously. James Dean certainly could never have been taken for anyone our own age. I'm a big fan of his work in the two other films. There is mention of other possiblity's in the cast and Tab Hunter is one of them....sounds like horrible casting but one should take a look at one of his live TV performances(Playhouse 90?) in which he is heading for the Gas Chamber.. its on Youtube...maybe he wasn' as bad as we thought..

Love this

I'm 15 and this movie is the best i suggested it not to long ago. When i first saw this movie I was in Awe! this is timeless.My classic movie addiction won't ever stop so it pains me that now days all you see on t.v. is trash. :(anyways this movie is very cool and exciting. I Just LOOOOOOOOOOOOOVE it!thanks for posting some clips of it too Rip James Dean and Natalie Wood

This is the stuff Classics are made of!

I'm 17 and all of my schoolmates find it unusual that i love classic movies! The truth is, this movie was my first exposure to the classics and my first time seeing it happened to be on TCM. I fell in love with the story, and also, James Dean. TCM: i love what you do, and thanks for getting a teenage girl into loving old,classic Hollywood movies and stars!

As timely as ever!

J. Burleigh might have mentioned that Dean's attempt at a Mr. Magoo imitation was a bit of an inside joke...since Jim Backus (who played Dean's father) was the voice of this classic cartoon character! This classic story is as timely as ever, in my opinion. As for Dean looking "24," ...I wish I looked 24...Mr. Burleigh probably does too! Dean will be forever young...(come on John...you or I NEVER looked that good, at any age!)Gary Holt

55 Years Later

As James Dean looks every bit as old as his actual age (24), the theme of Rebel Without a Cause really seems to be how a new high school student will fit in if he has been left back at least six times. Just as the theme of The Graduate, that other reprehensible paradigm of youthful alienation, is really the problem of a Jewish boy born to two gentiles. With 55 years hindsight, Rebel Without a Cause now seems wildly implausible and overblown, especially in the improvised Method scenes for which it is famous, notwithstanding the talents of Nicholas Ray, the amusing conceit of setting everything against the nihilistic cosmology propounded at the planetarium, and James Dean's hysterical impersonation at one point of Mr. Magoo.

Iconic Star And Film

"Rebel Without A Cause" is a classic story of teen angst and juvenile delinquency starring James Dean, who himself was (and still is) a symbol of rebellion and cool to young people everywhere. It came out in 1955, the same year as "Blackboard Jungle", another poweful film with the same theme. Dean, Natalie Wood and Sal Mineo give strong perfromances as disaffected teens who are either misunderstood or neglected by their parents. Jim Stark (Dean) and his father finally find some trust in each other at the end, although very tragically (the death of Plato after Jim tried to warn the cops his gun wasn't loaded). FYO - the man walking up to the observatory in the final scene was director Nicholas Ray, who also wrote the story for "Rebel Without A Cause". Four Stars!

a.k.a. Juvenile Story

Teens are rewarded with the casting of Jim Backus in a parental role. Adults might have preferred an edgy Edward G. Robinson, but then the rebel would have had a cause.

James Dean in "Rebel Without A Cause"

I LOVE this movie! I thought it was wonderful. The cast is so convincing. James Dean is amazing, Natalie Wood is beautiful, and Sal Mineo was extremely moving. I strongly reccommend this movie.

rebel without a cuase

every teenagers troubles portraid in one way or another on the big screen. i could always conect with his shadow friend, others just want friends at all.
*We protect your personal infortmation and will not provide it to anyone without your consent. For a complete explanation, please refer to TCM's Privacy Policy. By submitting your contribution, you agree to TCM's Terms of Use.