DVDs from TCM Shop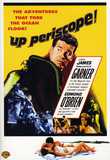 Up Periscope A U.S. frogman infiltrates a... MORE&nbsp> $15.79 Regularly $19.98 Buy Now
Home Video Reviews
Warner Bros. resurrects the dependable submarine movie yet again to serve as a big screen transition for TV star James Garner. TV's
Maverick
had already played second fiddle to Marlon Brando and Tab Hunter and
Up Periscope
was his last program picture before the push into screen stardom. Adept at both comedy and drama, Garner was soon acting opposite top-caliber stars Doris Day and Audrey Hepburn as well as cementing his appeal in action films like
The Great Escape
.
Up Periscope
is perhaps the least distinguished of a string of successful submarine pictures: Robert Wise's
Run Silent, Run Deep
, Dick Powell's
The Enemy Below
and Joseph Pevney's
Torpedo Run
all came out the year before. The script by Richard Landau simplifies Robb White's realistic source novel, but good work by director Gordon Douglas and cinematographer Carl Guthrie keeps the action on track.
Synopsis: Navy Frogman and commando Lt. Ken Braden (James Garner) is puzzled when his girlfriend Sally Johnson (Andra Martin) turns down his marriage proposal. Before he can hear her final answer, Ken is shipped out on a hazardous submarine mission. Ken's new commander Paul Stevenson (Edmond O'Brien) has a reputation as a cold regulations man and this new voyage isn't going to make his crew any happier. The submarine will spirit Braden to an enemy-held island, where he will sneak ashore to steal a Japanese codebook. Tensions mount along the way when it looks as if Stevenson's priorities are faulty: His idea of good planning is to make Braden swim 2,000 yards with his equipment, so as to avoid risking his submarine. What chance does the mission have if Braden is too exhausted to function once he reaches the shore?
Movie studios have long appreciated economical submarine pictures; take a look at Columbia's stock-footage epic
Hellcats of the Navy
, most of which takes place in tiny sets. Much of
Up Periscope
is filmed on a real submarine at sea, indicating full Navy cooperation. This may explain why the script is lacking in dramatic tension -- no matter what happens, Navy policy or prestige is never in question. The hero is a clean-cut college athlete with high marks in Oriental languages and an unswerving sense of duty. Played by handsome James Garner, he's an ideal late-50s recruitment symbol.
Up Periscope
is not very subtle on land. Navy personnel spout lame terminology and talk in the hushed tones of military secrecy. Ken Braden romances the drop-dead beautiful Sally Marshall (Andra Martin) using 'beach maneuvers', a substitute expression for making out at the seashore. Ken is barely surprised when an officer reveals that Sally is a naval intelligence agent assigned to check up on him. The government may have a right to learn if Braden blabs classified information to his dates, but
Up Periscope
suggests that whatever relationship Sally and Ken develop will be closely monitored by the Navy.
We're also given to understand that a Honolulu bar is basically a brothel for jolly submariners. Three dark haired hula girls crowd around Alan Hale Jr.'s Ensign Malone as if he were a sultan. Officers like Braden get to date movie stars and non-coms spend time with B-girls from the starlet pool. Let's all enlist!
Things perk up once the mission is underway. Edmond O'Brien brings a needed credibility to the thinly written sub skipper, Stevenson. Already troubled by not being 'popular' with the crew, Stevenson claims that the safety of the ship is his first priority, even as he unwisely runs on the surface to save time. Stevenson then turns conservative, insisting that Braden must make a Marathon swim to the island so the sub can remain far out of harm's way. But the skipper softens when time runs out, waiting for Braden beyond the mission deadline and sending out audio signals to guide him back to the sub. Good acting by the reliable Edmond O'Brien minimizes these inconsistencies: Logic dictates that the success of Braden's crucial commando mission justifies almost any risk. The way Stevenson is written, his priorities vary between keeping his ship intact and being loved by his crew.
We can tell that the commando mission is going to be small in scale when Braden surfaces on the same rocky surf line where he played 'beach maneuvers' back in San Diego. He sneaks in and out, easily avoiding the Japanese and locating the all-important Military codebook. Again, James Garner's charisma and good looks excuse a lot of fuzzy details, such as the fact that Braden wears no face camouflage. And were officers really permitted to smoke cigarettes on submarines?
Alan Hale Jr. leads a supporting cast of familiar faces playing stale stereotypes. Ex- MGM musical prodigy Carleton Carpenter (
Two Weeks With Love
) is the earnest first officer and Richard Bakalyan a surly sea-lawyer. Edd "Kookie" Byrnes is the easygoing pharmacist's mate. Warren Oates has an unexceptional film debut as a sailor who likes to eat!
Warner DVD's
Up Periscope
looks great in CinemaScope, especially the scenes filmed on a real submarine at sea. Unlike some big-screen sub pictures, Gordon Douglas chooses angles that emphasize the tight spaces below decks. The enhanced transfer has few if any flaws, and the film's pick of stock library marching music sounds fine in the mono mix. The amusing original trailer features James Garner giving a quick personal tour of the submarine.
For more information about
Up Periscope
, visit
Warner Video
. To order
Up Periscope
, go to
TCM Shopping
.
by Glenn Erickson