DVDs from TCM Shop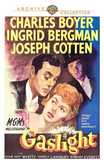 Gaslight A newlywed fears she's... MORE&nbsp> $14.36 Regularly $17.99 Buy Now
NOTES
In addition to the Beethoven sonata, a snippet from "Mattinati" by Ruggiero Leoncavella, as scored for piano by Robert Franklin and Charles Platte, is performed in the film. Following its successful run in London, Patrick Hamilton's play Gas Light opened in New York on December 5, 1941 under the title Angel Street. Shepard Traube directed Judith Evelyn, Vincent Price and Leo G. Carroll in the long-running Broadway production. In May 1940, British National Pictures released the first screen version of Hamilton's play, titled Gaslight. Columbia acquired the American distribution rights to the British film, which was directed by Thorold Dickinson and starred Diana Wynyard and Anton Walbrook, in 1941, and planned to release it under the title A Strange Case of Murder. Although Screen Achievements Bulletin indicates that Columbia was still cutting the British film as of February 1942, the studio never released the picture. According to an October 1942 Hollywood Reporter news item, Columbia was enjoined from releasing the film in the U.S. by Traube, who owned the American dramatic rights to the play. Modern sources note that M-G-M approached Traube about doing a screen version of his Broadway production, but as Traube did not control any screen rights, M-G-M was forced to negotiate with the English holders of the rights and eventually agreed to film the play under its original title. According to Hollywood Reporter, the studio paid $150,000 for the film rights to the London production. In August 1944, New York Times reported rumors that M-G-M had destroyed "the negative and every copy" of the British film, "except for one (possibly) forgotten print in the British Film Institute." Despite the rumors, the British version was released in the U.S. by Commercial Pictures in April 1953 under the title Angel Street. M-G-M's Gaslight was released in Great Britain under the title Murder in Thornton Square.
According to modern sources, Vincente Minnelli was first slated to direct the picture, but screenwriters John Van Druten and Walter Reisch pushed for George Cukor, who eventually got the job. Melvyn Douglas and Irene Dunne were announced as the film's probable stars in October 1942, according to news items. Douglas was dropped in December 1942, after he joined the Army. Ingrid Bergman commented in her autobiography that she first wanted to do Gaslight after seeing the play on Broadway, but producer David O. Selznick, who controlled her contract, refused to purchase the property for her without substantial changes to her contract, which she rejected. Bergman also noted in her autobiography that, for one of her romantic scenes with Charles Boyer, Boyer, who was shorter than she, stood on a box. In July 1943, Hollywood Reporter announced that June Duprez was testing for a "lead" role, and that composer-pianist Albert Coates was being considered for a "dramatic" role. Neither performer appeared in the completed film, however. According to an M-G-M publicity item, Deidre Gale, "English child star," was to play Joseph Cotten's niece in the film, but her participation in the picture has not been confirmed. In August 1943, Hollywood Reporter announced that George Reeves was to play the "juvenile lead" in the picture, but his participation is doubtful. Jessica Newcombe, Keith Hitchcock and Percival Vivian were listed in Hollywood Reporter as cast members, but their appearance in the final film has not been confirmed. According to Hollywood Reporter, production designer William L. Pereira was brought in as a consultant on the picture for one week.
Angela Lansbury made her screen debut in the film. In some Hollywood Reporter production charts, Lansbury in listed as Angela Marlowe. In a modern interview, Cukor stated that, when he began searching for an actress to play the part of "Nancy," writer Van Druten suggested that he contact Lansbury's actress mother, Moyna MacGill, a recent British emigre, who Van Druten thought might have a talented teenaged daughter. Louella Parsons commented in her Los Angeles Examiner review of the film that Lansbury, an "English refugee girl of 17...shows great promise as an actress." The Hollywood Reporter reviewer also noted that Lansbury showed "great promise," while the Daily Variety reviewer announced that Lansbury scored "a hit." Lansbury's performance earned her an Academy Award nomination as Best Supporting Actress, as well as a contract at M-G-M, the studio at which she made many films.
In addition to Lansbury's nomination, Gaslight was nominated for the following Academy Awards: Best Actor (Boyer), Best Cinematography (b&w), Best Writing (Screenplay) and Best Picture. Bergman won an Oscar as Best Actress and Cedric Gibbons, William Ferrari, Edwin B. Willis and Paul Huldschinsky won Oscars for Best Art Direction (b&w). Bergman also won a National Board of Review award for her performance in the picture. Bergman and Boyer reprised their roles in a April 26, 1946 Lux Radio Theatre broadcast of Gaslight.
Hamilton's play has been dramatized on television many times, all under the title Angel Street. The first production was broadcast on January 23, 1946 as part of NBC's Classic Plays on Television program. Judith Evelyn recreated her Broadway role for the show, which was produced by Ernest Colling. Theatre Guild presented its version, starring Betty Field, Walter Abel and Leo G. Carroll, in his Broadway role, on NBC on January 25, 1948. On October 20, 1950, the CBS network televised another version, directed by Franklin Schaffner and starring Judith Evelyn and Ferdi Hoffman. Station WOR in New York presented two versions; the first, broadcast on May 13, 1952, starred Victor Jory and Lola Montez, the second, broadcast on December 21, 1953, starred Sylvia Sidney. On March 25, 1954, Leueen McGrath and Jerome Kilty starred in a Kraft Theatre version on the ABC network. On May 9, 1958, Vincent Price, Judith Evelyn and Leo G. Carroll recreated their Broadway roles for NBC's program Matinee Theatre, which was directed by Walter Grauman.
Hollywood Reporter news items provide the following additional information about the film: On June 11, 1953, comedian Jack Benny shot a parodic version of Gaslight for his CBS television Lucky Strike program, starring himself, Barbara Stanwyck, Bob Crosby, Eddie Anderson and Don Wilson. Before it could be broadcast, however, Loew's Inc. and Patrick Hamilton filed a federal lawsuit against Benny, CBS and sponsor American Tobacco Company, preventing the sketch from being shown. Although Benny had already satirized the picture during a January 30, 1952 broadcast of his comedy show, Loew's Inc. and Hamilton argued that the 1953 production, titled Autolite, constituted "infringement and unfair competition." On September 21, 1954, Judge James C. Carter found in favor of Loew's Inc. and Hamilton, stating that Benny had not only burlesqued the picture, but had also "appropriated a substantial part of [the] film and therefore went beyond the bounds of license to comedians." Arguing that the lower court's ruling would create a "stifling effect on parody and burlesque," Benny's lawyers took the case to the U.S. Supreme Court in April 1957. On March 17, 1958, the Supreme Court upheld the lower court's decision by a split decision. (Justice William O. Douglas did not participate in the vote). Benny finally bought a seven-year license from M-G-M, which allowed the parody to be televised, and CBS aired Autolite on January 13, 1959.