DVDs from TCM Shop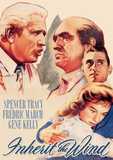 Inherit the Wind In the twenties, a... MORE&nbsp> $14.96 Regularly $19.95 Buy Now
Quotes
Henry Drummond


Yes! The individual human mind. In a child's ability to master the multiplication table, there is more holiness than all your shouted hosannas and holy holies. An idea is more important that a monument and the advancement of Man's knowledge more miraculous than all the sticks turned to snakes and the parting of the waters.

Henry Drummond


Suppose God whispered into a Bertram Cate's ear that an un-Brady thought could still be holy? Must men go to jail because they find themselves at odds with a self-appointed prophet?

Matthew Harrison Brady


We must not abandon faith! Faith is the most important thing!

Henry Drummond


Then why did God plague us with the capacity to think? Mr. Brady, why do you deny the one thing that sets above the other animals? What other merit have we? The elephant is larger, the horse stronger and swifter, the butterfly more beautiful, the mosquito more prolific, even the sponge is more durable. Or does a sponge think?

Matthew Harrison Brady


I don't know. I'm a man, not a sponge!

Henry Drummond


Do you think a sponge thinks?

Matthew Harrison Brady


If the Lord wishes a sponge to think, it thinks!

Henry Drummond


Hornbeck, I'm getting tired of you. You never push a noun against a verb without trying to blow up something.

E. K. Hornbeck


We're growing a strange crop of agnostics this year.