DVDs from TCM Shop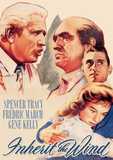 Inherit the Wind In the twenties, a... MORE&nbsp> $14.96 Regularly $19.95 Buy Now
USER REVIEWS
See Detailed Ratings
Acting of Lead Performers

Acting of Supporting Cast

Director

Music Score

Title Sequence

Screenplay

Cinematography

Historical Importance

Would You Recommend?

0 Member Ratings
Rate the acting of the Lead Performers

Rate the acting of the Supporting Cast

Rate the Director

Rating of the Music Score

Rating of the Title Sequence

Screenplay

Creatively uses the camera to tell the story

Importance in Cinema history

Would you recommend for fans of this genre
Submit Ratings
Cancel
Write a Review
Read Reviews
NO REVIEWS AVAILABLE
The title has not been reviewed. Be the first to write a review by clicking here to start.
just as relevant today

amazing -- 60 years on, and this movie is as timely as ever

Very good version of the stage play.....

Pretty faithful rendition. Spencer Tracy was tremendous and earned his acting nomination. Frederick March - another great acting job - it was over the top, but the dramatic interpretation was meant to be over the top. He was supposed to have a virtual breakdown that eventually leads to his death - just a tough acting field in 1960. The one thing that wasn't so great was that horrible wig they forced him to wear - it was a bad hairpiece. the supporting actors were all very good as was everything else. For my money, this should have gotten a picture nomination instead of THE ALAMO. A very taut and intelligent courtroom drama. On my scale = 90 outta 100.

Inherit The Spin (or Not)

This movie made me believe the sensibility of 'amoeba to mankind' as was also pictured in museums, text books, & news portals. Even Disney's 'Fantasia I' had it's take on this theory! Later it was ouija, astrology, nature, est- whatever made sense at the time! No matter what or how dogma is presented, it is ultimately a choice to 'reject or believe' whether scientifically or religiously 'proven', & even those 2 words (religion/science) are paired to trigger mutual exclusivity! The Creator is long post mortem on this plane & we inherit preposterousness! Eternity will tell what Drummond & Brady (Darrow & Bryant) were staged to regulate, but such regulation can be deregulated by asking, seeking, & knocking!

Great movie

Just wonderful. I saw it many years ago and Tracy and March go toe to toe in a way that only they can. I make an effort to see it every time it comes on. There are just movies you never get tired of. This is one.

inherit the wind

I'll make you a deal, Jeff. You let 'em teach Darwin in church and I'll let 'em teach creationism in the public schools.

Cartoonish box office bomb

This sixties piece is infused with numerous dramatic embellishments (not historically accurate) that is not well-acted by anyone except Tracy. Exceptionally bad are March, who mars a magnificent career by overacting (with a really bad skin wig) and making a mockery of a character based on a learned 3-time Democrat Party nominee for POTUS whom was much more measured; and horribly miscast Kelly is wholly unconvincing. "Inherit Hollywood" is not a thinking person's movie, it is high minded propaganda, and not so much to push evolution (which would be pushed down kids' throats in public schools soon after the SCOTUS kicked God out in 1962) as to denigrate Christianity (all religion is seen by skeptics, agnostics, and atheists as being against "intellectual freedom" but Christianity is the only one ever criticized by the left) and its adherents as blind "non-thinkers" with the goal of slowly-but-surely lessening the influence of the lessons of Jesus Christ, much like the same year's "Elmer Gantry," another propaganda piece promoted as high minded that bombed at the box office, for the United States was One Nation under God and only man's arrogance is attempting to fundamentally transform our exceptional country.

Acting tour de force!

Nominated for four Academy Awards and won zero. Spencer Tracy was nominated for Best Actor but, IMO, a nomination should also have gone to Frederic March. March has never been a favorite actor of mine but he was simply incredible here. If he didn't personify the abject steadfast craziness of Joe McCarthy, then nobody did. It is difficult to follow this film knowing that the play was written in the 1960s using the 1929 Scopes trial to, in turn, point out the evils of the McCarthyism of the 1950s. Convoluted at best but also a parable! Each time I view this film, I try and forget about all that and I end up concentrating on the exceptional acting of Tracy and March. There are few films where such superb roles are given to equally superb actors who can deliver even better acting. This is such a film! I give it four stars. Would have given five if it were not for the fact that the film is such an enigmatic one.

Inherit The Wind

Great thinking persons movie. Superb cast.

A stellar cast in a thought provoking film

The finest adaptation of the Lawrence & Lee play. Excellent acting by all. Spencer Tracy's performance was powerful, and nominated for a best actor Academy Award. The play and film never claimed to be totally historically accurate. It was intended to defend intellectual freedom, and provoke thought. It succeded brilliantly.

A Classic Five Star Film; Historically Accurate.

Ralph Emerson Benn

12/17/13

FIVE Stars! Spencer Tracy, Fredric March & Gene Kelly Were SUPERB.

The Wind is overblown

This is a propaganda piece much more than it is a docudrama.

Powerful!

This is a difficult film to watch, as here we are nearly a hundred years after the Scopes trial and we are still fighting this same battle in our schools. There is still no consensus and there are still schools and school districts that forbid the teaching of evolution. We appear to not believe our children can actually think! Religion raising its ugly head still rules our educational system and our politics. This film's actors are top notch and this is, for me, Spencer Tracy's tour de force role. I did not care for Frederic March here as his performance is too much drama and not enough substance. It is said he modeled his character after William Jennings Bryan and, of course, Bryan was over-the-top himself. There are several factual discrepancies in this film and it is best to read about the actual Scopes trial before seeing the film. The play itself was written to discuss the McCarthyism of the 1950s and it uses the Scopes trial of the 1920s as a metaphor for the red-baiting of the mid-century. Gene Kelly and Harry Morgan add their talents to this film and both give outstanding performances.

Inherit the Wind

An engaging "Message" film from Kramer. Tracy, in an Oscar-nominated performance, is more refined than the over-the-top March, and Kelly hams-it-up as a cynical reporter. Based on the real "Scopes Monkey Trial," the adaptation is just as dramatic & enthralling as the play. A great film to see from time-to-time. I give it a 4/5.

Inherit the Wind

What a great film! It speaks volumes about religious intolerance and hatred in this country,and sadly things seem to have gotten worse regarding those same issues today. Spencer Tracy was incredible. Rather odd role for Gene Kelly I thought,but he pulled it off well.One of the best films I've seen in a long time....Thank you TCM!!

The Perfect Film, yes(1960)

Take two Consummate veteran Actors, a Top Rate Script, First Rate Director and you have "Inherit the Wind." Arguably one of the Greatest Films ever made ! Under the Direction of Stanley Kramer Henry Drummond(Spencer Tracy) and Matthew Harrison Brady(Frederic March) square off in a Tour de Force Battle Royale in court and the court of public opnion of the right to teach evolution as an alterative to Divine Creationism. The right to think is literally on the spit with one of the best written scripts of All Time as your vehicle into enlightenment. It is that Great ! If ever a film poked , prodded and forces the audience to take sides this is the one ! Bertram T. Cates (Dick York ) delivers a fine performance as the befuddled teacher willing to take a stand. Spencer tracy gives IMO his finest performance of his career, complemented by heavyweight Frederic March who is equally caapably of sparring for his own beliefs, even if they are somewaht squewed. The story is compelling, engaging, proseic and beautiful. Give yourself a treat by watching. 10 stars out of 10. The highest rating that can be given. I really found no flaws . Gene Kelly is fine as the streetwise New York newspaper writer whose views seem shallow and sarcastic, but reveal a frightened man.

Ending ruins it

Like in "The Caine Mutiny", the ending of this film waters down the point that religious zealots do more harm than good. By having Spencer Tracy's character regret his actions (which saved a man's career and repuation) and pick up the bible at the end is playing it safe. But why do that? It's not as if bible-belters would be lined up to see this film anyway. The real danger is not in mad would-be prophets like March's character, but in those that willingly follow such people. The crowds outside the prison cell were a blood-thirsty mob of brainwashed, god-fearing, non-thinkers. In other words, "average folk." And that's scary. If it's not March they're following, it would be someone else. Only open-minded thinking will save this planet from its own *inherited* violent and empty self-righteousness. Spencer Tracy does a good job acting-wise, but March is a bit overblown (and that skin head wig stands out a mile), and Kelly seems grossly miscast.

INHERIT THE WIND

ONE OF THE BEST MOVIES I'VE EVER SEEN. HISTORICALLY SIGNIFICANT FOR THE SUBJECT IT COVERS. THE SCOPES TRIAL, IN MY OPINION, SHOWS THE INTRANSIGENCE OF BOTH SIDES OF AMERICA'S CONSCIENCE. SPENCER TRACY, FREDRIC MARCH, AND GENE KELLY GIVE OUTSTANDING PERFORMANCES

Timely and no surprise controversial

The greatness of this film lies not in its impeccable performances, its literate screenplay and great direction, but in the fact that it exactly captures our centuries long struggle as humans to open our minds. It is an homage to freedom of thought, acceptance of divergent opinions, and the essential nature of mankind to wonder about its own existence and origins. Watching it now in 2011 and reading reviews which complain of its left-leaning agenda, and unfair portrayal of Christian characters, just underscores how blind the conservative movement in America is to seeing themselves in the mirror.What certain politicians and TV/radio announcers try daily to create is an America without freedom of thought, in which they get to label those who disagree as fascists,anti-American,etc. In our county the school board had opposed teaching of evolution, and insisted upon a Creationist agenda. "Read your Darwin." agenda.This film

Fair and Balanced

Mr. Boston, characteize this movie and the players however you want, but your assertions do not change the FACT that a Christian religious organization persuaded a State legislator to enact a law prohibiting the teaching of a scientific theory. In the Middle Ages, John Scopes would have been tortured and/or executed for his beliefs by the good religious people depicted in this film. "I think I am being kind" in referring to your point of view on this movie as confused. Millions of others would call it something worse.

Well the film still causes Debate

I am amazed. An actual debate on the rather docile TCM website. I think that both sides need to remember that this is a 50 year old movie based on a Broadway play of the mid-1950s. It was seen in its day as a movie about tolerating controversial thought. It really was never designed to be a thorough discussion of the merits of William Jennings Bryan career, or evolutionary thought, or scientific creationism. Like many of Stanley Krammer's movies (Guess whose coming to Dinner, High Noon) this movie has many commendable scenes and wonderful acting but there is a heavy handedness in dealing with the pros and cons of the characters' arguments. In fairness he was trying to produce thought provoking movies and given the lack of thought provoking cinema today that seems to be a worthy goal.As for the acting, I think Spenser Tracey delivers a standout performance and received an Oscar nomination. But I would agree with Mr. Boston that Claude Atkins performance as the minister is a bit over the top. Certainly the movie and the play could have been a bit more subtle in their dialogue and character development. But it is a fine movie and still obviously a thought provoking one.Thanks to all for the lively discussion.

Respect

Ms. Hudek interpreted my post incorrectly. I (and I believe Mr. McDonald as well) would have appreciated this far left story more if the storytellers were more balanced; if the story showed more compassion toward those with faith in God. Instead, those portraying the vast majority of Americans - Christians - are reduced to cartoon characters in too high of numbers and in too many scenes. More than a few scenes are so overblown, it blows the credibility of this movie away ("Inherit the Wind" - good title). I did enjoy the final scene with Tracy and Kelly, and I thought Tracy was the best actor in this piece, by far. Compassion (respect, kindness, consideration) goes a long way in persuading others to see things your way. I think I am being kind in referring to this piece as merely political propaganda. Millions of others would call it something worse.

Inherit The Wind(1960)

Tolally enthralling and engrossing film about the right to free will, heavyweights Spencer Tracy as Henry Drummond battles Frederic March as Matthew Brady in a Tour De Force Extravaganza. Claasic portrayals abound as March and Tracy go head to head, toe to toe , mano y mano, as Lawyers battling over the Right to Think. Several classic moments as the two give everything they have to provide the viewer an awesome overwhelming experience...Classic.Masterful ...Brilliant.. This film wiil move even the most dispassionate.. whether you beleive in Divine Design or Evolution, you will come away from this film changed...10 stars out of 5 ...It is that good... Required viewing...

Propaganda?

Mr. Boston, this movie isn't about compassionate Christians. It's about ridiculous incredulous zealots who can't look past their bibles. It's a well-acted well-done movie about religious intolerance not atheism. Evolution is a topic of interpretation not necessarily atheistic propaganda. Spencer Tracy and Frederic March make this a most interesting debate.

Pepto-Bismol inspiring propaganda piece

Mr. McDonald asks "Why couldn't religious people be shown more compassionately and somewhat more subtly?" The reason is because this is an over-the-top propaganda piece. Much like how "The Grapes of Wrath" genuflects over government and pounds the private sector, "Inherit the Wind" hugs atheistic evolutionism and kicks God-centered creationism in the can. Influential in the short term, time has revealed "Inherit the Wind" for what it is. Read about the players (what they loved and/or whom they loved) plugging this piece to support the proposition it is polemic partisan politics: Fredric March (I've watched seven of his films), Spencer Tracy (I've watched five of his films), Gene Kelly (three films), and Stanley Kramer; all giants in the limitless realm of cinema; all giants in the limiting realm of liberalism. I have enjoyed watching their movies while eating popcorn. With this piece, Pepto-Bismol would have been more appropriate.

Naturalism vs Realism

One of the readers observes that Spencer Tracy was more "naturalistic" & "realistic," rather than Fredric March, who seemed to rely on "stage tricks." First, despite the unfortunately casual (cavalier)coupling of the two terms, there IS a difference: naturalism is photographing the garbage can as is, while realism is what the garbage can COULD be! In this light, March's performance is a grand demonstration of the possibility of screen acting. Lorraine Hansberry said that Shakespeare was the greatest realist of them all & his plays are decidedly not naturalistic. Finally, Gene Kelly had just enough to do, which was pretty much in alignment w/ the Lawrence-Lee play.

A Superb Court Room Drama

Frank Harris Horn

1/19/10

Stanley Kramer assembles an all-star cast led by Spencer Tracy, Fredric March & Gene Kelly in this absorbing film adaptation of Jerome Lawrence and Robert E. Lee's play focusing on the infamous Scopes Monkey Trial of 1925. Tracy as attorney Henry Drummond, who locks horns with March as fundamentalist leader, William Jennings Bryan in the small town of Hillsboro, Tennessee, where a young schoolteacher (Dick York) is standing trial for teaching Darwin's Theory of Evolution to his students. An issue that still remains controversial and unresolved by today's standards. Co-starring Henry (Harry) Morgan, Donna Anderson, Elliott Reid, Claude Akins, Florence Eldridge, Noah Beery, Jr., Paul Hartman, Jimmy Boyd, Hope Summers, Ray Teal, Norman Fell, Phillip Coolidge, Renee Godfrey & Gordon Polk.

Peculiar casting & off-balance narrative

The casting is interesting in this film. Spencer Tracy was a life-long Catholic and much more conservative than the role he is playing. And I think Gene Kelly does make the most of a rare dramatic role...although he receives equal top billing, he is definitely in a supporting role (perhaps due to editing). I think Gene Kelly's role could've been enhanced if he were given the commentary at the end instead of the radio reporter. But back to Tracy and March...their styles are not very much alike at all. I consider Spencer Tracy to be a more naturalistic actor and his style conveys much more realism. Fredric March, on the other hand, seems much more formal, as if he's using tricks to convey the role (observe the way he eats in several scenes...he doesn't even hold a piece of chicken naturally). But somehow this works. And Tracy and March seem to hit it hard and draw you into the narrative. Another high point is Lesley Uggams on the soundtrack as the film's vocalist. But where I think this effort truly misses the mark is in its depiction of small-town stereotypes. Director Stanley Kramer could've at least muted the more cartoonish aspects of the stage play. March's character and the preacher played by Claude Akins are given such over-the-top speeches that you can tell what side the storytellers are on. The line at the end when Hope Summers' townswoman looks up to heaven and begs for mercy on the soul of their prophet (March) was absurd. Why couldn't religious people be shown more compassionately and somewhat more subtly?

Inherit the Wind (1960)

This is well worth seeing for the performances alone, especially the two leads - Spencer Tracy and Fredric March. It is such an interesting story as well. It's hard to believe so many Americans were (and still are) so ignorant. Very well directed, good atmosphere, A truly great film.

RELEVANT! still! How did they KNOW??

Most of a century after the play (and the events on which they are based)and about half a century after the movie, this is a fresh hard-edged social and political commentary. Who or what ages this well? Perhaps Shakespeare.Just in time for a world where religious fundamentalism threatens to bring darkness and death if it is not accorded an unearned respect, and where enlightened rationalism is portrayed as intolerance.

HEY, NOT ENOUGH GENE KELLY IN THIS MOVIE!!

This is my absolute very least favorite GENE KELLY movie, which I actually consider a Spencer Tracey, Fredric March movie. Even though GENE was 48 in this picture, he was still handsome, and he, (as always)played his role very well. But his importance and presence in this movie was almost completely overshadowed by the long-time screen stardum and popularity of Spencer Tracey and Fredric March. GENE did add the laughs to this movie though with his snide remarks towards "Matthew Brady"(March), insinuating how arrogant of a person/lawyer Brady was. Without GENE'S humor, this might have been a less interesting movie. But it is a good movie if one is expecting to see Spencer Tracey and/or Fredric March duel it out, but a bit disappointing if one is expecting the ever handsome, loveable, sexy and sensual GENE KELLY to steal the show. This is just not one that celebrates GENE'S presence, although the drama of the movie will capture your attention. Watch it...You may or may not agree.

SIGNATURE FILM IN CINEMATIC HISTORY

This is one of the most important films ever made, and the fact that its message resonates more than ever today is certainly testimonial to that notion.

ONE OF THE BEST

SPENCER TRACY AND FREDRIC MARCH MAKE THIS ONE OF THE BEST MOVIES EVER MADE.IT IS ONE OF STANLY KRAMERS BEST DIRECTION EFFORTS.

What a great movie

My husband found an article in Smithsonian magazine about this trial. It made a comment about this movie, so we bought the movie. I can't say how many times we have watched it. The acting in this movie is amazing. The trial scenes have such impact,you feel like you are in the courtroom. I have adopted one line as my own philosiphy "Finatcisim and ignorance are forever busy and need feeding". This statement can be applied throughout history. I love this movie. If you appreciate old movies this is one to add to your collection.
*We protect your personal infortmation and will not provide it to anyone without your consent. For a complete explanation, please refer to TCM's Privacy Policy. By submitting your contribution, you agree to TCM's Terms of Use.