DVDs from TCM Shop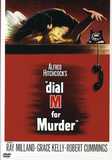 Dial M for Murder A straying husband frames his... MORE&nbsp> $13.95 Regularly $19.98 Buy Now blu-ray
NOTES
The opening title card reads: "Alfred Hitchcock's Dial M for Murder Color by WarnerColor." According to a June 1953 Variety article, Sir Alexander Korda saw the BBC-TV production, Dial M for Murder, and bought the rights for $2,800 shortly before a stage version opened at Westminster Theatre in London in June 1952. He resold the film rights to Warner Bros. for $75,000, with the stipulation that staged versions close prior to the release of the film. Although, according to the article, potential producers were leery of backing a Broadway production because of the clause, actor Maurice Evans negotiated an agreement in which Korda got two percent of the gross of the Broadway stage production, which opened in October 1952, in return for the postponement of the screen version until the fall of 1954. An April 1954 Daily Variety news item reported that, because of the agreement, Warner Bros. was forced to postpone multiple city press previews of the film, but the film had its premiere in late May 1954.
According to the HR review, the screenplay kept the original play's book intact, and also like the play, action occurred almost entirely on one set. Only Frederick Knott is credited onscreen for adapting his original play, however, Ted Sherdeman is credited on the CBCS for the story. Sherdeman's contribution to the final film has not been determined. English actor John Williams, who made his film debut in Dial M for Murder, and Anthony Dawson reprised their Broadway roles for the film. As noted in an October 1953 New York Times news item, producer-director Hitchcock made his customary cameo appearance in the film by posing as one of the classmates in a school photograph.
Grace Kelly, who critics have labelled the quintessential Hitchcock blonde, was loaned from M-G-M for the production; Dial M for Murder marked her first collaboration with Hitchcock. In the Time review, Hitchcock described Kelly as a "rare thing in movies...fit for any leading-lady part" and expressed that her "youthful," but "not juvenile" appearance suggested an intelligence that compared with Ingrid Bergman's. According to a modern source, Hitchcock claimed Kelly was the most cooperative actress he ever directed. She would star in two more of his films before her 1956 marriage to Prince Rainier III of Monaco, whom she met while filming Hitchcock's To Catch a Thief. According to various news items, Kelly was to star in a fourth Hitchcock film, Marnie (1964), but her constituents demanded that she abandon acting for more princess-like pursuits.
Dial M for Murder was Hitchcock's only venture into Natural Vision, which was a two-projector version of 3-D. The studio was pushing for more 3-D films after the success of House of Wax, according to a modern source, and Hitchcock complied, possibly with reluctance. During the thirty-six days of filming, he spent a week on the stabbing scene to get the three-dimensional effect he sought, as filming in stereoscope limited his ability to exploit camera placement and angles. Modern sources state that Hitchcock wanted a close-up of the "M" on the telephone hand dial during the opening credits, but the special 3-D cameras could not focus that closely. By the time of the film's release, the 3-D fad was nearing its end and a May 1954 Variety news item dated two days before the New York opening announced that Warner Bros. had changed their policy previously requiring that first runs be shown in 3-D.
April 1954 press previews were presented in 3-D, but the New York Times review reported that it was shown flat (or 2-D) at the New York premiere. Although some modern sources suggest that the film opened on the West Coast at the Egyptian, a June 1954 pre-opening news item and the June 1954 ad indicate that the Los Angeles opening was held at the Beverly Hills Theatre. A November 1979 Variety article reported that Warner Bros. and Technicolor restored the 3-D WarnerColor version, which they unveiled at the Tiffany Theatre in West Los Angeles.
On April 25, 1956, Anthony Dawson and John Williams reprised their film roles and reunited with Broadway cast member Maurice Evans in an NBC-TV Hallmark Hall of Fame production of Dial M for Murder directed by George Schaefer, in which Rosemary Harris played "Margot." In November 1967, Williams played the role again in an ABC-TV broadcast directed by John Moxey, which co-starred Laurence Harvey, Diane Cilento and Hugh O'Brien. In 1981, Angie Dickinson and Christopher Plummer starred in a television remake, directed by Boris Sagal. Dial M for Murder was also the inspiration for the 1998 Warner Bros. production, A Perfect Murder, which was directed by Andrew Davis and starred Michael Douglas and Gwyneth Paltrow.