DVDs from TCM Shop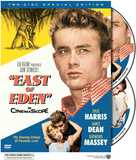 East of Eden Two brothers compete for their... MORE&nbsp> $8.95 Regularly $19.94 Buy Now blu-ray
USER REVIEWS
See Detailed Ratings
Acting of Lead Performers

Acting of Supporting Cast

Director

Music Score

Title Sequence

Screenplay

Cinematography

Historical Importance

Would You Recommend?

0 Member Ratings
Rate the acting of the Lead Performers

Rate the acting of the Supporting Cast

Rate the Director

Rating of the Music Score

Rating of the Title Sequence

Screenplay

Creatively uses the camera to tell the story

Importance in Cinema history

Would you recommend for fans of this genre
Submit Ratings
Cancel
Write a Review
Read Reviews
NO REVIEWS AVAILABLE
The title has not been reviewed. Be the first to write a review by clicking here to start.
James Dean in Early TV Dramas

There are a lot of people that wonder what is so hot about James Dean who made only three movies before his untimely death. The fact is Dean had honed his craft on a number of live dramas during the Golden Age of Television in the early 1950's so that when he did East of Eden he'd become an accomplished actor. A few years ago TCM presented several of these television dramas and I hope they will do so again.

Waste of Eden

An over rated director and an over rated star (James Dean) makes for an over rated film. There's no there there.

Rhetorical Question

What the pious father intended for good (a false honorable memory of mother who is really alive & impious ) was exposed as bad by the impious son to his pious older brother who lost his girlfriend to his impious younger brother, thus enlisting in the army to fight in the nonAmerican world war, going mad in the process, while the impious brother & the turncoat girlfriend obtain the grace of the now critically ill pious father. What is right with this picture?

Excuses For Mis-Behaivor

This film is ridiculous in that it reminds me of a relative of mine who latched on to liberal thinking and spent half her life, 'looking for herself". Each time she would explain this to her friends and family they would snicker behind her. back. Today she is in her eighties and in a home and still looking for her self. This film is an excuse for bad behavior. It is not only boring but it has turned into a sleep aid for a quick nap.

no giant of a cause to say this..

directed by a man many people in Hollywood still hate.. starring a guy who inspired so many annoying copycats.. and the very work it was based on.. cherry picked. despite all that and more.. a solid work of film art. I would pick it over giant and rebel without a cause and would feel no regret.

TCM's Inspiring Hosts

Many thanks TCM: As a film society creator/producer (self-financing undergrad), then 12 years later, after being a Vietnam War vet, (earning graduate degrees in England), I enjoyed serving several years as international host for the Cambridge Film Festival. That is context, for my in-depth thanks for Robert Osborne's many years of hosting TCM so winsomely. Now, here are surprising superlatives: Current co-hosts for the "Essentials," Alec Baldwin spurred David Letterman, resembling a reincarnated, 21st Century Rip Van Winkle, to critique candidly James Dean's debut, starring in "East of Eden." So, Letterman declared dramatically, Dean "steals every sceneruining the movie making it all about him, so no one cares about the movie." Boom! Baldwin rebounded, adding confirmation, "Dean's wounded-bird act," (meaning "Look-at Me!" so often that Broadway star), "Raymond Massey walked off the set." Main point being, savvy sparing hosts sparkled, highlighting unexpected history, galvanizing audiences to stay tuned. Enlightening ensemble engages. Encore!

"Eden," Extraordinarily Inspiring

"East of Eden" is the first film showing American sentiment pivoting historically from WW1 Isolationism; to volunteers patriotically parading; to vigilantes' mob demonizing and attacking civilian, German Americans; to the film's father-figure regretting his Draft Board duty, (when boys die, parents cry); to celebrating entrepreneurial innovation. This is epic. Set in 1917, (the year of the Communist Revolution in Russia), John Steinbeck's book and film, "East of Eden" inspired: innovation in transcontinental groceries with refrigerated railway cars (The A & P, Atlantic & Pacific Co.); admiration for markets (as problem solvers); development of the Foundation for Economic Education (fee.org); plus encouraged Individualism and the Libertarian Movement. Think of the resulting revolutions against totalitarianism, from bloody communism to the blood-less, Velvet Revolution(s): Hungary, Czechoslovakia, Yugoslavia, Estonia, Latvia, Lithuania, Poland, and Romania. Now, South Africa's largest city, Johannesburg just elected libertarian Mayor Mashaba. Refugee from the Old World's Anti-Semitism, European emigrant, Elia Kazan's "Eden" is epic!

Director extraordinaire Kazan!

Master movie maker, Elia Kazan directed 6 of the most distinguished dramas in the history of films: "A Tree Grows in Brooklyn"; "Boomerang!"; "Streetcar Named Desire"; "On the Waterfront"; "A Face in the Crowd" and "East of Eden." Why are they "Essentials?" Why are they important for viewing audiences? What elements and themes do they have in common? If you are thinking, audiences love underdogs overcoming extraordinary odds, you could be an American. Or one of millions of persons, around the world influenced, fascinated and respectful of America's Founding Fathers' values, as projected in classic movies. Directors Kazan, John Ford, Howard Hawks, John Frankenheimer, etc. produced profound insights into issues, inspiring individuals with integrity to struggle and succeed, heroically beating bad-to-evil villains in challenging circumstances. These directors were champions, especially during the 1930s to about 1960. That Amazing Age of classic, civilization-promoting culture with noble, heroic champions were suppressed by the media, hyping the Counter Culture in the 1960s, for big bucks. Follow the money, to understand public promotion of the "Anti-Hero" fad. That money-motivated, media hype was wonderfully exposed and discredited by the universally acclaimed 1976 movie, "Network." The truth earned numerous Oscars. Thankfully see TCM for reoccurring broadcasts or buy their DVDs. (Or read Hunter S. Thompson's insightfully witty book, "Fear & Loathing in Las Vegas.")

James Dean is Volcanic !

How would you describe what he accomplishes as an "actor" here ? The only word I can think of is "Volcanic". It flows over with Emotion, Passion, humanity, the unveiling of everything that Human beings generally keep hidden.

east of eden correction

Ted McCord was the cinematographer on "East Of Eden," not Joseph La Shelle. Sorry. (By the way, it's amazing how Mendocino looks EXACTLY the same as it did in 1955, when it was standing in for 1917.)

east of eden

An intense, overlong, at times beautiful, and at times ham handed drama about family conflict and young love. Like "Splendor In The Grass," Elia Kazan's other, better film on these two topics, it alternates between scenes that are quite frankly hokey, like the speech on love and understanding that Julie Harris gives to a stroke stricken Raymond Massey at film's end, to scenes that are lyrically powerful, like the one on the ferris wheel, when James Dean's Cal Trask and Julie Harris' Abra declare their love for each other without using that word. I guess if you're a big James Dean fan you'll love this film. I'm not and I don't, although I do like it, especially when Julie Harris and Jo Van Fleet are on screen. Kazan, in my opinion, was one of the better Hollywood directors of women and it really shows in Harris' combination of innocence and sexual guilt, and Van Fleet's combination of harshness and affection for her estranged son. Let's give it a B plus. P.S. Love the way cinematographer Joseph La Shelle used the fog and windsweptness of Mendocino to stand in for 1917 Monterey.

Under rated film.

Probably the most under rated of Dean's three movies, but at least at the same high level as Giant and Rebel Without A Cause. Perfect for highly educated movie fans perhaps more than the general public.

A Must-See

Many comment about Dean's brooding character, Cal, and he does an excellent job in this role, but there are many other aspects to this films that make it an essential, especially the good vs. evil thread: "bad" brother Cal, is supposed to be Cain from the Bible story, and the "good" brother, Aaron, is Abel. The father always favored the "good" brother because the "bad" brother reminded him of his ex-wife, who couldn't stand her Bible-thumping husband because she felt smothered by his preachiness. Jo Van Fleet does an amazing job of portraying the mother, a hard-nosed madame of a brothel, who feels guilty over abandoning her twin sons. After meeting him and discovering that he has her street-smarts, she decides to help him by financing a project to grow beans to sell to the military because WW I is looming and the project is a resounding success. Cal is still rejected by his father, who tells him it is immoral to make money in this manner. Jo's acting in the scene where Aaron meets her is outstanding. There is also the humorous scene where the car salesman explains how to start the crank-operated automobile, which is actually educational for those of us who never tried to do this. Also the scene in the jail with Burl Ives who gives a whiskey bottle to a noisy drunk with the comment that it's "hair of the dog that bit you". Several memorable scenes with Dean that show his sex appeal: on Abra's upstairs porch when he puts his face against the house, when he lies down in the field with his bean crop, when he ignores the Mexican girl he's obviously involved with. There is a happy ending, though.

great

My father recently died and when I saw the last scene how a son takes care of his father in his last days, it moved me tremendously. Elia Kazan's directing is great, the music is great(how about the opening the movie like a opera...with an overture), the acting is great and so is the quality of the colors...

Overrated film

James Dean mumbles and pouts his way through yet another movie, my opinion is that he was never very talented. Jo Van Fleet was miscast as Kate. Several of the key characters from the book are missing in the film and the enitre first half of the story was never told. I didn't understand what Kazan was trying to do with the tilted camera angles (dinner table scene early in the film) and the strange placement of shadows in the brothel when Cal is speaking to the bartender. This was obviously a vehicle for method actors, the only decent performance was Julie Harris as Abra. Please read Steinbeck's book and then watch the remake starring Jane Seymour and Timothy Bottoms, which follows the book much more closely.

East of Eden

Dean makes his first starring role in this excellently crafted drama. Along with Dean, Harris & Massey give great performances, Fleet won the Best Supporting Actress Oscar as a brothel madame. The adaptation of Steinbeck's novel is a winning film for director Kazan, however the story could get dull in early scenes. The first of three major films starring the iconic Dean. I give it a 4/5.

GREAT PERFORMANCES....

There isn't a bad performance by ANYONE in this film,NOT ONE!This film is based more on the second half of John Steinbeck's book.The story as seen through Cal Trask's eyes,The Monterey/Salinas Area,the fields,the weather,the railroads,LIFE in general.Leonard Rosenman's score to this film is outstanding,& provides a backdrop to the moments of these people's lives.There are 4 scenes in this movie,that in my opinion speak volumes about these people.1.When Jo Van Fleet & James Dean finally sit & talk,2.When Cal punches out his brother Aron,after Cal tried to help him3.When Cal takes Aron to where their mother is,& exposes who & what she really was,4.Cal finally tells his father Adam,the truth.Jo Van Fleet,is fabulous in this film.She also won an Oscar for this performance as well.Raymond Massey,Richard Davalos,Lois Smith,Julie Harris,Burl Ives,& of course,James Dean. Yes,this is a "MODERN RETELLING" of the story of Cain & Abel.By the way,in the Steinbeck novel,Aron gets killed a week after he arrives in the fields of The Western Front,during World War I.This film is MUCH MORE INTENSE,than say "REBEL",& or "GIANT".Hell of a springboard for Dean.At this point in time,I don't EVEN want to consider what heights James Dean could have scaled,had he lived.It's refered to as counterfactuals,WHAT IF.....Sit back,relax & enjoy this film.YES,it's been remade a few times,BUT NOTHING CAN BEAT THIS!

Plots come and go, themes endure

I'm a KAZAN fan, who has seen all his movies. His choices here made the difference between very good and truly great. Dean was born to play Cal Trask. Joe Van Fleet was a staggering surprise. I'd never heard of her. WOW! Julie Harris was beyond great. She and Joe Van were the glue Kazan used to make such a compelling movie. John Steinbeck never hurts.

disappointing

If you read the book, the movie will be disappointing. The actors/actresses were nothing like the characters that I envisioned from the book.

Outstanding..........

Hard to decide which was Dean's best role, I am torn between Eden and Rebel. A movie classic that never grows old.

An Example

This movie is a great example of a dead art . . . method acting. Method acting is recalling past emotions and feelings and using those feelings to potray a chracter. James Dean's father sent him away to Indiana when his mother died. Google tcm method acting they still have the article, but you cannot get to it from the website. Anyway, James was taught at the ledgendary Actor Studio by Lee Strasberg. Guess who was there? Paul Newman Julie Harris, and Marlon Brando (good company!) Julie Harris was good in this movie, but there are other movies where she was more than she was than in this one, so much more. The person who played Aron is still alive, he was not that big of a deal later on. Dean did not have a "later on." A great deal of negatives happened becaus eof his death, but one postive . . . Paul Newman. If James Dean would not have died Paul Newman would have never would have been who he is. Paul was a little lower than second when Jimmy was around. Therefore, Paul took his role as Rocky Graziano in "Sombody up there likes me." Yet, it would have been cool to see Dean at the 83 Acadamy Awards and to hear him speak. Indescribable movie.

James Dean is perfection

I love all of James Dean's work but he truly is Cal Trask. The direction in this movie is excellent as well as all of the supporting cast. People said that Dean was trying to be Brando but his performances displayed more sensitivity. Kazan wanted to originally cast Brando in the role of Cal, what a huge mistake that would have been. TCM needs to devote an evening to James Dean showing his three movies.

East of Eden (1955)

Superb drama, outstanding direction from Elia Kazan, James Dean is phenominal, and has such an incredible screen presence. Jo Van Fleet does a remarkable job portraying his mother, and she won an Oscar for her performance. Very moving, always interesting.

One of the Best Films of the 50s.

From its fine lead performance from James Dean - to its supporting cast that rings truth and honesty... it's a powerful story, fueled with powerful plot points, and it has some of the best fimmaking aspects of the 50s!

A great film.

Another great movie that I hardly ever see playing on TCM. Why???. Great acting especially by Dean and Harris. I think this was Dean's best picture. Also great support from Raymond Massey, and Jo Van Fleet. Terrific book, and made into a great film.

Dean's Best Role

I have seen all of James Dean's work; TV, movies and documentaries, and in my opinion "East of Eden" was his best role. When I was a teenager I was fortunate to meet him and get his autograph during the final weekend of filming "Giant" in Marfa, TX. Shortly afterwards his talent was lost to the world forever. His movie trilogy are classics that will be enjoyed forever.

James Dean in "East of Eden"

I am only 23 years old, and when I watched James Dean as Cal in this movie I could really relate. He did such a fantastic job that I even cried when he tried to give his father money for his birthday and his father didn't except it. It is crazy that a movie this old can make you feel even in this time!

James Dean in "East Of Eden"

I will first say the Eden is a wonderful movie. Full of drama and romance. James Dean is an amazing actor. He certainly deserved his Oscar nomination even though he didn't get to find out about it. He should've won. But I think it is an amazing movie. The whole cast was really good. I truly recommend it.
*We protect your personal infortmation and will not provide it to anyone without your consent. For a complete explanation, please refer to TCM's Privacy Policy. By submitting your contribution, you agree to TCM's Terms of Use.