DVDs from TCM Shop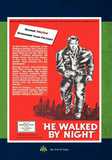 He Walked by Night After killing a cop, a burglar... MORE&nbsp> $10.95 Regularly $14.99 Buy Now
Articles
SEE ALL ARTICLES
He Walked by Night (1948)
Inspired by the true story of Erwin Walker, a WWII hero who turned to crime and terrorized Los Angeles in 1946, He Walked By Night (1948) is a remarkable low budget, film noir thriller that is often overlooked in film studies of this genre. Besides Richard Basehart's chilling performance as a meticulous thief of electronics equipment who becomes a wanted cop killer, the film glistens with the stylized black and white cinematography of John Alton whose use of light has been compared to the lighting in Rembrandt paintings. The film could well serve as a primer on how to shoot a film noir since it incorporates all of the familiar elements of the genre so masterfully into the visual design of the film: splintered shadows from Venetian blinds that transform a cozy bedroom into a prison, street lights over patches of wet pavement, a brief pinpoint of light from a hastily lit match in a dark room. Most memorable of all is the chiaroscuro camerawork in the final sequence as Davis Morgan - Richard Basehart's character - is pursued through the huge drainage canals underneath Los Angeles by the police. This was the first time this unusual locale was used in a film and it would later serve as an equally disturbing setting - the lair of giant mutant ants - for the science fiction thriller, Them! (1954).
Although Alfred L. Werker is credited as the director of He Walked By Night, most film scholars acknowledge Anthony Mann as the true creative force behind it. For reasons not documented, Mann took over the direction from Werker at a fairly early stage and you can see his distinctive imprint on such scenes as the one where Morgan extracts a bullet from himself or the nighttime shootout in the electric company between Morgan and Sergeant Brennan (Scott Brady). The Mann influence is also confirmed by the presence of screenwriter John C. Higgins and cinematographer John Alton, both of whom collaborated with Mann on previous projects. Higgins wrote the screenplays to Mann's Railroaded! (1947), T-Men (1947), Raw Deal (1948), and Border Incident (1949) while Alton photographed the director's Reign of Terror (1949), Devil's Doorway (1950), and several others.


He Walked By Night obviously made quite an impression on Jack Webb. The actor, who appears in this film as a character named Lee, would later produce his own TV series, Dragnet, which copied the semi-documentary approach used in He Walked By Night. Another interesting side note is the fact that He Walked By Night, along with two other film noir titles - T-Men and Canon City (1948), was financed by a silent partnership between Joe Breen, the head censor of the Hays Office, and Johnny Roselli, a Chicago businessman who served as a liaison between the mob and the Hollywood craft unions. Roselli had actually worked in the Hays office at one time and after later serving time for extortion, reestablished his relationship with Breen. According to author Eddie Muller in Dark City: The Lost World of Film Noir (St. Martin's Press), "Roselli left Hollywood to help the Chicago boys establish their foothold in Vegas. He later was a middleman in negotiations between the Mafia and the CIA to assassinate Fidel Castro. His show business career ended on a yacht off Miami, when he was butchered, stuffed into an oil drum, and set adrift by hoodlums who'd seen too many Charles McGraw movies."


Producer: Bryan Foy, Robert Kane
Director: Anthony Mann, Alfred L. Werker
Screenplay: John C. Higgins, Crane Wilbur
Art Direction: Edward L. Ilou
Cinematography: John Alton
Film Editing: Alfred DeGaetano
Original Music: Leonid Raab, Irving Friedman
Principal Cast: Richard Basehart (Davis Morgan), Scott Brady (Sgt. Marty Brennan), Roy Roberts (Capt. Breen), Whit Bissell (Reeves), James B. Cardwell (Chuck Jones).
BW-79m.

by Jeff Stafford
back to top
---