DVDs from TCM Shop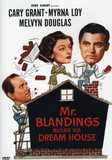 Mr. Blandings Builds His Dream... A New York... MORE&nbsp> $15.96 Regularly $19.98 Buy Now
NOTES
Norman Panama and Melvin Frank's onscreen credit reads: "Produced and Written for the Screen by Norman Panama and Melvin Frank." The film opens with a tongue-in-cheek prologue narrated by character "Bill Cole." After the prologue, which features shots of harried New York life, Bill then addresses the audience onscreen and introduces the "Blandings family." During the rest of the story, Bill provides occasional offscreen commentary. In one scene, Bill describes the scene's action and delivers all of the characters' dialogue offscreen, while the actors mouth dialogue that is obviously different from the narration.
Modern biographical sources provide the following information about the novel and its author: Eric Hodgins' novel was inspired by his own experiences building a house in New Milford, CT. In 1939, when he was a vice-president of Time, Inc., Hodgins set out to build his dream house for $11,000, but ended up paying $56,000 for its completion. Two years after moving in, he was bankrupt and was forced to sell the property. After he had written the novel's sequel, Blandings Way, he tried to buy back the house with the $200,000 RKO had paid him for the rights to Mr. Blandings Builds His Dream House, but was unsuccessful. As of 1991, film biographer Anne Edwards owned the house.
News items and articles provide the following information about the film's production: Mr. Blandings Builds His Dream House was Dore Schary's first story acquisition after being named RKO's executive vice-president in charge of production. According to an article in Life, written by Hodgins, the author was brought to Hollywood to consult on the adaptation. One of the studio's concerns about the original story was "Jim Blandings'" income. In the novel, Jim earns $25,000 per year, but Frank and Panama felt that the average moviegoer would not be sympathetic to someone earning that much, so his salary was dropped to $15,000. Similarly, the final cost of the house, which was $58,000 in the novel, was lowered to $39,500. RKO borrowed Cary Grant from David O. Selznick's Vanguard Films for the production. Multiple sets were built at Hunter Ranch, near Girard, CA, in what is now Malibu Creek State Park. (The finished house set is currently being used as a Park facility.) In order to create the closing shot, in which a close-up of Grant, Myrna Loy and Melvyn Douglas pulls back to reveal much of the entire "dream" property, cinematographer James Wong Howe employed a new technique whereby a standard lens was combined with a zoom lens on a crane-mounted camera.
Costume designer Robert Kalloch died on October 20, 1947, just after completing Loy's gowns for the production. Although Dan Tobin is listed in Hollywood Reporter production charts and the Film Daily review as a cast member, he was not seen in the viewed print. In her autobiography, Loy recalls that director H. C. Potter shot the script in chronological order. Hodgins' contemporary recollections, however, dispute that claim. Although produced by RKO, the picture was distributed by Selznick Releasing Organization, which held a sixty percent interest in it. RKO owned the remaining forty percent. (Modern sources add that, as part of a deal between RKO and David O. Selznick in which Schary was allowed to terminate his contract with Selznick and become RKO production head, RKO gave SRO the U.S. and Canadian distribution rights to the film. In 1953, however, RKO reclaimed full distribution rights.) After the film's completion, RKO sold the "prop" architectural plans to charity, and seventy-three Blandings houses were constructed around the country, including ones in Bel-Air, CA, Washington, D.C., Portland, OR, and Toledo, OH. Excerpts from a scene in which "Muriel" discusses the unusual colors she wants for the house with two bemused painters were used in a 1993 Sherwin Williams paint commercial. Cary Grant reprised his role in a October 10, 1949 Lux Radio Theatre broadcast, co-starring Irene Dunne. Hallmark Playhouse broadcast two more radio versions, the first on July 1, 1949 and the second on June 9, 1950. Cary Grant starred in both broadcasts, and Betsy Drake, Grant's then-wife, co-starred with him in the second. Panama and Frank's screenplay for Mr. Blandings Builds His Dream House also was the basis for the 2007 release Are We Done Yet?, directed by Steve Carr and starring Ice Cube and Nia Long.