DVDs from TCM Shop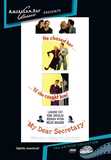 My Dear Secretary Owen Waterbury, bestselling... MORE&nbsp> $11.95 Regularly $10.99 Buy Now
Home Video Reviews
Kirk Douglas starring in a sex comedy in 1948? It seems hard to swallow but the results are now available on The Wade Williams Collection's new DVD release of
My Dear Secretary
(1948), distributed by Image Entertainment.
Kirk plays hotshot novelist Owen Waterbury, first seen lecturing a class of would-be writers. When Owen announces that he needs a new secretary, Stephanie Gaylord (Laraine Day) jumps at the chance. She is working on her own novel and thinks hearing the master dictate his new work will give her the inside path to the top. Unfortunately, all the job seems to provide is a quick trip to the bedroom. Waterbury and his live-in male friend Ronnie Hastings (Keenan Wynn) advertise for secretaries but are really looking for mistresses and Stephanie can barely get in the door for Owen's previous secretary barging out, dragging the mink coat Waterbury gave her for "services" behind her. Stephanie holds out for a ring and gets it, but it does not keep Owen from jumping back into the secretarial pool.
My Dear Secretary
is exactly the kind of movie that would be a big hit in the late 1950's, early 1960's. Kirk Douglas plays the Rock Hudson role, Laraine Day the Doris Day role and Keenan Wynn the Tony Randall role. Unfortunately, this movie gives one an appreciation of how well Hudson, Day and Randall could play those parts. Kirk either plays the novelist too broadly or too seriously, which makes the character less appealing than he should be. Laraine Day gives a truly bizarre performance, a smile plastered on her face like a politican's wife, utterly insincere about everything she says. Only Wynn gives an enjoyable performance although he is miscast in a role that, in addition to Tony Randall, would have been better played by David Wayne or the young Robert Montgomery. Several usually excellent character actors are present in minor roles, although Rudy Vallee is wasted in a nothing part as is Alan Mowbray as a detective.
The strangely named producer Leo C. Popkin made
My Dear Secretary
as an independent feature released through United Artists and, after paying for up-and-coming stars for the film, did not have much left over for the sets which seem cramped and leave the movie with a "filmed play" look. After its release, Popkin's epic went into the public domain. The print for the DVD is advertised as ¿a pristine new film-to-video transfer from original source materials¿ and indeed, it may have come from the original negative; If it did, however, that negative was not well preserved. There are several rough-looking patches around reel changes and some nitrate damage is apparent. The DVD contains no trailer, art work, publicity material or anything else other than the main feature.
My Dear Secretary
does have some laughs but, as a battle-of-the-sexes comedy from the late 1940¿s, it runs a distant second to far-superior Spencer Tracy ¿ Katharine Hepburn movies such as
Adam¿s Rib
(1949). This DVD is more for the Kirk Douglas completists than the average fan.
For more information about
My Dear Secretary
, visit
Image Entertainment
. To order
My Dear Secretary
, go to
TCM Shopping
.
by Brian Cady