DVDs from TCM Shop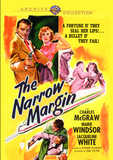 The Narrow Margin A tough cop meets his match... MORE&nbsp> $15.95 Regularly $17.99 Buy Now
FULL SYNOPSIS
Los Angeles police detective Walter Brown and his partner, Gus Forbes, arrive in Chicago by train and immediately head for the apartment hideout of Mrs. Neall, a gangster's widow. Because she possesses her husband's "pay-off" list, Mrs. Neall has been subpoenaed to testify before a grand jury in Los Angeles, and Walter and Gus have been assigned to bring her safely there. While Walter and Gus collect Mrs. Neall, a gunman in a fur-collared coat slips into the apartment building's foyer. As Mrs. Neall and the detectives are descending the stairs, however, an unsuspecting tenant exits his apartment, startling the killer. Before fleeing, the gunman fires wildly up the stairs, felling Gus. Although shaken by his partner's death, Walter must immediately return to the train station with Mrs. Neall. In the taxi, Walter yells at the unsympathetic, crass widow for thinking only of herself, but duty-bound, gives her instructions on how to board the train without attracting attention.

Despite Walter's precautions, another gunman, Joseph Kemp, spots him boarding. Kemp appears at Walter's compartment door, claiming to have lost his luggage, but does not see Mrs. Neall, who is hiding in Gus's compartment. Soon after, Walter goes to the dining car and sits down next to passenger Ann Sinclair. While chatting with Ann, Walter nervously watches Kemp across the aisle and bolts as soon as Kemp departs. Unaware that Walter is spying on him, Kemp searches the detective's compartments but finds nothing. To avoid being spotted by Kemp in the corridor, Walter slips into the nearest unlocked compartment, which is occupied by a young boy and a middle-aged woman. Once Kemp has passed by, Walter then retrieves Mrs. Neall from the bathroom, where he had sent her. Walter is confident that Kemp will not return to his compartment, but a moment later, notices someone trying to open the door. The intruder, Vincent Yost, offers Walter a bribe to hand over Mrs. Neall, but Walter angrily declines.

The next morning, Walter sneaks into Kemp's berth while he is in the bathroom and finds a telegram informing Kemp that a man named Densel will be contacting him. Walter then spies obese passenger Sam Jennings sitting with Kemp in the dining car, and a moment later, Jennings asks Walter if he has an empty compartment to sell, as Kemp has indicated. When Walter says no, Jennings becomes upset and complains to the conductor. Later, during a stop in a Colorado town, Walter disembarks and sends a telegram to Los Angeles, inquiring about Kemp, Densel and Jennings. Walter then discovers that the young boy is Ann's son Tommy and the older woman his nanny, Mrs. Troll. Walter befriends the impressionable Tommy and ingratiates himself with Ann. Meanwhile, Kemp, who does not know what Mrs. Neall looks like and has been watching Ann, sends his own telegram, informing his boss that Ann is their target. After Ann mentions to Walter that Kemp has been staring at her, Walter realizes Kemp's mistake and, upon reboarding, tells Mrs. Neall. To Walter's disgust, the selfish Mrs. Neall expresses no remorse for the danger in which she has placed Ann. A bit later, Walter catches Kemp following Ann and, yanking him into an empty compartment, beats him. Though defeated, Kemp suggests that Walter sell Mrs. Neall's pay-off list, but Walter again refuses to be bribed. Walter then arrests Kemp, just as Jennings appears and identifies himself as a railroad detective.

Aware of Walter's mission, Jennings offers to escort Kemp to the baggage car, but on the way, Densel, who has replaced Yost, jumps him. After Kemp and Densel, the killer in the fur-collared coat, overwhelm and handcuff Jennings, they return to Walter's compartment. Mrs. Neall cannot hide in time and, while she is going for a gun in her purse, Densel shoots her in the back. Walter, meanwhile, has gone to Ann's compartment to warn her about Kemp, and she reveals that she is the real Mrs. Neall. Ann, who divorced Neall years before, informs Walter that she found the pay-off list among his belongings and mailed it to the district attorney. She also explains that the phony Mrs. Neall is an Internal Affairs detective assigned to investigate him in connection with the graft trial, while also acting as a decoy. Having determined that the phony Mrs. Neall's name is Sarah Meggs, the gunmen conclude that Ann really is their target. Unable to enter Ann's compartment, Densel grabs Tommy in his compartment just as Kemp pulls the train's emergency brake. Yelling to Walter in the corridor, Densel threatens to hurt Tommy if he does not receive the list. Densel is unaware that Walter can see him in a window reflection and is tricked into walking away from Tommy. Walter shoots Densel through the door, then he and the freed Jennings chase Kemp. Before the detectives can catch him, Kemp jumps off to meet a car that has been racing alongside the train, but the getaway car is soon intercepted by the police. Later, as they head for the Los Angeles Hall of Justice, Ann bravely informs Walter that she is not hiding anymore.