DVDs from TCM Shop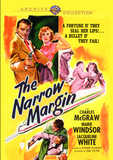 The Narrow Margin A tough cop meets his match... MORE&nbsp> $15.95 Regularly $17.99 Buy Now
Home Video Reviews
"You make me sick to my stomach."
"Well, use your
own
sink."
That's just one of the withering exchanges Charles McGraw and Marie Windsor launch at each other in
The Narrow Margin
, the 1952 RKO B-movie that's the prize of Volume 2 of Warner Home Video's
Film Noir Classic Collection
. He's a Los Angeles cop assigned to protect her, a slain gangster's wife scheduled to testify before a grand jury against her late husband's associates. He doesn't like her on general principle - "What kind of a dame would marry a hood?" he asks before even meeting her. And when the people she's testifying against make their first attempt at killing her and get his trusty old partner (Don Beddoe) instead, his resentment only increases. By the time he gets her on the train from Chicago to Los Angeles, with hit men on their trail, the only thing between her and a bullet is his pride in his job. As the above exchange in one of their train compartments shows, he's not afraid to spit out his disgust and she's not afraid to dish it back at him, either.
McGraw and Windsor played a slew of noir supporting roles - gravel-voiced McGraw in
The Killers
and
, for instance, statuesque Windsor in Force of Evil and The Killing. Their casting here is crucial to the movie's success, because along with the claustrophobic, fear-inducing setting, the prevalent noir quality in The Narrow Margin is the uncertain virtues of their characters. As she usually did, Windsor has the spidery sexuality of a femme fatale and this tough cookie spends much of the movie in a lacy black slip. Her body seems as uninhibited as her vocabulary. As a target of killers, her character gains sympathy, but we also feel the danger in which she's placed the duty-bound cop. Meanwhile, McGraw had usually played heavies, so his surly cop is not the guardian angel he might have been with a more pleasant actor playing him. When one of the heavies offers him a hefty bribe to look the other way, there's a chance he just might take it. Indeed, in the previous year's Roadblock, with McGraw in another rare headlining role, he played an insurance agent who went bad.

Director Richard Fleischer (Compulsion, Fantastic Voyage and, eventually, schlock like Red Sonja) does a good job at developing suspense, often shooting with a handheld camera during scenes in which the cop tries to outmaneuver the killers in the train's corridor, or in a very convincing fight scene in the train's tiny men's room. Fleischer and cinematographer George E. Diskant (Desperate, They Live by Night) occasionally let fast-moving characters slip out of focus, adding urgency to the action, while the introduction of an obese passenger (Paul Maxey) who regularly becomes an obstacle for the cop to get around (or not) thickens the suspense and injects humor, too. There is, of course, also dark humor in the barbs traded by the two leads. "Sister, I've known some pretty hard cases in my time," the cop tells the widow at one point. "You make 'em all look like putty."

The crassness of the gangster's widow contrasts with the classy poise of the shapely blonde (Jacqueline White) the cop befriends in the dining car. Her young son (Gordon Gebert) has a running infatuation with the mysterious cop that effectively adds to both the danger and levity at different times, and the cop seems more devoted to protecting the blonde (after the killers think she's the grand jury witness) than protecting his assignment. But the conflicted cop finds that even his notions of good and evil can get turned upside down in the significant plot twist towards the end of the fleet 71-minute thriller.

The Narrow Margin was made just as Howard Hughes was taking over RKO. Hughes liked the movie so much that he sat on it for 18 months while pondering whether to remake it as an A-movie, perhaps even as a reteaming of Macao stars Robert Mitchum and Jane Russell. As was his habit, Hughes also fiddled with the editing of the movie, cutting (perhaps inadvertently) Windsor's last scene and, in effect, dissing her character in very glaring fashion.

The Narrow Margin DVD includes an audio commentary by French Connection director William Friedkin that is, on one hand, a good place for someone not well-versed in film noir to learn a few basics. He also makes a particularly shrewd point when he talks of how writers and directors of the noir era didn't analyze characters as much as moviemakers do today - a major reason why so many movies today are too self-conscious to get their drama across, if you ask me. But his commentary is also really riddled with mistakes and misunderstanding. Sometimes in his discussion of noir or post-war Hollywood, Friedkin gets his facts wrong, like stating that quintessential noir author Cornell Woolrich (Night Has a Thousand Eyes, Phantom Lady) wrote screenplays (he didn't) or that RKO was the studio where the Marx Brothers made their early comedies (that was Paramount; they made only Room Service, a minor mid-career movie, at RKO).

And although Friedkin speaks convincingly of the stylistic touches of noir, how in the world can he say during the scene in which a heavy tries to bribe McGraw's cop that, in noir, "the good guy is never going to take (the bribe)." A little later, he adds that "the heroes" were never going to be corrupted. Is he kidding!? Almost the whole genre is about temptation - about people, generally men, transgressing the law and often even their own nature to get power, sex, money and every conceivable combination of those three. "Never going to be corrupted"? Try telling that to the writers and directors of The Postman Always Rings Twice, Out of the Past, Sweet Smell of Success, The Set-Up, Double Indemnity and a gross of other noirs. Friedkin should know better.

The commentary also includes snippets from an interview with Fleischer, but it's unclear when these audio clips are from or why there aren't more of them to include.

The Narrow Margin was disastrously remade in 1990, with Gene Hackman and Anne Archer in the McGraw and Windsor roles. The remake removed any moral taint from the widow, and with it all of the tension between her and her protector, and foolishly "opened up" the story with lots of stuntwork atop the train and pretty scenery. The result was a dull action thriller in which bland good guys faced off against bland bad guys, and that ain't noir.

For more information about The Narrow Margin, visit Warner Video. To order The Narrow Margin, go to TCM Shopping.

by Paul Sherman