DVDs from TCM Shop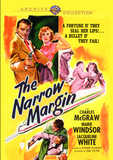 The Narrow Margin A tough cop meets his match... MORE&nbsp> $15.95 Regularly $17.99 Buy Now
Quotes
Vincent Yost


We're ready to make a deal. You have her, we want her, how much? It's as simple as that.

Walter Brown


You're under arrest.

Vincent Yost


For what?

Walter Brown


Attempted bribery.

Vincent Yost


Bribery? Heh -- you'd never make it stick. I'm a sales executive for the Midwest Equipment Company, Chicago. I've never even gotten as much as a parking ticket.

Walter Brown


I don't say I've never been tempted. Of course I've been tempted; I'm human like anybody else. But to spend the rest of my time worrying when I'll be caught up with by some hoodlum holding a first mortgage on my life, payable on demand...! Naah. No kind of money worth that.

Walter Brown


Pardon me, I'd like to get through.

Jennings


Sorry, this train wasn't designed for my tonnage, heh. Nobody loves a fat man except his grocer and his tailor!

Walter Brown


Sister, I've known some pretty hard cases in my time; you make 'em all look like putty. You're not talking about a sack of gumdrops that's gonna be smashed -- you're talking about a dame's life! You may think it's a funny idea for a woman with a kid to stop a bullet for you, only I'm not laughing!

Mrs. Neall


Where do you get off, being so superior? Why shouldn't I take advantage of her -- I want to live! If you had to step on someone to get something you wanted real bad, would you think twice about it?

Walter Brown


Shut up!

Mrs. Neall


In a pig's eye you would! You're no different from me.

Walter Brown


Shut up!

Walter Brown


You're off your stick--way off.