DVDs from TCM Shop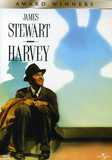 Harvey A wealthy eccentric prefers... MORE&nbsp> $8.55 Regularly $14.98 Buy Now blu-ray
Quotes
Elwood P. Dowd


Here, let me give you one of my cards. Now if you should want to call me, use this number. This other one is the old number.

Dr. Sanderson


Think carefully, Dowd. Didn't you know somebody, sometime, someplace with the name of Harvey? Didn't you ever know anybody by that name?

Elwood P. Dowd


No, no, not one, Dr. Maybe that's why I always had such hopes for it.

Elwood P. Dowd


Well, I've wrestled with reality for 35 years, doctor, and I'm happy to state I finally won out over it.

Elwood P. Dowd


I always have a wonderful time, wherever I am, whoever I'm with.

Elwood P. Dowd


Years ago my mother used to say to me, she'd say, "In this world, Elwood, you must be" -- she always called me Elwood -- "In this world, you must be oh so smart or oh so pleasant." Well, for years I was smart. I recommend pleasant. And you may quote me.