DVDs from TCM Shop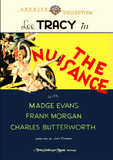 The Nuisance Love trips up an ambulance... MORE&nbsp> $16.95 Regularly $17.99 Buy Now
Home Video Reviews
Lee Tracy breezes through
The Nuisance
(1933) as a shyster lawyer who has no problem chasing ambulances, distorting or outright fabricating evidence, paying off witnesses, and turning any tragic accident into a personal payday. The role of J. Phineas Stevens is simply perfect for Tracy, a 1930s star who deserves to be much better remembered today. Tracy was in his element in the pre-Code days, turning out fine fast-talking performances in films like
The Half-Naked Truth
(1932),
Dinner at Eight
(1933),
Turn Back the Clock
(1933) and
Bombshell
(1933). He also had a notable stage career, playing the original Hildy Johnson in
The Front Page
on Broadway (a role that went to Pat O'Brien in the 1931 film and to Rosalind Russell in the 1940 remake,
His Girl Friday
).
But Tracy was also a hard-drinking carouser, and he precipitated his own fall from grace in 1934 when, in an infamous Hollywood incident, he urinated from a balcony onto a passing parade of Mexican soldiers while he was in Mexico City filming
Viva Villa!
(1934). MGM replaced him in that film with Stuart Erwin, fired Tracy from his contract, and apologized to the citizens of Mexico. Tracy then spent years freelancing around Hollywood, and while he made more movies, his heyday was over. He did mount a major late-career comeback, however, winning a Tony Award for his performance in
The Best Man
and an Oscar nomination for the 1964 film version.
In
The Nuisance
, he is joined by an excellent supporting cast that includes Frank Morgan (superb) as a crooked, alcoholic doctor who helps Tracy by forging x-rays, Charles Butterworth as a "flop man" who throws himself under passing cars in order to get quick payoffs, and Madge Evans as the girl sent undercover to try and expose Tracy as a fraud. Naturally, Tracy falls in love with her.
There's also some outrageous pre-Code fun to be had, as in the scene where a naked Herman Bing, playing a man named Willy, is forced to undergo a phony physical exam (prompting his wife, played by Greta Meyer, to proclaim, "There's nothing wrong with my Willy!"). Later, Madge Evans must undergo her own physical. Throughout, the verbal barbs fly fast and furiously, and director Jack Conway keeps the action moving right along. Above all, it's Lee Tracy's energy that carries the film and will linger in your memory afterwards.
Warner Archive's DVD-R shows some wear but overall, the film is perfectly watchable. The only extra is an original trailer.
By Jeremy Arnold