DVDs from TCM Shop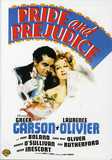 Pride and Prejudice Jane Austen's comic... MORE&nbsp> $15.79 Regularly $19.98 Buy Now
FULL SYNOPSIS
In the rural village of Meryton in early eighteenth century England, the arrival of Mr. Charles Bingley, his sister Caroline and Mr. Darcy causes quite a stir among the mothers of unmarried daughters because both gentlemen are wealthy bachelors. Among the most enthusiastic is Mrs. Bennet, who has five eligible daughters and stands to lose Longburn, the family farm, to her husband's cousin Collins unless a male heir is produced. However, Mrs. Bennet's eldest daughter Elizabeth, a witty and independent young woman, is somewhat less impressed upon meeting Mr. Darcy, whom she finds arrogant and supercilious as he voices his prejudice against the middle class. On the other hand, Elizabeth's sister Jane is enchanted by Charles, who begins to court her, much to the disapproval of Caroline and Mr. Darcy.

Elizabeth's dislike of Darcy is intensified when George Wickham, a boyhood friend of Darcy's, confides that his old friend has betrayed him. Elizabeth's opinion of the Bingleys and Darcy seems justified when Charles breaks Jane's heart by leaving for London without an explanation. Elizabeth meets Darcy again when she goes to visit her friend Charlotte, who has just married Mr. Collins, an employee of Darcy's aunt, Lady Catherine de Bourgh. At dinner that night, Darcy confides to Elizabeth that he has fallen in love with her and wants to marry her, but couches the proposal in condescending terms towards her family, and so Elizabeth refuses him. She returns home to find that her sister Lydia has run off with Wickham and the family is in disgrace. Hearing of the incident, Darcy offers to help, and confides in Elizabeth that Wickham betrayed his sister years earlier. Darcy's vulnerability forces Elizabeth to realize that she has fallen in love with him, but her pride prevents her from telling him.

Just as the Bennets are about to leave town, Lydia returns with news that she and Wickham are married, thus restoring the family honor. As the family rejoices, Lady Catherine appears and, after ordering Elizabeth never to see Darcy again, informs her that Darcy has paid Wickham to marry Lydia. Catherine's interrogation clarifies Elizabeth's love for Darcy, and he returns to her just as Charles returns to Jane, and all ends happily.