DVDs from TCM Shop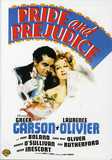 Pride and Prejudice Jane Austen's comic... MORE&nbsp> $15.79 Regularly $19.98 Buy Now
NOTES
According to a 1936 Daily Variety news item, production on M-G-M's Pride and Prejudice was initially scheduled to begin in October 1936 under Irving G. Thalberg's supervision, with Clark Gable and Norma Shearer in the leading roles. Following the death of Thalberg on September 13, 1936, pre-production activity on the film appears to have been halted. Trade paper reports of the production's progress resumed in mid-1937, when Hollywood Reporter announced that Shearer wanted M-G-M to borrow Errol Flynn from Warner Bros. to co-star with her. In August 1939, Hollywood Reporter announced that George Cukor would direct Robert Donat opposite Shearer, and that M-G-M was considering making the film in England. The start of the war in Europe in September 1939 soon caused the closure of M-G-M's operations in England, however. Cukor, according to Hollywood Reporter, was replaced by Robert Z. Leonard because of a scheduling conflict with his assignment on Susan and God (see below).
A biography of Laurence Olivier notes that M-G-M considered pairing Vivien Leigh and Clark Gable for the leading roles, based on their success in Gone With the Wind, and discussed the idea with producer David O. Selznick. Gable, however, turned down the role of Darcy because, modern sources note, he felt that he was not suited to the part. Olivier's biography also indicates that M-G-M picked Robert Taylor as its next choice, but Taylor was unavailable after being cast in Waterloo Bridge (see below). According to his autobiography, Olivier accepted the lead role in Pride and Prejudice with the understanding that Leigh was to be his co-star and that George Cukor would direct. Leigh wanted the part and tried to convince Cukor to keep her in the film, but the studio decided to have her co-star with Taylor in Waterloo Bridge. An Olivier biography claims that the decision to replace Leigh was made by M-G-M studio head Louis B. Mayer, who was allegedly advised by Selznick to pull her from the film fearing that her affair with Olivier, who was married to Jill Esmond at the time, would generate unwanted publicity and harm the film's commercial success. Olivier and Leigh were married in 1940 after divorcing their respective spouses. In his autobiography, Olivier is quoted as saying "I was very unhappy with the picture. It was difficult to make Darcy into anything more than an unattractive-looking prig, and darling Greer seemed to me all wrong as Elizabeth."
Although Hollywood Reporter production charts list actors Halliwell Hobbes and Jane Drummond in the cast, their appearance in the released film has not been determined. M-G-M took several liberties with Jane Austen's novel, among them moving the time period of the story forty years ahead. According to modern sources, this was done in order to allow for more ornate costumes. Pride and Prejudice won an Academy Award for Best Black and White Art Direction. The first dramatization of the Austen novel opened in London on March 24, 1922 and starred Mary Jerrold, Joyce Carey and Ben Webster.
Many subsequent stage adaptations of the novel have been produced, including one directed by Robert Sinclair that opened in New York on November 5, 1935 and starred Adrienne Allen and Colin Keith-Johnson, and one entitled First Impressions (Austen's original title for Pride and Prejudice), directed by Abe Burrows, which opened in New York on March 19, 1959 with Polly Bergen and Farley Granger starring. Although Hollywood Reporter reported in October 1947 that M-G-M producer Arthur Freed was preparing a musical version of the film, that film was never produced.
There have been many film and television adaptations of Pride and Prejudice, among them a January 23, 1949 NBC television network broadcast of a Philco Playhouse dramatization starring Madge Evans and John Baragrey; a PBS network five-part Masterpiece Theater series of Fay Weldon's adaptation of Austen's novel which aired its first episode on a October 23, 1980 and starred Elizabeth Garvie and David Rintoul; a 1995 A&E Television Networks Inc. and BBC mini-series starring Colin Firth and Jennifer Ehle and directed by Simon Langton; an Indian film titled Bride and Prejudice, directed by Gurinder Chadha and starring Aishwarya Rai and Martin Henderson was released in 2004. Another adaptation starring Keira Knightley and Matthew Macfayden and directed by Joe Wright is scheduled for release in late 2005.