DVDs from TCM Shop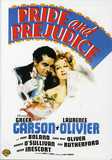 Pride and Prejudice Jane Austen's comic... MORE&nbsp> $15.79 Regularly $19.98 Buy Now
Quotes
Caroline Bingley


"... and her sisters Jane and Elizabeth were seen running down Market Street in an attempt to escape their disgrace." Isn't that exquisitely funny Mr. Darcy?

Mr. Darcy


Exquisitely. Just think how you would roar with laughter if it happened to yourself.

Mr. Darcy


You must allow me to tell you how ardently I admire and love you.

Mr. Bennett


An unhappy alternative is before you, Elizabeth. Your mother will never see you again if you do not marry Mr. Collins. And I will never see you again if you do.

Mr. Bennet


Well, we're hoping Elizabeth can manage to catch a cold of her own and stay long enough to get engaged to Mr. Darcy. Then, if a good snowstorm could be arranged, we'd send Kitty over. But if a young man should happen to be in the house -- a young man who likes singing, of course, who can discuss philosophy -- Mary could go. Then, if a dashing young soldier in a handsome uniform should appear for Lydia, everything would be perfect, my dear.

Lydia Bennet


Has anybody heard how Jane is this morning?

Mrs. Bennet


Eh, Mr. Bingley sent a note over by his groom. She's much better. Such a happy idea of mine sending her off in the rain.

Mr. Bennet


Yes, but to Jane must go all the credit for having caught the cold, my dear.