DVDs from TCM Shop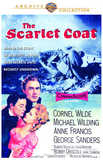 The Scarlet Coat An American officer goes... MORE&nbsp> $17.56 Regularly $21.99 Buy Now
NOTES
DVDs from TCM Shop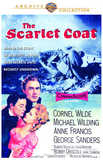 The Scarlet Coat An American officer goes... MORE&nbsp> $17.56
Regularly $21.99 buy now
The opening credits contain the following written prologue: "The American Secret Service came into being with the celebrated 'Case of Gustavus.' The identity of Gustavus-Benedict Arnold-has been known for generations, but the story of how he was unmasked has only been revealed in recent years. This is that story." The credits also include this acknowledgment: "We are deeply grateful to Sleepy Hollow Restorations for permitting us to photograph many scenes in their original locale at Philipse Castle in Legendary Sleepy Hollow." A voice-over narration at the beginning of the film explains that in 1780, the Revolutionary War was going badly for the colonists, with the fort at West Point the only obstacle to Britain's victory.
At the end of the film, the narrator notes that Major John Andre was interred at Westminster Abbey, and is highly esteemed to this day. Andre (1751-1780) was appointed adjutant general of the British forces in America in 1778, and served as aide to the British commander, Sir Henry Clinton. Benedict Arnold (1741-1801) had earned a distinguished reputation on the battlefield when he became commander of the Philadelphia militia in 1778. The following year, Arnold entered into treasonable communications with Clinton, and as depicted in the film, in 1780 agreed to surrender the fort at West Point to the British in exchange for an army commission and money. When Andre was captured, Arnold joined the British army as an officer and military advisor. Arnold died in London.
According to an April 1952 Daily Variety news item, M-G-M purchased an original story titled "Betrayal on the Hudson" by Hollister Noble and Sidney Harmon, to serve as the basis of Karl Tunberg's screenplay. The extent of Noble and Harmon's contribution to the film has not been determined. According to a January 1953 Hollywood Reporter news item, Stewart Granger was originally cast as "Major John Bolton," and Robert Pirosh was assigned to direct. An August 1953 Hollywood Reporter news item names Robert Taylor as Michael Wilding's co-star. In June 1954, Hollywood Reporter reported that filming would be postponed because of a lack of sound stage space and a shortage of stagehands, "due chiefly to the high activity in TV." A November 1954 Hollywood Reporter news item adds Vince Perry to the cast, but his appearance in the final film has not been confirmed. Portions of the film were shot on location in Tarrytown and along the Hudson River in New York. The Scarlet Coat was Wilding's last film for M-G-M.