DVDs from TCM Shop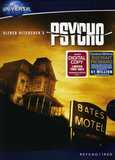 Psycho A woman on the run gets mixed... MORE&nbsp> $11.21 Regularly $14.98 Buy Now blu-ray
USER REVIEWS
See Detailed Ratings
Acting of Lead Performers

Acting of Supporting Cast

Director

Music Score

Title Sequence

Screenplay

Cinematography

Historical Importance

Would You Recommend?

0 Member Ratings
Rate the acting of the Lead Performers

Rate the acting of the Supporting Cast

Rate the Director

Rating of the Music Score

Rating of the Title Sequence

Screenplay

Creatively uses the camera to tell the story

Importance in Cinema history

Would you recommend for fans of this genre
Submit Ratings
Cancel
Write a Review
Read Reviews
NO REVIEWS AVAILABLE
The title has not been reviewed. Be the first to write a review by clicking here to start.
PSYCHO RULES

AWESOME HITCHCOCK"S BEST FILM IMHO

The Darkest Fear

This legendary film is about our darkest fear, what lies over the horizon isnt a rainbow, but the horror that we took the wrong turn & pay the consequences. With its stark black and white images that were shot on television cameras, Hitchcock pulls out all the stops. Every frame seduces us into an uncomfortable, yet stunningly watchable exercise that goes to the very center of fear. Janet Leigh is pitch perfect as Marion Crane & dominates nearly the first hour & with all due respect for Shirley Jones who won the Oscar for supporting actress in Elmer Gantry, Leigh should have taken it for her chilling turn here. Perkins wasnt even nominated which is one of Oscars big blunders. He is absolutely brilliant & Vera Miles , Martin Balsam , John Gavin & the score by Bernard Herrman are a perfect supporting cast. I dont agree that it ruined Perkins career. He continued to work steadily & i think , how awesome to have this on your resume as an actor. Cinema at its finest.

still scary after all these years

This movie scared the poop out of me when I was a kid and it still gives me shivers. The woman on the run, the rundown motel and that overwhelming house, that twisted Norman Bates, the infamous shower scene--they all add up to one creepy flick. I don't care if this is Hitchcock's best and my favorite Hitch film is Rear Window. Nevertheless, Psycho never disappoints. It is truly psychological terror and Hitchcock certainly knows how to mess with the minds of his audience.

The grin

Brilliant movie. So much has been said of this film. The shower scene is of course the movie's trademark but my favorite scene is when Norman is sinking Marion's car in the 'swamp.' It begins to submerge and then stalls, half of it still exposed. It then continues to sink and as it disappears into the muck the expression on Norman's face -- that sinister grin gives the audience the first revelation that Norman is not just some milquetoast mama's boy. He's also evil and enjoys it.

hint, hint, hint

I too, list this as one of my five favorites from Hitchcock, with the score taking highest praise. Too bad Hitch and Hermann had a falling out. Hitchcock lost out with that one.Does anybody observe how Hitchcock telegraphs hints from the next films yet to be made? Norman's obsession with BIRDS, and Marian's fall from the tub, leaving a TORN CURTAIN...

Not Hitchcock's Best Villain or Movie

Sorry Ben Mankiewicz, while Anthony Perkins' Norman Bates is certainly menacing, Robert Walker's Bruno in "Strangers On A Train" is cunning as well as creepy and is Hitchcock's best villain. As for the movie itself, I think there are a number of other Hitchcock pictures which are better than this film. After he did "North by Northwest" Hitchcock's career as "The Master of Suspense" declined when he started going in for the gore with "Psycho" and "The Birds" and did nothing of consequence otherwise. While "Psycho" does have some suspense, it descends into a horror film and to me marks the beginning of the end for Hitchcock as a quality director.

No OST!

I first saw this movie in its initial release. I'd already read the novel by Robert Bloch (actually, my older sister read it aloud to me when I was sick in bed), but the novel did not prepare me for the movie. The music in the opening credits sounded to my ears like a train ride to insanity! I recognized the name of the composer, Bernard Herrmann, because I'd already seen a couple of pictures with salient scores by that maestro of movie music--yet the PSYCHO score, famous for the scoring in sequences with a knife-wielding maniac, but in fact a huge, complex masterwork for strings, did not sound like anything else I'd ever heard in a movie, and I came out of the movie haunted by that music.For years after the initial release of PSYCHO, there was no recording of the music. There are now several re-recordings of the score, partial or whole--but there has never, ever been an original soundtrack recording of PSYCHO. And I've never heard a re-recording that matches the ferocity of Herrmann's conducting on the movie soundtrack.So, for me, and for any Bernard Herrmann fan, this movie is a music treat. It's also a fascinating Hitchcock film, and so much has been written about the directing, acting, screenplay, and other elements of the movie that I can't think of anything to add about them here. This is a love letter to the music!

Roadside Motel Stop Equals Instant Karma

Talk about instant karma. Naughty girl Marion (Janet Leigh) goes for bad when she embezzles from her boss. She decides to take the money and run. The universe gives her several outs--the first time when she's behind the wheel at a red light. Her boss crosses the street in front of her. They exchange an ominous look. There is still time to do the right thing. Nope. She drives on until she pulls off the road to nap. A friendly sheriff awakens her. The Law. The Heat. The Fuzz. The Man. She's suspicious as all get out, but keeps that stack of cash stashed in her purse. Officer Friendly lets her drive on. She could turn around now and go back. Nope. She drives to the next town, ditches the car for a new set of wheels. Officer Friendly is watching her from across the street. Now she's committed to the crime. She drives until nightfall when blinding rain forces to her make a roadside stop at the Bates Motel. Motel proprietor Norman Bates (Anthony Perkins) gives her a room key, a sandwich and milk, and the last night of her life. The gruesomeness in which Marion receives her karma in the shower is brutal. Another Hitchcock nod to the good/evil of the steely blonde (Marnie, The Birds, Vertigo, Dial M for Murder) and his hatred for the controlling mother figure. In my estimation, Norman Bates is the director's own catharsis--a raw portrayal of a misfit who can only truly own the steely blonde through outright brutality that kills both the possessed and the possessor. To say Anthony Perkins nailed the part is an understatement. It ruined his career, forever typecast as madman Norman Bates. Featuring a chilling score and a fine supporting cast. A cinema classic.

Psycho

One of the scariest of movies ever made and done by the master of suspense- Alfred Hitchcock- "Psycho" shows a secretary in Phoenix stealing some money and leaving town and later staying the night at the Bates Motel where Norman Bates signs her up for a room. The whole storyline has the intrigue and suspense as to what will happen to Marion Crane and later the shadowy figure of Norman entering in when she is taking a shower and suddenly chopping at her with a knife though the scene is still tastefully done and we don't see the knife going into the body. Later the story goes into what happened to Marion and finding the killer and finishing with the psychiatrist explanation of Norman Bates. Though tastefully done this frightening film gripped its audiences like no other back in 1960 and Hitchcock used many camera angles to make that shower scene which now doesn't seem so bad when compared to others. But only "The Exorcist" has been said to be scarier than "Psycho".

For The First Time

One thing that always stayed with me was that Psycho was the first film to ever show a toilet!

Essential

A masterpiece

Hitchcock sleight of hand

Psycho is masterful in many ways but here's what really strikes me. Misadventure was a common Hitchcock theme with people getting into unexpected situations and trying to wriggle out as the suspense builds. So we're not surprised when this one starts out that way. We think it's going to be trademark Hitchcock with Janet Leigh and her stolen money getting into one pickle after another. Then just as he's got us looking in that direction he blindsides us with the shower. Now we're totally confused and totally set up for the famous ending. To me it's one of the greatest tricks of movie psychology ever played on an audience.

A Boy's Best Friend is....

Psycho has entered into the canon now and as such is almost immune to critique. But it must be remembered how shocking this film was in 1960, changing the filmic and possibly the cultural future eventually. The door opened, never to be shut. Unlike "Marnie" where Hitch seemed behind the cultural curve, here he was way, way ahead, for better or worse.

FIVE stars!

I saw this film in the theater the month it came out and, I admit it, it scared the heck out of me and I screamed bloody blue murder! When you see what passes for "horror" films these days, you appreciate the brilliance of this film all the more. You never see the actual murders, never see the dead bodies, but you are creeped out the entire film. Anthony Perkins is just fantastic in the lead and it is a shame his career ever after this film did not live up to the promise "Psycho" made of him. Janet Leigh definitely gives a great performance and you are frightened for her during the entire film. The ending, of course, is the real shocker and, once seen, it is never forgotten. We all love thrillers but this is the one that really gets you. It is the one all these "slasher" films try to copy but they fail miserably. Once seen, you will remember this film your entire life!

Psycho-a Movie Legend

This is by far one of the most meticulously pieced-together movies in the history of cinema, and Hitchcock's style shows through stunningly here. But this film won't only appeal to the fans of his style, as that is only one of the stars of this movie. Anthony Perkins was gypped of an Oscar for this, mainly because the film was dismissed as a B movie by critics on its initial release, but they were sorely proven wrong by its massive success at the box office and it's everlasting influence on cinema in the future. This movie is a gem of our time because of some very important factors: Hitchcock's directing, Perkins' acting, Herrmann's incomparably innovative score, Stephano's pithy screenplay, and years of experience on all parts. This film is a collaborative effort of some of the best and most overlooked people in Hollywood history. As for the film itself, arguably the greatest of all time.

"WHATEVER MOTHER SAY'S"

Psycho (1960) is one of my TOP Favorite Hitchcock films next to "Rope", "Rear Window", and "The Birds". Psycho is most disturbing of all of Mr. Hithcock's films and the use of darkness and lighting gives a fantastic atmospheric feel to the movie. Sidenote- Psycho along with "Texas chainsaw Massacre" (1974) and "The Silence of the Lambs" (1990) are all somewhat loosely based upon the heinous crimes of America's most Bizzare Serial Killers: Ed Gein. I used to read about Serial Killers ALOT and discovered the crimes of Ed Gein, he was born in 1906 in Wisconsin and lived a very isolated life due to his VERY religious and dominering Mother; Augusta Gein. Gein was a Necrophile and grave robber who stole corpses to use in Bizzare acts and experiments.

Psycho

Not only is this Hitchcock's masterpiece, but it's also one of the greatest films ever made. A woman spends the night at an isolated hotel after taking $40,000, only to get famously stabbed in a shower. Leigh won the Golden Globe as the doomed Marion Crane & Perkins became immortal as the Ed Gein-like killer. Anybody who hasn't been scared by this film is either lying or in denial, because shower scene & Balsam's murder are part of a terrifying tale of sex & lunacy. An iconic film that's a must-see for everybody. I give it a 5/5.

My Favorite Alfred Hitchcock Film

This Is My Favorite Alfred Hitchcock Film, I Like This Film Because Of Anthony Perkins Performance As Norman Bates, Alfred Hitchcock's Direction, John L. Russell's Cinematography And Bernard Herrmann's Score.

THE BEST SUSPENSE/HORROR EVER MADE!

Psycho is an amazing movie like no other. Hitchcock surely does it again, and this cult-classic for so many reasons doesn't dissapoint. Being a fan of Hitchcock, I expected alot from Psycho, and believe me, you get way more than you expect. Hitchcock's directing is incredible and the risks who took are just amazing. It's unbelievable that he didn't even win the directing Oscar for his superb work. The story is extremely original and the screenplay not only has excellent writing, but has an incredible amount of suspense, thrills and excitement. The haunting Bernard Herman score is nothing but extraordinary and the sets, sound and black-and-white cinematography are all amazing support. The acting is also extremely powerful. Janet Leigh is awesome in her 40 minute screen time and Vera Miles, John Gavin and Martin Balsam are also all strong in their roles. To think Anthony Perkins got absolutely no award recognition for his role is just too hard to imagine. He did a fantastic job and gave a memorable performance which is still loved today. The scenes in Psycho are amazing, and the 'shower scene' is remembered and famous for a reason. Psycho is a horror and suspenseful classic from the master of suspense, himself. Psycho is truly my favourite film ever made! An essential for any movie fan and a heck of a classic! if only they made films this well-done nowadays

Psycho (1960)

The movie that is the direct definition of suspense is this one, directed by the Master of Suspense in Alfred Hitchcock. The film is about Marian Crane (Janet Leigh) who runs away with the money she stole to the Bates Motel, where there are 12 inns yet 12 vacancies and finds herself in trouble there. The suspense sends shock waves to the audience. Bernard Herrmann's score is the best he's ever done and is a phenomenal one at that. The script allows a lot of the suspense to pump through. However, the movie is not as good as it could've been due to casting. Anthony Perkins and Leigh are good, yet overrated and are not as effective in the roles as James Stewart and Debbie Reynolds would've been. However, as usual, Hitchcock uses the actors as mere pawns in his scheme and will not let the audience forget that it is his movie.

leah's review

its scary but ist worth it. the camera work is the best ive ever seen in any film in my life its so unique and different from any film. but see it at midnight and you wont sleep. so see it at daytime highly recomended.

Favorite!!!!!!!!!

I've always loved this movie.

Shower Scene

Don't know why they used a double for Janet Leigh in the shower scene, I guess back in the 1960s actresses were reluctant to appear in the nude. Beautiful Janet Leigh certainly had the body and would have made the scene even more stunning and memorable.

Scary .. Very Scary.

Could not sleep for days!

Hitchcock's Gothic Masterpiece.

Frank Harris Horn

10/25/09

Alfred Hitchcock made movie history in 1960 with this horrifying classic based on Robert Bloch's book inspired by a real-life murder case in Wisconsin in 1957. Anthony Perkins stars in his most memorable role as Norman Bates, whose isolated little motel becomes the scene of a grisley murder supposedly committed by his violent mother. Janet Leigh's shower murder scene remains unsurpassed as the most unforgettable chapter of the movie. Also starring Vera Miles, John Gavin, Martin Balsam, John McIntire, Lurene Tuttle, Frank Albertson, Vaughn Taylor, Pat Hitchcock, John Anderson, Mort Mills, Simon Oakland & Ted Knight.

Classic

All though somewhat dated this is a true classic for almost anyone

Hitchcock At His Best

Psycho was amazing. i hope tcm will play this movie non stop. when i first saw this i could'nt sleep for 2 weeks.

Psyco very scary for little ones.

When I saw it for the first time, I did not take a shower until I was 23yrs. That how frighten I really was.I made sure that I took only bathes.In the 90's,my boss did trust me with $20,000 cash. Because of that movie, I didn't even think about taking it.I was about 7 years old when I first saw it.I covered my eyes too, in the scary part.But, my bigger sister saw it. The film is in black and white.She swore that she did see the blood red running down the drain.And, they really have a Bates motel going towards California. I did stay there one night. I was looking for Norman.I thought that he was so cute.But, old people did run it.My favourite is this one and Psyco111.I did not care for the remake of this movie. I loved all the actors in this one.

"Psycho" AGAIN!?

This movie has been shown EVERY MONTH THIS YEAR! SHOW "DEAR RUTH" INSTEAD!! TCM fans need more variety!!

Like Alfred Hitchcock's other movies

This a good thriller movie like all of the other Hitchcock movies. There is that famous background sound when Norman Bates holds the knife at the shower scene. I remember when I first saw it when I was a little child--I was into the movie but totally frightened afterwards. I couldnt sleep and was afraid to go to the bathroom at night. This movie is not for little kids lol. I just found out there are sequals to this movie II and III. Its not directed by Alfred but I cant wait to watch both of them.

I Was Wrong

I saw "Psycho" again Tuesday night on TCM and Norman DID say " I am Norma Bates" when he was caught dressed as his mother. In my previous review I said that I had never heard it. I also found an error in your cast list - John Anderson plays Charlie the used car man and Mort Mills plays the highway patrolman.

psychiatrist @ end

The psychiatrist may seem outdated, but in 1960 the audience absolutley needed to have him explain the motive to them. The scene also serves as a contrast to the eerie world at Bates Motel.

Synopsis Error

Each time I have seen this film I have never heard Norman say " I am Norma Bates" when he storms into the fruit cellar dressed as his mother and tries to kill Lila, or maybe he does say it and the music drowns it out.I also disagree with Emily about the ending; the psychiatrist explains the relationship between Norman and his mother and what drove him to commit the murders.When the film was originally released, Hitchcock made theaters agree to a policy that no one would be admitted after the film started; in order to maintain suspense and fully understand the film audiences had to see it from the very beginning. One of my top five Hitchcock films.

Psychiatrist at the end completely ruins it...

The psychiatrist who has supposedly interviewed Norman at the end is completely annoying: his soap-opera style overacting and the whole explaining process that suddenly dumbs down a movie for the audience which was, up to that point, flawless in its acting and storytelling. Too bad.

Truly the father of slasher movies.

The name describes the movie very well. Without this the whole genre of slasher movies might not gotten off to a start. Truly a classic!
*We protect your personal infortmation and will not provide it to anyone without your consent. For a complete explanation, please refer to TCM's Privacy Policy. By submitting your contribution, you agree to TCM's Terms of Use.