DVDs from TCM Shop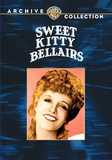 Sweet Kitty Bellairs An 18th-century English flirt... MORE&nbsp> $14.95 Regularly $17.99 Buy Now
Articles
SEE ALL ARTICLES
Sweet Kitty Bellairs (1930)
A seldom-seen, small gem from the early period of Hollywood musicals, Sweet Kitty Bellairs (1930) was originally shot by Warner Brothers in two-strip Technicolor, though the nitrate print that survives is only available in black and white today. While the original effect of the color is now lost, what remains is a diverting film that may be a very pleasant surprise to 21st century audiences expecting a less imaginative musical confection. Unlike the usual gritty fare associated with Warner Brothers studio in the sound era, Kitty and her 18th century English settings have a posh air, nimble and playful, almost as though director Alfred E. Green had been taking notes in his spare time on the art of frothiness from Ernst Lubitsch. The prolific journeyman director Alfred Green (1889-1960), whose fifty year directorial career encompassed approximately 111 feature films, appears to be an overlooked craftsman from the studio era. Recent audiences are now newly appreciative of his contributions to Pre-Code films such as Union Depot (1932) and Baby Face (1933), sparking an awareness of his talent for fast pacing and eliciting memorable, realistic performances from his actors.

Sweet Kitty Bellairs demonstrates a Pre-Code awareness of the score in scenes featuring a fey hairdresser (who advises Kitty that his choice of lover would be a "manly man"), and includes situations in which sexual intrigue might be an acknowledged pastime for women as much as fighting duels and drinking were for the male characters. Most of all, the stylized film reveals that the director also had a knack for spinning the elements of a lighter-than-air musical into a confection that--for all the talent and effort involved--had the misfortune to be lost for decades amid the obscurity of the plethora of less entertaining musicals that saturated the country in the early sound era.

Sweet Kitty Bellairs, while not historically significant or breaking new ground in the musical, might be better known if it had not followed the success of M-G-M's "All-Talking, All-Singing, All-Dancing" feature film, the back stage musical The Broadway Melody (1929), and Paramount's The Love Parade (1929), as well as a slew of imitators. Hoping to catch the wave of popularity before it crested, the sound innovators at Warners decided to compete with this tsunami of musical entertainments by mounting a lavish operetta in Technicolor. After adding the novelty of both sound and color to a hugely popular, Academy Award-winning adaptation of Sigmund Romberg's musical, The Desert Song (1929), the studio sought to consolidate their success with a screen adaptation of a fairly ancient David Belasco play first produced in 1903. Originally based on a novel called "The Bath Comedy" published by Agnes and Egerton Castle in 1900, which was set in the British resort of Bath in England during the 1700s, the still sprightly theatrical concoction was revived in each of the decades that followed, giving such theatrical legends as Jane Cowl a chance to shine on stage in 1903, Mae Murray a silent role in a 1916 film, and composer Rudolf Friml a solid musical hit on Broadway in his adaptation of the same material in 1917.

Clocking in at a brisk sixty-three minutes, this re-fashioned film version of the theatrical warhorse featured all new songs by Robert Emmet Dolan and Walter O'Keefe. The intricately paced production which may not have been a monumental achievement, was also never ponderous, as so many musicals of that period now seem when reaching for levity or diving into romantic bathos. As film historian Richard Barrios described it in his historical survey, A Song in the Dark: The Birth of the Musical Film, when seen in the context of the surprisingly brief period when musical films dominated the screen in the early sound era, Sweet Kitty Bellairs "is too fragile to hold up today as a rediscovered masterwork...yet it shows how far Hollywood had come...how much had been learned and assimilated, [though] it played on American screens at the most inapt time imaginable--[it] survives far better than most of its better known contemporaries."

The lively action in Sweet Kitty Bellairs initially centers on the intrigues of various characters on their way to the spa at Bath, where aristocratic types such as the minx-like Kitty sought good health, romantic diversions and high times. The film begins with each of the archetypal passengers introducing themselves in song, in a manner that recalls something of John Gay's 1728 ballads from The Beggar's Opera as well as the more recent style of Gilbert and Sullivan, and even the RKO-produced musical hit of Broadway, Rio Rita (1929), brought to the screen a year before Sweet Kitty Bellairs.

The high spirits, lavish but often fluid staging, and careful attention to detail that characterize Sweet Kitty Bellairs are conveyed through the energy of the cast (who never take themselves too seriously), and the period costumes, which includes a highly amusing, full-length lady's bathing garment, complete with a flowered hat, that is glimpsed in a scene when Kitty emerges from the healing waters in a bathhouse. Satirically played action sequences, such as a duel fought between two men conducted from the comfort of their sedan chairs also enlivened the movie's pointedly absurd action. The film's soundtrack is surprisingly free of archaic touches that doom most early talkies as static artifacts, with spoken dialogue--often in couplet form--alternating well with forgotten but often clever and naughty songs by Dolan and O'Keefe, such as "The Highwayman Song," "Duelling Song" and "Drunk Song," as well as the exceptionally light-hearted and ribald "Peggy's Leg." One brief early scene in Sweet Kitty Bellairs also features the citizens of Bath singing about their role in the life of the town. This deftly done scene helping to create a world on screen populated by minor but lovingly observed maids, cooks, publicans and gossiping townspeople may remind viewers of a sublime moment in Rouben Mamoulian's later, more highly polished Love Me Tonight (1932). Perhaps inspired in part by the picaresque sequence during the "Song of the Town of Bath," the later film coordinated a Paris street scene blending anonymous characters, along with ambient sound and sights, into one of the most unforgettable musical moments of cinematic history when Rodgers and Hart introduced "That's the Song of Paree."

Despite the inherent artificiality of Sweet Kitty Bellairs, the rollicking pace and winning manner of the movie is immediately established as these travelers are identified musically, one by one. The beetle-browed character actor Lionel Belmore's gouty Col. Villiers sings that he's "an old grouch who's just left his couch," extolling the healing powers of a refreshing visit to Bath. A very young Walter Pidgeon shyly makes his introduction as an awkwardly appealing Lord Varney (whose innate formality is reinforced by the fact that his first name never seems to be mentioned).

The Canadian-born Pidgeon (1897-1984) was a trained singer with a pleasant baritone and considerable stage experience, who would later become synonymous with a type of soft-spoken, tweedy supporting player at M-G-M when paired with Greer Garson in the 1940s. At this stage of his career he thought he "was meant for musicals," as he later told an interviewer. In 1930 alone, he appeared in five screen musicals and had six hit records which sold in excess of fifty thousand copies each--none of which, the actor confessed fifty years later, he'd held on to: "I'd had the sense to keep a few. I'd like to hear now what I really sounded like all those years ago." Looking back on the early talkies he appeared in before his musical career was completely eclipsed by his "straight acting," Pidgeon also relished what he termed the "crazy Hollywood...tendency" to have occasionally cast him in silents as a singer, asking him "to play non-singing roles in some musicals" in the '30s, and only sporadically utilized his singing talents as it did in Sweet Kitty Bellairs. Even though this was Pidgeon's 19th film since 1926, it was one of his very first full length talkies, so his somewhat stilted characterization of the morally impeccable Lord Varney may have reflected the role as well as his relative inexperience before the Vitaphone microphone that was revolutionizing film.

When Varney haltingly admits being smitten "by the maid opposite him," the young lady in question, Kitty Bellairs, played with a saucy charm by the blonde Claudia Dell, pipes up in a reedy but pleasant soprano singing voice that "in spite of her thirty or forty affairs, I've lost not a bit of my virtue." A former Ziegfeld Follies girl from a moneyed Texas family, Claudia Dell (1909-1977) had already known acclaim for her beauty in New York and London before she turned 21 in the year that this movie was made.

Dell would remain a Hollywood figure for decades. She was reportedly the original model for the Columbia Pictures logo and was a dashing figure among the columnists of her day--though mostly for her off-screen romantic adventures, and was said to be the only film actress to dance publicly with the Prince of Wales in the mid-1930s. Eventually, her real life role became leading administrator of the John Roberts Power School in Beverly Hills by the 1970s. The flirtatious title character she plays so aptly in this prominent part is soon diverted by a mysterious Highwayman who halts the travelers before their destination is reached. He steals a kiss from the compliant Kitty whose capitulation to the outlaw allows the passengers to keep their wealth and the noble Varney to keep his life, after he loses a duel with swords to the light opera baritone playing the masked Highwayman, Perry Askam. Though he would appear in only a handful of films, Askam, a member of a large, musically accomplished California family, (jazz great Dave Brubeck is his cousin), enjoyed a lengthy stage career in operetta from the 1920s to the 1950s. His on-stage renditions of the Sigmund Romberg songs such as "Stouthearted Men" and "Lover, Come Back to Me" are sometimes cited by aficionados of this type of musical as the standard to which others might aspire after Askam recorded definitive versions for the composer. In Emmet and O'Keefe's lighter musical Sweet Kitty Bellairs, the singer establishes his robust character's virility from his first scene, though he is never a fully credible threat to the heroine's slightly tarnished virtue. As her character gradually learns to listen to her heart amid the hubbub of the British Empire's upper classes, Dell and Pidgeon's romantic duets, which might have been awash in sentiment, are given instead a gentle treatment, emphasizing their quiet realization of their attraction to one another in the tenderly passionate "You, I Love But You."

The light tone of the film is kept aloft when the action transfers to Bath, where Kitty stays with the bellicose gadabout Sir Standish (Ernest Torrence) and his lachrymose wife, Lady Julia Standish, played by June Collyer, (an actress who appeared in late silents and early talkies until the mid-1930s, when she became less active during her marriage to character actor Stu Erwin). Blithely chiding Lady Standish for her tears, caused by her formerly attentive husband's neglect, Kitty encourages Julia to pique his interest by feigning interest in some other man. In the time-honored, if hackneyed way of most musicals, the resulting misunderstandings, wounded vanity and dissembling leads inevitably to a series of plot complications that eventually cause even as artful a woman as Sweet Kitty Bellairs to drop her mask, though not before she savors the attention of the Highwayman's ardent correspondence and Varney's sincere if tongue-tied courtship of her--along with the favors of a few other smitten men.

One of the real revelations in these often farcical proceedings may be the deft singing ability shown by the lumbering 6'4" Scottish-born Ernest Torrence (1878-1933) in the role of Sir Jasper Standish. The actor's musical training and early performing roots as a member of the famed D'Oyly Carte Opera Company enabled him to sing the demanding roles created by Gilbert and Sullivan for several years, though this aspect of his talent was completely unknown to most silent movie audiences. They knew him as a large, beady-eyed character actor who created reliably despicable heavies in films such as Tol'able David (1921), a menacing Captain Hook opposite Betty Bronson's Peter Pan (1924) and the occasional sympathetic parts, such as Peter in Cecil B. DeMille's The King of Kings (1927) and Steamboat Bill, Jr. (1928) as Buster Keaton's gruff father. While damage to his vocal chords had compelled Torrence to turn to straight acting roles after his years in on-stage musicals, whatever performing limitations he knew were not readily evident in this musical production. Utilizing his dexterity for switching between menace and gentleness, Torrence, often in tandem with Lionel Belmore's foolhardy character, steals several moments in the picture, especially when returning home after an all night party, singing, appropriately, "The Drunk Song." As he blusters his way through increasingly absurd situations that are invariably misinterpreted by his none-too-bright character his sense of honor and interest in his wife's supposed extramarital affairs grows. Full of false bravado and somewhat thin veneer of bonhomie, his expression of his outrage and combative personality in song becomes more absurd as the film goes on.

Warner Brothers, emboldened by their initial heady triumphs in sound and musicals, were soon invested in musicals--actually over-investing in this type of movie by producing three operettas under Warner Brothers-First National direction simultaneously. This optimistic exploitation of the musical "fad" failed to anticipate the shrinking of box office receipts as the Depression set in and the limitations of the public's appetite for the novel genre--especially after a wave of repetition began to be met with outright hostility among audiences and the critics by 1930. Sweet Kitty Bellairs fared worst of all compared to the studio's other musicals of that same year, Viennese Nights (1930) and Kiss Me Again (1930). Contemporary reviews of the period reflected the changing tastes of the public and their growing revulsion that musical-saturated viewers now felt toward the genre. The New York Times found the musical "colorful" and "flighty" but "none too clever" and "at times operetta conscious" though the anonymous film critic found the principal players "satisfactory" or "acceptable" at best. Sweet Kitty Bellairs eventually failed to gain first run status in many locales, and appeared as part of a double bill in some cities. Billboard magazine's terse description of the film as having "Exquisite coloring and a year late" sums up the general indifference that met this diversion, marking the death knell for this type of musical froth--at least until 42nd Street (1933) revived the lively corpse once again at Warner Brothers--and made studio heads forget their losses on 1930's musicals.

Director: Alfred E. Green
Screenplay: J. Grubb Alexander; Herman Harrison (adaptation); David Belasco (play); Egerton Castle (novel)
Cinematography: Watkins McDonald
Music: Rex Dunn; Leonid S. Leonardi (uncredited)
Film Editing: Owen Marks
Cast: Claudia Dell (Kitty Bellairs), Walter Pidgeon (Lord Varney), Ernest Torrence (Sir Jasper Standish), Perry Askam (Capt. O'Hara), June Collyer (Lady Julia Standish), Lionel Belmore (Col. Villiers), Arthur Edmund Carewe (Capt. Spicer), Flora Finch (Gossip), Douglas Gerrard (Tom Stafford), Christiane Yves (Lydia).
BW-63m.

by Moria Finnie

Sources:
Barrios, Richard, A Song in the Dark: The Birth of the Musical Film, Oxford University Press US, 1995.
Bradley, Edwin M., The First Hollywood Musicals: A Critical Filmography of 171 Features, 1927 Through 1932, McFarland, 2004.
Foster, Charles, Once upon a time in paradise: Canadians in the Golden Age of Hollywood, Dundurn Press Ltd., 2003.
"Sweet Kitty Bellairs," New York Times Sept. 6, 1930.

back to top
---