DVDs from TCM Shop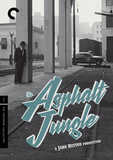 The Asphalt Jungle A gang of small time crooks... MORE&nbsp> $22.25 Regularly $29.95 Buy Now blu-ray
FULL SYNOPSIS
When police track hoodlum and ex-convict Dix Handley to a café, Dix's friend, the owner, Gus Minissi, saves him from arrest by hiding his gun. Police Commissioner Hardy reprimands Lt. Ditrich for failing to catch Dix, whom they know has committed the crime, but not realizing that Ditrich is a crooked cop, gives him one more chance by assigning him the task of trailing recently released convict Doc Erwin Reidenshneider. Meanwhile, Doc visits Cobby, a gambling bookie, with a proposition to make half a million dollars in return for a fifty-thousand-dollar loan from Cobby's contact, wealthy but corrupt lawyer Alonzo D. Emmerich.

Later, Doll Conovan, a beautiful but lonely waitress, visits Dix and asks if she can stay with him for a few days, and Dix brusquely agrees. That night, Doc impresses Emmerich with his plan for a massive jewelry store robbery, and after closing the bargain by offering to act as both backer and bagman, Emmerich runs to his mistress, the young and gorgeous Angela Phinlay. The next morning before he leaves to meet Cobby, Dix talks with Doll about his past on his family's Kentucky farm and how much he longs to go back. At Cobby's, he meets Doc, who has heard that Emmerich has gone bankrupt spending all his money on Angela. At the same time, Emmerich admits to his private detective, Bob Brannom, that he is broke, prompting them to plan together to swindle Doc out of the stolen jewels. Emmerich asks Cobby to advance him the fifty thousand dollars, and on the night of the crime, manages to pull himself away from his lonely wife May to meet Brannom. Meanwhile, Doc, Dix, safe cracker Louis Ciavelli and driver Gus rob the store expertly, but when a watchman happens by, Dix hits him and fires his gun accidentally, wounding Louis. Gus, afraid to take Louis to a doctor, delivers him to his home, where his wife Maria cries helplessly watching him die.

Dix and Doc go to Emmerich's as planned and realize he is trying to cheat them when Brannom pulls out his gun. Brannom and Dix end up shooting each other, and as Brannom dies, Doc advises a terrified Emmerich to ask the insurance company to pay for the return of the jewels, no questions asked, or else Dix will kill him. Soon after, Emmerich dumps Brannom in the river, and Dix and Doc escape to Doll's new apartment, where Dix refuses to see a doctor, though he is bleeding. Soon, the police find Brannom's body with a piece of Emmerich's stationery in his pocket, and though Emmerich uses Angela as his alibi, his story is quickly destroyed when a taxi driver tells Hardy that he once dropped Doc off at Cobby's, and Cobby confesses the whole scheme. Hardy then pushes a willing Angela to tell the truth about Emmerich, who immediately shoots himself. After Doc hears about the suicide, he says goodbye to Dix and leaves town. By lingering at a café outside of the city in order to leer at a young girl dancing, however, Doc gives the police just enough time to catch him. Meanwhile, the weakening Dix agrees to let Doll escape with him to Kentucky, barely making it to his family farm. As he dies in the pasture, Hardy speaks to the press about the pervasiveness of crime in the urban jungle.