DVDs from TCM Shop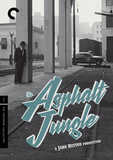 The Asphalt Jungle A gang of small time crooks... MORE&nbsp> $22.25 Regularly $29.95 Buy Now blu-ray
Quotes
Doc Riedenschneider


Experience has taught me never to trust a policeman. Just when you think one's all right, he turns legit.

May Emmerich


Oh Lon, when I think of all those awful people you come in contact with - downright criminals - I get scared.

Alonzo D. Emmerich


Oh, there's nothing so different about them. After all, crime is only... a left-handed form of human endeavor.

Angela Phinlay


Haven't you bothered me enough, you big banana-head?

Dr. Swanson


He hasn't got enough blood left in him to keep a chicken alive.

Police Commissioner Hardy


People are being cheated, robbed, murdered, raped. And that goes on 24 hours a day, every day in the year. And that's not exceptional, that's usual. It's the same in every city in the modern world. But suppose we had no police force, good or bad. Suppose we had... just silence. Nobody to listen, nobody to answer. The battle's finished. The jungle wins. The predatory beasts take over.