DVDs from TCM Shop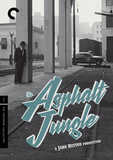 The Asphalt Jungle A gang of small time crooks... MORE&nbsp> $22.25 Regularly $29.95 Buy Now blu-ray
USER REVIEWS
See Detailed Ratings
Acting of Lead Performers

Acting of Supporting Cast

Director

Music Score

Title Sequence

Screenplay

Cinematography

Historical Importance

Would You Recommend?

0 Member Ratings
Rate the acting of the Lead Performers

Rate the acting of the Supporting Cast

Rate the Director

Rating of the Music Score

Rating of the Title Sequence

Screenplay

Creatively uses the camera to tell the story

Importance in Cinema history

Would you recommend for fans of this genre
Submit Ratings
Cancel
Write a Review
Read Reviews
NO REVIEWS AVAILABLE
The title has not been reviewed. Be the first to write a review by clicking here to start.
Dissing Dix

In this very intelligent and influential film, various characters describe Dix as a mere hooligan (everyone has a psychological need, in all places and at all times, to label others and to also place themselves somewhere above the bottom of any sociological rung), but one by one they figuratively (and literally) look up to the man, who, through his words and actions, shows that he is the most morally upright of the crooked cabal. The acting is outstanding throughout, with Calhern the standout as lawyer "Lon" (Chaney) Emmerich, a monster of a thousand faces. Noir Alley Host Eddie Muller delectably dubbed this film "a perfectly blended cinematic cocktail." One of The Essentials.

"Keeps Your Attention"

What can I say that hasn't already been said--One of those rare movies that keeps your attention from beginning to the end. Worth watching several times over.

One of the best !

Leonard Maltin gave this movie a 3.5 (out of 5), what a knucklehead !! Superb casting from start to finish with Sterling Hayden leading the charge. Sam Jaffe had to watch the girls dance by the jukebox !! Wow

Great Caper

Brad Dexter,the cop who deserved what he got.Was hoping Doc would get away.Needs less Monroe,Calhern had an affair with her toward the end of his life,which wasn't long?Cross and double crosses.Sterling Hayden terrific in lead role.

Quite worthwhile.

Superb characterizations, excellent cinematography....really, really good movie. I simply soaked up the interesting plot, the hidden bookie joint, the squalid furnished rooms, and Louis Calhern in a serious role. Wow. Time well-spent.

Probably the best noir ever made

This is a four star movie if there ever was one; I don't know how it was given just three and a half, especially considering what mediocre movies get four; TCM needs better programmers (especially in prime time) and reviewers and less crypto-commercials or they will kill the golden goose.

alpha and omega

I would consider the director to be the father of film noir. it is fitting that person made one of the last great films of the genre to close the era of it out.

The Asphalt Jungle

Asphalt Jungle is not a good movie,it's a GREAT landmark movie due to everyone attached to it on BOTH sides of the camera,but especially to JOHN HUSTON Who like "Treasure Of The Sierra Madre" grabbed a W.R. Burnett novel,shot it VERY true to his book and cast the characters in the same fashion. "Asphalt" has GREAT actors who each seems to Steal the movie from one another. It's difficult to punch out like a carnival ticket just Who dominates this Film,but my vote goes to MARC LAWRENCE who Shines as the nervous Bookie COBBY.

The Towering Sterling Hayden

Another actor who doesn't get enough credit for his ensemble acting. Sterling Hayden on his own always appears one dimensional. Then you look at the great movies he's been involved in at the "core" of and you realize he's a grand ensemble actor. He actually is the "rock" or "core" of this film acting wise. Louis Calhern and Sam Jaffe are absolutely as good as they have ever been or anyone has ever been. They are "classic" but Hayden is the "backbone" of this cast. An absolutely wonderful film which is in a class with "Raffiffi" or "Anatomy Of A Murder" or "Double Indemnity". This is such a good movie in every way, it is not only a noir classic its a defined, pychological study of "Dix" or the Sterling Hayden character. In a similar way to Robert Blake's character in " In Cold Blood" and is equally a psychological study, to that superior film. Absolutely Five stars.

unmatched

the best film noir crime heist drama ever period hands down. often imitated never duplicated or matched. Only Double Indemnity, out of the past , and Maltese Falcon and Kansas City confidential are it's equal.are it's equal

The Asphalt Jungle

This is one of the best movies that I have ever had the priviledge to view. Unmatched by most of the 1950's movies, this B & W spectacle, chews up the rest in it's debth, range, actors, scene's and junre. Nothing like it has graced the screen (with a few exceptions like White Heat & Rooster Cogburn) so wonderfully.Show often so that the "Now" generation can see near perfection in film-making.Enjoy!!

asphalt jungle

The previous reviewer is incorrect. Parts of this film were shot in Cincinnatti and Kentucky as well as L.A.

LA 1950

Great noir\caper film in the tradition of Riffifi. Wonderful mood music by Micklos Rosa. Great cinematography of LA in 1950.

asphalt jungle

When a film is considered to be one of the best of two different genres (in this case, noir and crime caper) then you know it's a classic, as indeed "Jungle" is. Excellent, terse screenplay by Ben Maddow and equally crisp direction by John Huston, with fine location shooting, as well. (This is the only American film I can think of that takes advantage of the cinematic properties of Cincinnatti.) All the actors are great, including a very young and sweet Marilyn Monroe playing a very young and sweet kept woman (as they were then called; nowadays, in this age of Donald Stirling, they're girlfriends) I guess if I had to choose my favorite performances I'd express a partiality for the two aging lechers played by Sam Jaffe and Louis Calhern. Most definitely an A.

Monroe as a Moll

This film is full of semi-stars and character actors. Together with a better than average plot for a heist film, its grimy film noire stuff. Monroe plays the plaything of a once wealthy sleazy attorney who is young enough to be his daughter. Sam Jaffe is the brains of the heist, constantly shifting as the needs arise. He would have escaped, if it were not for his passion for women. Well, he was in prison a long time. Poor Sterling Hayden provides the hard case loser, with the fallen angel who is bonkers over Hayden. There is a double cross, a short gun fight, the death of the safe cracker who of course has 19 kids and a nagging wife who warns him he should give up his trade. James Whitmore plays the handicapped owner of a dive, who plays the driver. Add the crusading DA. the crooked cop and a sweaty bookie, a you end up sympathizing with the guys who pulled the failed heist.

"Don't worry, baby, you'll have plenty of trips"

Great off-the-cuff utterance by the commissioner: " (An) educated man who uses his brain to circumvent the law - worst type of human being as far as I'm concerned." This film came out in 1950, when going to Cuba was "not a bad idea." Of course, some things never change: the brains behind the caper dreams of escaping to Mexico (it's never Canada). "The Asphalt Jungle" has terrific acting (especially Calhern), well developed, realistic characters, and a fresh Monroe never looked better. You get sucked into pulling for the scum so much that Huston found it necessary to include a scene that seems very much out of place (and is quite memorable): the commissioner explaining to the press that without law enforcement "the battle's over; the jungle wins; the predatory beasts take over."

The Asphalt Jungle

The truly original heist thriller that has inspired countless films. Strong characterizations showing the business relationships between different career criminals. Grim cinematography & a combination of Huston's direction & script makes the adaptation of W.R. Burnett's novel come alive. A great thriller overall. I give it a 4.5/5.

A true 5 stars

This movie is remarkable in that it develops at least 6 characters in the span of 112 minutes. You learn their hopes and dreams and feel their pain as the plot unfolds. It's hard to pick a favorite as each is compelling and necessary to round out the story. However, one cannot help notice the dominance of Sterling Hayden

ASPHALT JUNGLE

This movie is currently listed by the A.F.I. as # 31 in Film Noir movies. I think it desires to be higher. About # 15. I like this movie because Sterling Hayden is a adult who lived on a a horse farm. He had to leave the farm as a child due to hard times just like me. He chooses to die in the company of horses. I'd say he died in Heaven. Leaves me in tears.

Excelente

Um filme noir de primeira qualidade tendo Marilyn Monroe no elenco. Um verdadeiro clssico.

one of the best

I saw "Asphalt Jungle" on TV late at night when I was at home from college in the 1960s. It hooked me on old movies, especially 40s-50s film noir, and on John Huston's work. I still love to watch it whenever it shows up. None of the actors were big stars when it was made. It was riveting because of the superb ensemble performances, direction, and cinematography. The one flaw in the movie comes from the film industry code of the time, requiring that a movie show that crime doesn't pay. The ending is contrived in order to deliver that message.

The Asphalt Jungle (1950)

What an intense film noir classic. Incredibly well written and directed. The whole cast is great, especially Sam Jaffe, Louis Calhern and Jean Hagen. Very exciting, superbly photographed. First rate in all ways.

Champion Caper Flick with extras

Toughest Sterling Hayden character , doesn't take long to figure you don't want to mess with. Stellar supporting cast with many against character, Sam Jaffe as master criminal, James Whitmore in his least cuddly role, Louis Calhern oozing hubris, and a very early superior Marilyn Monroe as a pivotal Daddy's (Uncle's?) gal introduced in the darkest noir world.Huston's direction shines , take Maltese Falcon ( a personal fave) and add 50's menace and urban exhaustion. The City no longer beckons, the shadows are longer and the night hides more. Interesting progression from Falcon to Key Largo to Asphalt Jungle. The role of the 'hero' or most compelling character evolves from Sam ,a gumshoe , nominally on the side of the law at least in an earlier time, Frank McCloud as free from anchors as the sky,a man without affiliation in Largo, to Hayden completely indifferent to societal norms and any code other than his own. A Must see anytime anyway, anywhere...

One of the Best!

One of John Huston's finest films. Loathfull characters from both sides of the law keep your attention all the way through the film. The perfect crime that goes afoul and the characters self destruct in this well written and directed film noir drama. A film so well made that I have the DVD of this film in my collection.

ASPHALT JUNGLE

ONE OF THE BEST CRIME DRAMAS IN MOVIE HISTORY.

final scene

The final scene where the horses surround him while he was dying in the field was filmed at my parent's farm in the north end of Lexington Kentucky.The fences are white in the film and are now black and there is a stone bridge and a pond.

A great film!

Christine Hoard Barre

4/15/07

This is an excellent movie with everyone involved in top form and stays true to W. R. Burnett's original novel. A must for crime fans, film noir fans, films of great film making. One of the best from its era.

Opening Scene of "Asphalt Jungle"

A great movie of the Film Noir genre. Many viewers want to know where the opening scene was filmed. The picture you see of the bridge & skyline is 1950 Cincinnati, Ohio. That is the old Central bridge which has been torn down & replaced by a new modern span. The skyline is graced by the Carew Tower & pyramid shaped Central Trust Tower. The Great American Ball Park now adorns that area that was once known as the Public Landing. It is where steamboats docked during their stay in Cincinnati. The reference to Boone County, KY in the movie is real. It's about 15 miles south of Cincinnati & is the home of the Greater Cincinnati Airport.

Good pick Gene Hackman

The Asphalt Jungle is one of the greatest capers ever made no question. I think it should be a DVD and maybe totally remade but we know how remakes go i.e. Lady killers.
*We protect your personal infortmation and will not provide it to anyone without your consent. For a complete explanation, please refer to TCM's Privacy Policy. By submitting your contribution, you agree to TCM's Terms of Use.