DVDs from TCM Shop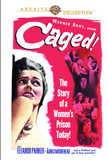 Caged A young innocent fights to... MORE&nbsp> $15.95 Regularly $17.99 Buy Now
USER REVIEWS
See Detailed Ratings
Acting of Lead Performers

Acting of Supporting Cast

Director

Music Score

Title Sequence

Screenplay

Cinematography

Historical Importance

Would You Recommend?

0 Member Ratings
Rate the acting of the Lead Performers

Rate the acting of the Supporting Cast

Rate the Director

Rating of the Music Score

Rating of the Title Sequence

Screenplay

Creatively uses the camera to tell the story

Importance in Cinema history

Would you recommend for fans of this genre
Submit Ratings
Cancel
Write a Review
Read Reviews
NO REVIEWS AVAILABLE
The title has not been reviewed. Be the first to write a review by clicking here to start.
i am one choosy mother about this.

may 13 2018 mothers day.. the idea of showing this story was suppose to .. I think white heat.. anything with ma barker.. mildred pierce.. granted that was shown on this date ..could have been shown for the noir slot though.. the killing because it has horses..mudders ..horses.. alright I will try to make an appointment with the I walk alone goons.. they can beat me up for the pun. the idea is ..maybe something with that extra pep..zing..flash..for the occasion. some people might expect a tacky morehead in life pun..no gutter minds.. classy people like her do not deserve that and on mothers day to boot. besides..i think her spirit would get pissed and give my bitch ass a smackdown. the best film noir movie for mothers day.. could be a number of them. laura.. double indemnity ..the killers..kiss me deadly..really are a number of them. maybe it has yet to be made. maybe one day..a female will be the big boss and the script will be fantastic. for what it is worth.. film noir would not be as special without women. just like men.. their collective flaw.. strength.. quirk.. ugliness and beauty along with other qualities.. make things more interesting.

Overplayed, Overacted

Over the top portrayal of an innocent young woman "forced" to commit a crime and then sent to prison to be transformed into a thug. Parker grossly overplays the "I'm innocent" criminal part whose innocent ways are rudely corrupted by the prison system and thugs within it, including the help, and constantly is being hugged by those in charge to make her feel better. Every scene is designed to make you feel sorry for these criminals and only a brat raised by helicopter parents will fall for it. Give me a break. Better yet, you take a break from watching this phony loser.

caged

Much better than I thought it would be. From the title I expected a lurid 50s exploitation film, with Mercedes McCambridge type female guards and lots of curvy inmates. What I got instead was a bleak, unsparing tale of the corruption and failure of the American penal system, circa 1950. And it's not as if conditions have gotten better in the intervening 116 years! (Jeff's comment below that today's prisons are country clubs with pools and beauty parlors is typically idiotic and just proves that the guy has never been incarcerated.) Personifying the corrosive nature of prison life is the good performance of Eleanor Parker as a first offender who arrives as a scared lamb and, thanks to the callousness and cruelty of the matrons, (especially the sadistic Evelyn Harper, wonderfully portrayed by Hope Emerson), as well as a parole that is denied and the boredom and hopelessness that results from this injustice, exits a hardened criminal. Parker is not one of my favorite actresses and indeed at times she's too "on the nose" and overdoes both the early naivete and the later cynicism. But she does manage to dominate the scenes she is in and convince you that such a downward moral transformation is credible. She definitely deserved her Oscar nomination. Rounding out the three leads is the usual fine work of Agnes Moorhead playing the reform minded but ineffectual warden. And the supporting cast, including Ellen Corby, Betty Garde, Lee Patrick, and Olive Deering, form an assemblage of decidedly unglamorous gals that adds to the authenticity. No babes in chains here! Finally, John Cromwell's direction and Bernard Schoenfeld and Virginia Kellogg's script manage to convey the passing of long hours of ennui that is one of the worst things about doing time without boring the viewer. So, let's give it an A minus.

Realistic Look At Women's Prison

Probably the most realistic look at a women's prison before the invention of Cable Tv. There is a deep dark, reality to this film. Eleanor Parker is memorable in this film, might not be as memorable as Susan Hayworth in I WANT TO LIVE, but very close. Very painful film. Yes, this is a message film of sorts but isn't there a message in every film ?. I mean if you only watch movies, you believe every psychiatrist is noble. There's never been an evil Psychiatric practitioner in any film ever made. 3 1/2 stars.

greatness unrewarded

I'll never understand why Eleanor Parker remained so uncelebrated in life... possibly that's the way she wanted it; however not even mentioning her on the Academy Awards show the year she died seems like an act of bias; especially when name after name of unrecognized, behind the scenes people, are listed religiously.I'll give them the benefit of the doubt in recognizing that everyone working on the show is not in Mensa, but someone has to comment. Her work in Caged certainly elevated her to high-ranking status. The work she did in her next picture Detective Story, should have secured that spot.

Marie Was Like The Rescued Kitten

Cute kitten rescued by innocent prisoner Marie Allen is adopted for brief time by the inmates,only to be discovered by the Big Bull soon after during rollcall.The riot that ensues after kitten taken away says it all for what happens to some of the inmates,esp Marie.Kitty is thrown in solitary after a severe beating,her rival,Elly,turns the screw by turning to the screw,Harper on Kitty,Marie becomes more hardened like the others.Marie is turned down for parole,is subjected to a cruel shaving of her hair per order of Harper,and the rest is history.Harper's days are numbered,the doc who delivered Marie's baby reports the deplorable sepsis of the infirmary.So much the better picture for lack of Davis/Crawford _itching.

Wonderful Agnes Moorehead,Parker,Emerson,Garde

Top performances from all.Harper's counterpart in THE GREEN MILE was no different,too bad he didn't get same result for his cruelty.Marie was the accomplice of her dumb husband in a robbery,which she was convicted of a felony because of $5 extra take.The intro o Harper is chilling,be nice and give her things and she'll help you.What happens to all the inmates is pretty tragic,from Kitty's beating and solitary,to the inmate rolled-back and the negligent treatment of her when she clearly needed help.Reminds me of a client whose only presenting sign of impending final illness (he was completely paralyzed) was ignored by trained nurses and passed off as "he said no" to notify anyone he needed help.Marie's decision to get into a real life of crime is precipitated not by her being in prison,but repeated bad luck by having the misfortune of a family that was useless-her mother refused to help raise Marie's son until her release,let's not even discuss the slob of a stepfather,harsh reality of prison (where things stewed),and a corrupt system that allows people worse than the incarcerated to work as prison matrons/guards.There you breed the likes of Sweat/Matt prison breaks,abetted by dissatisfied employees too dumb to see once the end is accomplished,you're as good as dead allying with them.At least none of the inmates appeared to be addicts.Rehabilitated?Just like WWII war vets in The Best Years Of Our Lives,they were someone during the war,then forgotten.

HEADS OR TAILS YOU WIN !

Great dames and great lines ! Hope Emerson is terrific. One could say she's an institution !And I always like institutions !. I'd count to ten and then see this great women's prison drama.And remember, it's always Allen, Marie - last name first !!

Intense

To this day it is one of the best 1950's movies. Keeps you from a world of crime. I still cannot believe it passed morals reviews back then.

Frightening Memory

I don't think my parents knew what their 12-year-old daughter was watching at our Omaha neighborhood movie theater, but between the stark black and white scenes, the cruelty, and the train whistle at lights out, it sure kept me from turning to a life of crime. It gives me shivers just seeing the title on this page.

Both Kitty and a kitten are crushed

Parker and Emerson deserved their Oscar noms. Parker's total transformation is a bit much for only being in 500 days, but for what she lives through, it's realistic. Emerson's character is simply not to be forgotten. This and other films that have shown guards as even worse than the guarded (I Am A Fugitive From A Chain Gang; Cool Hand Luke; Shawshank Redemption; etc.) have affected glaring change by making the exception to the norm seemingly widespread and playing to our hearts instead of our heads. Our nation's penal system is getting closer and closer to the point of realizing the entire throwaway line from the man talking to Moorehead's warden: "What do you want for your girls (the inmates)? A swimming pool? Television sets? A beauty parlor?"

Caged

I can only say one thing about this horrific film to sum it up.. Dead Kitten.

As a young girl

My first viewing of 'Caged" was as a young girl-they used to show older movies in the afternoon after the soaps had run their course. I was sick at home alone (as both parents worked) and viewed the movie. I was awe struck at the cruelty of the matron and eventual change of the heroin of the movie. It made me want to "make a difference" in the system-one of the influences that made me a social worker. Fighting for the underdog-bucking!the "system". Take that MATRON!! This and the "Nun's story" although I was "religious I didn't become a nun-just a social worker. :)

Women Behind Bars

"Caged" is a powerful and shocking film about women prisoners. The cast is excellent, especially Eleanor Parker as young Marie Allen, sent to jail because of being an accomplice with her husband in a robbery. She's thrown in with the older and toughened convicts, and eventually she becomes just like them and wins their respect. Hope Emerson gives a scary performance as the evil and sadistic matron Evelyn Harper, who brutalizes the prisoners and because of her connections with corrupt politicians is able to get away with it. Agnes Moorehead is also very good as the warden Ruth Benton, who is trying to help the women and also deplores Harper's treatment of them, and is constantly, though unsuccessfully, trying to get Harper fired. An appropriate closing line by Benton when Marie is finally paroled at the end - "Keep her file open, she'll be back".

Intense

John Cromwell did an awesome job w/ this film! Eleanor Parker did an amazing job! Along w/ Agnes Moorehead, Ellen Corby, & Hope Emerson these women did exactly what it took to make this film work!

Caged

This was a very well acted movie for it's genre. Intelligent and filled with intrigues on both sides of the bars!!! It had a lasting effect on me as a kid when I saw it. I only saw it once but I think the most memorable seen was the Christmas scene, toouching. It's definitely one of those " it's society's fault" films. There's certainly a lot of character developement going on for the main character. It's a good film.

WARNER'S LAST VESTIGE OF PRISON REALISM

It is a shame this outstanding piece of film making is reduced to the status of "Camp Classic". It is only campy due to the slang terms used to put the lesbian overtones through. Everything anout this picture shines not only as an excellent film, but one of the last and best of the great Warner crime-drama legacies. The black and white photography is superb, Max Steiner's score evocotive, and John Cromwell's direction harkens back to the last of the great silents. As far as the acting goes you couldn't ask for a better ensemble. Parker is a wonderful counterpart to the highly underated Hope Emerson (playing the role of a lifetime) as Evelyn Harper..."her first name is filth!" Watch this movie several times and each time you see it you will appreciate it all the more.

pipe the new fish

truly one of the best gal prison films ever. the swank hair style of the prison big moll to the subtle lesbian references. one to own and watch over and over

Poignant

I saw Caged as a very young girl on TV in San Francisco and was touched by its poignancy and realism. The part where Marie finds the little kitten was very touching. I remember when at the end, Agnes Moorehead tells her secretary that Marie will be back. Since then I have wondered why people like Marie have to go through such horrible experiences and why the corrupt jail keeper exists. Caged is one of the most memorable movies I have ever seen. Eleanor Parker is really great in it. She is one of my favorite actresses from the Golden Age of Hollywood. Eugenia Renskoff

Frightened

I was a pre-teen when I saw the movie Caged with Eleanor Parker. I had nightmares about it for months and still think about some of the scenes in the movie that were probably avant garde back then in the cruelty department. I always felt sorry for Eleanor Parker and hated the matron so much I would have killed her if I had seen her on the street. I still can't watch the movie without having nightmares.

SCARED THE HELL OUTTA ME!!!!

SAW THIS FOR THE FIRST TIME AS A YOUNG KID GROWING UP IN BROOKLYN...DECIDED RIGHT THEN AND THERE A LIFE OF CRIME WAS NOT FOR ME.. TURNED TO MY MOM AND DAD AS THE PICTURE ENDED AND SAID "HOPE I NEVER END UP THERE!!!".. MY MOTHER LOOKED AT ME AND SAID "DON'T WORRY YOU WONT".. LOOKING BACK GLAD I NEVER DID!!! SHOULD SHOW SOME OF THESE MORE DISTURBING PRISON FILMS TO KIDS DECIDING ON DRUGS, SHOPLIFTING ETCETERA....IS PARIS LISTENING???

"caged" on dvd

it is scheduled to be released on june 26th, but i, of course, have already "pre" ordered it! i can hardly wait to see it again after all these years!

Seriously Great Movie

When will this one be on DVD? Eleanor was a great actress.

GREAT flick! Eleanor, Hope, Agnes Shine!

I cannot understand why the best movie ever made about women in prison hasn't been released on video or DVD! This movie features Eleanor Parker's greatest performance, with excellent support from Hope Emerson (chilling as the cruel matron), Agnes Moorehead, Jan Sterling, Betty Garde, Olive Deering, Lee Patrick, and many others. In recent years, some have categorized this as "camp," but I think that this movie is too well-made to fall into that category. "Caged" is a dynamite movie, and it deserves to be seen by a wide audience. TCM, please show this! (In primetime!)

I haven't seen caged in years.

Will Caged ever be shown? Will it be released on dvd?

PLEASE PLEASE SHOW CAGED...

I have been trying to find this movie forever and it is nowhere, one of the best movies I have ever seen...If you cannot tell me where to find a copy...Please at least put it on TCM...Forever grateful ;)

Will Caged ever be shown on TMC???

I have watched TCM faithfully since its inception and read the schedules religiously each month and have never even seen Caged listed. Has it ever been shown on TCM? If not, it would lead me to believe that there may be some sort of issue with the rights or clearances since it truly is the quintessential women's prison movie and one of the best Warner's melodramas of all time. Hope Emerson gives one of the best supporting performances ever as the sadistic matron Evelyn Harper. (Best line- " I got a man waiting for me outside. Every time he kisses me goodbye I want to keep on leaving.")Eleanor Parker's best performance ever. If you can't release the DVD, as least show it on TCM!!!

Uncage "Caged"

Herbert Greenberg

11/30/06

Not enough attention is being payed to Eleanor Parker and her fine body of film work. A good place to begin to rectify this oversight is to release "Caged" on home video. Excellent supporting work here by Agnes Morehead and Hope Emerson, as usual.

RELEASE THIS GREAT TITLE ON DVD

WHEN WILL WARNER BROTHERS RELASE THIS OSCAR NOMINATED FILM ON DVD? I'VE BEEN WAITING FOR YEARS TO SEE IT ONCE AGAIN.ELEANOR PARKER AND HOPE EMERSON ARE OUTSTANDING AND THE SCRIPT IS GREAT.

the best of the best prison movies

Betty Garde is exceptional in her role as Kitty Stark. Eleanor Parker is outstanding. Hope Emerson as the head matron defines the word evil. A must for anyone who is a prison movie buff.

Eleanor Parker's Birthday 6/26/22

Eleanor Parker's birthday is this month.Why not celebrate it by showing her moviesespecially CAGED made in 1950.It is the greatest prison movie ever!!!I have not seen it in years, there is no DVD available.Please honor this great actress on her birthday by letting everyone know how great she was in this picture.Caged also had a grea supporting cast as well.Please Please Please show this film this month!!!!!!!!!!!!!!

A movie classic ahead of it's time.

Caged is a brilliant movie!!! I can't say enough good things about it. Filmed in black and white, it's stark, gripping, exciting, everything you would want in this kind of genre. Eleanor Parker is a revelation in her role as a true innocent, who goes to prison and emerges a hardened broad ready for a life of true crime. Her transformation is incredible, as is the scene nearly at the very end, where she is released and gets in a car with gangsters, one of whom gets fresh. She casually moves his hand away and settles in for whatevers going to happen next, then Agnes Moorehead as the nice warden tells her secretary to keep her file open. It is sublime, as is the whole movie. At times it verges slightly on camp, but this only enhances the movie, it doesn't at all make it silly. Many years later, in the 1980's "Reform School Girls" a campy women in prison movie, copied parts of Caged by having the inmates hide a kitten from the dastardly matron. There's a lesbian guard, a queen of vice, a prostitute, a wizened old woman inmate(A lifer), who quotes some great dialog, and of course the star of the show Miss Parker! Years later she played the Baroness in The Sound Of Music. But this is the definitive women in prison movie that still hasn't been topped. Please step up to the bar Mr. Turner and make them put this great movie on DVD or at least put it on TCM!!! PLEASE!
*We protect your personal infortmation and will not provide it to anyone without your consent. For a complete explanation, please refer to TCM's Privacy Policy. By submitting your contribution, you agree to TCM's Terms of Use.