DVDs from TCM Shop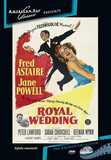 Royal Wedding A brother-and-sister musical... MORE&nbsp> $11.95 Regularly $10.99 Buy Now
NOTES
The following information was taken from Hollywood Reporter news items, M-G-M press releases in the production file on the film in the AMPAS library and the M-GM Music Collection and the Arthur Freed Collection at the USC Cinema-Television Library: In early 1949, Fred Astaire and June Allyson were cast in a picture tentatively titled Niagara Falls. That film was to have a honeymoon theme and be set in Niagara Falls. Because the title Niagara Falls was registered to Hal Roach Studios, which produced a picture of the same name in 1941 (see AFI Catalog of Feature Films, 1941-50), M-G-M changed the title of the Astaire-Allyson production to Royal Wedding and moved the setting of the story to London.
In late May 1950, before production began, Allyson, who was by then pregnant, was replaced by Judy Garland, who had co-starred with Astaire and Peter Lawford in Easter Parade (see AFI Catalog of Feature Films, 1941-50). According to memos in the M-G-M Collection, Garland was suspended by M-G-M on June 17, 1950 for not reporting to rehearsals for Royal Wedding. According to director Stanley Donen's autobiography, Charles Walters was initially assigned to the film but withdrew because he did not want to work with Garland again after the difficulties he encountered on her previous film, Summer Stock (see AFI Catalog of Feature Films, 1941-50). On June 19, 1950, according to newspaper accounts, a deeply depressed Garland attempted suicide in the wake of her third, and final, suspension from the studio to which she had been under contract for fourteen years.
Memos in the M-G-M Collection document that Ben Goetz, then head of production at M-G-Ms British studios, attempted to obtain color newsreel footage of the November 20, 1947 royal wedding of Princess Elizabeth and Prince Philip, the Duke of Edinburgh, from Gaumont-British News, but was initially unable to obtain any because of the objections of the royal family. Eventually some footage of the parade was obtained, but none that featured either the royal couple or the interior of Westminster Abbey. In order to obtain permission to use the footage included in the film, M-G-M additionally agreed to change the pictures release title in Britain from Royal Wedding to Wedding Bells to avoid any inference that the picture was about the real royal wedding. Footage of the wedding parade that shows a horse-drawn coach, seemingly that of Elizabeth and Philip, was not of the actual coach used by the royal couple.
Several of the films musical numbers have been shown in documentaries on musicals, including "I Left My Hat in Haiti," "How Could You Believe Me When I Said I Loved You When You Know I've Been a Liar All My Life," "Sunday Jumps" and "You're All the World to Me." In "Sunday Jumps," Astaire dances solo to an instrumental background as he rehearses dance steps using, among other things, a coat rack and barbells. Alan Jay Lerner wrote lyrics for the song, but they were not used in the film. Portions of this number were included in a Dirt Devil vacuum cleaner commercial shown on television in the late 1990s. The computer-altered dance routine showed Astaire dancing with a vacuum cleaner instead of a coat rack. The controversial ad, one of two featuring Astaire, was made after Astaire's 1987 death.
"You're All the World to Me" is one of the most famous dance numbers ever filmed, and is popularly known as the "Dancing on the Ceiling" number. In the number, which is also an Astaire solo, "Tom Brown" is seated in a small sitting room in his hotel and starts to sing to a photograph of "Anne." As he does, he begins to dance, first on the floor, then on the walls and the ceiling as the tempo accelerates. As explained in an illustrated Life magazine article on March 26, 1951, the number, which "makes him [Astaire] seem to trample on the laws of gravity," was accomplished by use of a small rotating room. The camera, cameraman and furnishings were anchored to the floor so that, as the room rotated, it would appear that Astaire, the only "object" moving, was dancing on the walls and ceiling. In his autobiography, Donen stated that Lerner was the person who came up with the idea of Astaire in a dancing on the ceiling number, although in interviews, Astaire stated that the idea originated with him. Most contemporary reviews only briefly mentioned the number, with many singling out "How Could You Believe Me...," which featured Astaire and Powell in a comic, Brooklyn accented song and dance routine, as the shows highlight.
Some contemporary and modern sources have pointed out similarities between the characters of Tom and "Ellen Brown" and Astaire and his real-life sister Adele. Like the characters in the film, the Astaires were popular musical comedy stars both on Broadway and on London's West End. Like the character Ellen, in 1931 Adele retired from the stage to marry a member of the British nobility, Lord Charles Cavendish. Unlike Powell, though, who was thirty years Fred Astaire's junior, Adele was a year older than her brother.
Actress Sarah Churchill was the daughter of British Prime Minister Winston Churchill. Royal Wedding marked her American motion picture debut. According to memos in the M-G-M Collection, the publicity department was told that it could not specifically mention Churchill's father in the exploitation campaign for the film. In a memo to studio executives, M-G-M trailer producer Frank Whitbeck stated "...on the suggestion that Sarah Churchill be featured prominently in the trailer, I am not sure this is a good idea. Miss Churchill is a fine performer, but photogenically I don't think that she would be that attractive unless people knew that she was Winston Churchill's daughter, and as you suggest, we could not use any such reference."
Royal Wedding received only one Academy Award nomination, for Burton Lane and Alan Jay Lerner's song "Too Late Now." According to M-G-M production records, the film cost $1,590,920, less than $12,000 over its estimated budget.