DVDs from TCM Shop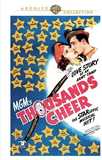 Thousands Cheer An egotistical acrobat joins... MORE&nbsp> $15.96 Regularly $19.99 Buy Now
NOTES
The working titles of this film were Private Miss Jones and As Thousands Cheer. Onscreen credits note that Paul Jarrico and Richard Collins' screenplay was "based on their story 'Private Miss Jones.'" According to an April 1943 Hollywood Reporter news item, the title was changed from Private Miss Jones to As Thousands Cheer so that audiences would not assume the film was a war picture. As part of the film's show-within-the-show sequence, Red Skelton performs a sketch, playing a soda jerk, and Frank Morgan, playing a lecherous barber, performs a skit with M-G-M contract stars John Conte, Sara Haden, Ann Sothern, Lucille Ball and Marsha Hunt. Mickey Rooney plays the show's "emcee." For his only dance number in the film, Gene Kelly dances with a mop and a broom to an uptempo version of "Let Me Call You Sweetheart."
Hollywood Reporter news items add the following information about the production: In July 1941, Judy Garland was announced as the star of a film entitled Thousands Cheer, which was to be produced by Arthur Freed. Although Garland did appear in Thousands Cheer, she was not the star, and it is not known if the Arthur Freed project was related to the film released in 1944. Irving Berlin, who wrote the music to the Broadway revue As Thousands Cheer, which starred Fred and Adele Astaire, was announced as a possible contributor to the 1941 Thousands Cheer. M-G-M acquired the rights to Berlin's show in the 1930s.
Hollywood Reporter announced in May 1943 that Lena Horne was to record "Here I Go Again" for the picture. Although Kathleen Hedrick, Kathryn Grayson's four-year-old niece, was to play Grayson's character as a child in the 1944 film, that role was not included in the completed film. Bryant Washburn, Sr. was cast in the picture along with his son, Bryant Washburn, Jr., but only Washburn, Sr.'s appearance in the completed film has been confirmed. Comedian Gus Schilling was announced for a "top role," but he did not appear in the completed film. Former tennis champion Gene Mako was also announced as a cast member, but his appearance in the completed film has not been confirmed.
During production, Hugh Boswell replaced Sergei Petschnikoff as unit manager. As noted in the credits, Jos Iturbi made his screen debut in the film. In the CBCS, James Millican is listed both in the role of "Sgt. Carrington" and the role of "Major." It has not been determined which role Millican played. M-G-M publicity items note that the following "six-foot beauties" were cast in the picture: Bunny Waters, Helen O'Hara, Sylvia Liggett, Dorothy Ford, Susan Paley and Barbara Mace. Only Waters' appearance in the completed film has been confirmed, however. Publicity items also announced that Melva Block, an eighteen-year-old skating champion, was to make her screen debut during a roller-skating sequence, but the sequence was not included in the final film. The picture received Academy Award nominations in the Art Direction (Color); Cinematography (Color); and Music (Scoring of a Musical Picture) categories. Mary Astor was set to perform in a five-day serialization of the film on CBS radio from 13 September to September 17, 1943, according to Hollywood Reporter.