DVDs from TCM Shop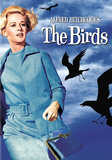 The Birds In a California coastal area,... MORE&nbsp> $11.21 Regularly $14.98 Buy Now blu-ray
USER REVIEWS
See Detailed Ratings
Acting of Lead Performers

Acting of Supporting Cast

Director

Music Score

Title Sequence

Screenplay

Cinematography

Historical Importance

Would You Recommend?

0 Member Ratings
Rate the acting of the Lead Performers

Rate the acting of the Supporting Cast

Rate the Director

Rating of the Music Score

Rating of the Title Sequence

Screenplay

Creatively uses the camera to tell the story

Importance in Cinema history

Would you recommend for fans of this genre
Submit Ratings
Cancel
Write a Review
Read Reviews
NO REVIEWS AVAILABLE
The title has not been reviewed. Be the first to write a review by clicking here to start.
are the birds gonna eat us mommy?

This is great entertainment. Tippi Hedron and Rod Taylor are wonderful. I agree with Calvin (below) that there are questions but he misses as big one. Why does Tippi Hedron go up the darkened stairs to that upper bedroom following the night of bird attacks? Other than terror for us, why does she do that? Whatever the reason, the film is just plain good entertainment with a wonderfully creepy mix of humor and fear. Actually, whenever I watch this, I root for the birds. And someday I hope to visit Bodega Bay. Other than deadly avian attacks, it looks like a charming vacation spot.

couple questions

Hey, what's not to like? It's a wonderful thriller. But a few questions: How come there is only one class of kids in that big old spooky school house? And what are they singing? what is that monotonous tune? Why does Tippi have only one suit of clothes? She stops at Brinkmeyers when she does decide to spend the weekend after all and she buys a flannel nightgown. Really? She doesn't think to buy some fresh clothes for the next day? By Sunday she much have been pretty ripe in that green suit. If she didn't shower, her hairdo would have been quite the birds nest by Sunday morning as well. Tippi could not get away with that floor length fur coat today. The town would be attacked by irate mink. I can never figure whether she is incredibly cool steering that tiny power boat across the bay while in a dress suit, high heels and that obscene coat or whether she was just ridiculously over dressed for the entire weekend. But this is cool entertainment snd my favorite scene , oddly, is when Tippi drives the birds to Bodega Bay in that little car and as she takes each curve at 80 mph and on two wheels, the love birds (together) lean side to side. Funny scene. it's just a cool Hitchcock touch--strange humor in the midst of impending trouble.

The Birds

Many think this is an original story by Hitchcock. The movie is actually based on a short story by Daphne DuMaurie, who also authored Rebecca.

birdies and peewees.

he took on the idea of birds attacking humanity and had a huge hit. today.. a director might get more than 50 million dollars to rip off a willy wonka gag to shrink people. good evening..jan.

The Birds Were Supposed To Win Out!

According to Hitchcock lore, the Brenners and Melanie got to the next bigger area and were confronted with an even more devastating bird attack. But Hitchcock felt the film was already too long and decided to end the film on an indecisive note.

The Birds Cometh

MAD Magazine had done some parody like 'The Birds Is Coming!' but my personal viewing of this movie happened sometime later making its horror that much more engrossing! The requited love between a mother & probable daughter-in-law, the sorrow of lost love & life, the sickening dread of a potentially violent attack & killing were intimate close- ups within the survival situation that enhanced the uneasy feeling that this surprise calamity could happen to anyone- even me!

The Birds

A scary Hitchcock film of crows and seagulls invading a California coastal town north of San Francisco to kill and create havoc. Hitchcock does it in stunning artful way with the birds winning in the end. Tippi Hedron and Rod Taylor have to do their best to stay alive. The special effects were amazing here especially in the attack scenes with the school kids. Hitchcock movies in the 50s were normally intriguing but starting with "Psycho" and "The Birds" they got scarier. The master of suspense was a great storyteller and when he threw in more suspense, as he does here, the scenes got bloodier.

hedren

While watching this movie I wondered why we never saw Tippi Hedren in later movies. Now we know how cruel Mr Hitchcock really was. It's too bad the TV reviewers don't share that side of the story. The truth about Sir A H.

the birds

I swear, when this film came out at the Bay Ridges Drive Inn, back in the 60s ,they brought out a local D.J. from a Toronto radio station to give it a BIG build up. Everybody from miles around showed up and had a great time. I remember it so well, because I coudnt afford a ticket and besides didn't have a car anyway, so two of us climbed into an apple tree at the back of the lot and turned up the speakers as loud as we could. We got eaten alive with bug bites , but we had a great time.

Love Hitchcock

Must have seen this movie a hundred times, and will continue to see it. Every time I watch it I notice something else. I guess this is the reason why it is a classic.

Birds of a Feather...

Ok. I watched this again recently, having had the socks scared off me as a kid. From what I THINK I now understand, Hedren sets off a major shift in the cosmos when she opens her heart to Taylor. The love birds, featured prominently in their first meeting at a pet shop, symbolize what could be for two lonely people...IF they can get past her pride/resistance and his sarcastic psychological banter. She writes him off as a loser, but decides he's bold and edgy. She likes him and sets off to his Bodega Bay crib in a borrowed little motorboat to find him, wearing a fur coat no less. But before she makes it to shore with two love birds in tote, a mean little bird swoops down and plucks her right on the forehead. There will be some obstacles to their love. These obstacles are in masse. These obstacles have wings. Long of the short, the birds go crazy when those little love birds (literally and figuratively) land at Bodega Bay. Great scene in the town diner when a resident tells Hedren that she's the cause of all the bird attacks, which is true. Hedren promptly gives her a good slap in the face for that comment. But she works her way through it--the senseless bird attacks, the fear of the attacks, the sad ex-girlfriend of Taylor, the dominating would-be mother-in-law who is none to happy to share her bachelor son/substitute husband with a fur coat gal in a drop-top roadster. The final scene when they exit (she, he, his mom, his daughter) after Hedren is brutally attacked by the birds--finds the birds en masse again. But this time, they do not attack. This time they watch as the lovebirds, human and feathered, leave Bodega Bay. Nothing will ever be the same for the 4 of them. And that is how it should be.

The Birds

I enjoyed this movie and would like to see it again. Wondering why TCM doesnt show this one if they do all the other old ones at halloween time

The Birds

Overall-4/5Lead Performers-4/5Supporting Cast-4/5Director-5/5Titles-4/5Screenplay-4/5Cinematography-4/5Importance-4/5Recommendation for fans of the genre-4/5

The Birds (1963)

What's far more mysterious than why all the birds suddenly go crazy violent in this film is: How can a movie without any actual plot or ending, and with so ridiculous a premise, be so well-regarded? Hitch really pulled one over on his fans with this one. If you want to be scared by wild animal attacks--only without unconvincing special effects and hilarious editing cuts--you might try tuning into the nature channel instead. But if you like this type of movie, you might also want to check out "Night of the Lepus" (about giant killer bunny rabbits) and "Frogs" (about, well, menacing frogs). Both are about the same quality as "The Birds" but without the (apparently incontestable) Hitchcock label.

Modern film makers take note!

They simply do not make movies like this anymore. Without ever getting too graphic or gory, the film manages to be terrifying. A lesson horror and suspense film makers would be wise to learn nowadays. Gore does not equal scary! The moments of silence are the most unbearably intense and startling moments in the film, and the characters are developed well beyond the modern caricatures that are then picked off one by one without the audience feeling a thing. You care about these people, and what happens to them.Most importantly, we are given next to no answers. We never learn what really drives any of these people, or who they are underneath the exteriors they show to one another. We never really learn why the birds attack, and we never learn what becomes of our heroes. We are given just enough to let us reach our own conclusions, which just adds to the films suspense and again helps the film connect to its audience and ensnare them in a way very few modern films manage.Add to all of this brilliant camerawork, and effects that, although dated, still manage to be unsettling, and you have a near perfect Hitchcockian masterpiece that should not be missed by anyone who loves movies. Especially the truly scary ones!

"THE HUMANS"

Hitchcock's output during this golden era (1952-65) is always centered on human beings, always, and there's been more than a mild tendency toward everything but this angle when it comes to both public and professional opinion on "The Birds." It's clear from the start that there is some organic imbalance in Melanie's soul, some unfinished and rather rough baggage from the past (most likely attributable to the clearly painful disconnect from her mother years ago). And then handsome Mitch (Rod Taylor) insists on instigating what he thinks might be a real/legitimate relationship with her, but his own mother cannot deal with this otherwise normal prospect becuse she too is clinging to her own unfinished baggage from the past. Hence we have this little triangle of three Hitchcockian souls, two women and one man, and apparently a world thrown off its natural balance because these humans simply can't get it right. In this sense, then, the birds' unnatural behavior is nothing more than a symbolic device that serves to depict the various and subtle electrical systems between mortals and angels, heaven and earth, mother and son, lover and lover. It's Hitchcock's most physical film and also his greatest artistic risk. And it might help the viewer to adopt the same mindset left over from a viewing of "Vertigo." "The Birds" is subtly dreamlike, even subterranean in its wonderful ability to depict moments that refuse translation onto mere paper. It's all about inner states and those most ingrained fears which never seem to achieve verbalization at tea time, lunch, or dinner.

Scariest Scene Ever

I saw this movie when I was 12 years old and not only fell in love with Tippi Hedren, but it has been one of my favorites ever since. I still think the final scene with Hedren up in the bedroom being slaughtered by birds is one of the most horrifying ever filmed. Especially knowing now that those weren't fake birds or trick photography. They were hurling birds at her for a week. There is something about this scene that still haunts me every time I see it. Yes, tame by today's standards, but scary stuff.

The Birds

I loved this movie. It was a great movie and it scared me to death...... A must see. if you have not seen it!

Alfred Hitchcocks' The Birds

I saw this movie when it first came out in 1963. I was seven years old. It was a Saturday afternoon in Denton, Texas at the Campus Theater which was packed with mostly children. When Jessica Tandy discovers her neighbor with his eyeballs pecked out, we all screamed and hit the floor! It was my first Hitchcock, and my first scary movie, and it has stayed with me ever since. I place this on my Top 5 list. Terrific!

h

nice movie

First Hitchcock

I went to see this for my ninth birthday. (In a Drive-In, no less!) It was my first Hitchcock movie and I was thrilled by it. This is one of my favorite Hitchcock movies. I've seen it so many times I even know what scene Hitch is in.

Dialogue

The thing that I always notice about this film and its amazing; is the even ping-pong rhythm of the dialogue. I find it fascinating and slightly amusing. Am I the only that notices this?

One Of Hitch's Best

I first saw "The Birds" on TV when I was 10 years old, and I sensed it was something more than the few horror films I had seen. Seeing flocks of birds of all kinds flying around killing people and causing destruction in a small California coastal town was a very shocking thing to see, even on a small TV screen instead of a wide theater screen. The many times since that I have seen it (I have the DVD) it always scares the (expletive) out of me! "The Birds" is a prime example of how Hitchcock could take a seemingly harmless thing (birds) and turn it into a sinister and lethal force capable of mayhem and death. The most frightening scene to me is toward the end where Tippi Hedren opens the door to the attic room and thinks everything is OK until the birds suddenly attack her, and her flailing her arms at them trying to keep them away while trying to get out of the room. The very last scene where they drive away from the house and see the masses of birds that have finally taken over has to be one of the most chilling endings to a film ever.

One of a kind film!

Everything about this film is amazing! The build up to all the shocking scenes is so intense, especially the attack at the restuarant when the gas station explodes! Tippi Hedren's character is so interesting, since you're never really quite sure of who she really is inside. I had my son-in-law watch this with me (he thinks he's a tough young guy), and after it was over he said he never wanted to see a bird again or go outside!
*We protect your personal infortmation and will not provide it to anyone without your consent. For a complete explanation, please refer to TCM's Privacy Policy. By submitting your contribution, you agree to TCM's Terms of Use.