DVDs from TCM Shop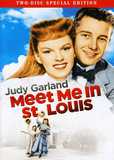 Meet Me in St. Louis Young love and childish fears... MORE&nbsp> $21.56 Regularly $26.98 Buy Now blu-ray
NOTES
In addition to the above-listed songs, Margaret O'Brien sings the anonymous ditty "I Was Drunk Last Night" in the film. Sally Benson's story first appeared in the New Yorker magazine between June 21, 1941 and May 23, 1942. The twelve installments were published under the collective title "5135 Kensington," the fictional address of the "Smiths's" house. After she sold M-G-M the rights to the stories in early 1942 and was hired to work on the screenplay, Benson published the stories as a novel, titled Meet Me in St. Louis. Each chapter of the novel covered a month of the year. According to modern sources, Benson's story was based on her own experiences growing up in St. Louis. "Tootie" was based on Benson, while "Esther" was inspired by her older sister.
According to Hollywood Reporter, Paramount Pictures competed with M-G-M for the screen rights to Benson's popular stories. William Ludwig, and Victor Heerman and Sarah Y. Mason, who won Academy Awards for their 1933 version of Little Women, also worked on early drafts of the script, which, according to modern sources, included a kidnapping/blackmail plot line. Modern sources also note that while producer Arthur Freed was particularly anxious to make the film, Judy Garland, who was reluctant to return to teenage parts after successful appearances in adult roles in For Me and My Gal and Presenting Lily Mars, had to be persuaded by studio head Louis B. Mayer. George Cukor, who directed the 1933 version of Little Women, was first hired to direct the picture, according to modern sources, but bowed out after he was drafted into the Army.
In September 1943, Hollywood Reporter announced that Van Johnson had been cast in the lead male role. Robert Walker was also mentioned in news items as a cast member, and Gloria De Haven is listed in both news items and Hollywood Reporter production charts as a cast member, but neither performer appeared in the final film. Lucille Bremer, a former New York nightclub singer, and Henry H. Daniels, Jr., a former tennis star, made their screen acting debuts in the film. Ruthe Brady, Tommy Batten, Wells Wohlwend, Joyce Tucker, Mickey Roth and Pamela Britton are listed as cast members in Hollywood Reporter news items, but their participation in the final film has not been confirmed. According to Hollywood Reporter new items, Freed "returned" to his former career as a songwriter to write the lyrics for "You and I" with his frequent collaborator, Nacio Herb Brown. "Boys and Girls Like You and Me," a song that was dropped from the 1942 Richard Rodgers and Oscar Hammerstein II musical Oklahoma, was shot for Meet Me in St. Louis, but cut from the final film. According to modern sources, the song, which was sung by Garland after the trolley scene, was removed at the insistence of Freed, who felt that it slowed the story. Meet Me in St. Louis was the first film on which Lemuel Ayers, who was the set designer on the Broadway production of Oklahoma, worked as an art director.
Modern sources add the following information about the production: Although M-G-M wanted to use its "Hardy family" street set for the film, art director Jack Martin Smith and director Vincente Minnelli convinced the studio to build an entirely new set, which cost a significant $208,275. Most of the fair set was shot with miniatures, including two bisons sculpted by Henry Greutart. Minnelli noted in a television interview that in order to provoke anger and tears during O'Brien's emotional Christmas Eve scene, her mother told her, in private, that her dog had died. Principal photography went over schedule partially because of the many illnesses of the cast, as well as Garland's frequent absences and lateness. Lela Simone, a former recording pianist at M-G-M, worked as a music sound cutter on the film, and Dottie Ponedel was assigned as Garland's personal makeup artist. Ponedel, who changed Garland's onscreen look for the picture, became her regular makeup artist for the remainder of her career at M-G-M. The final cost of the picture was over $1,500,000. During its initial release, it grossed $7,566,000.
Meet Me in St. Louis was the first of five films on which Minnelli and Garland worked together, and is considered one of Garland's best films. She and Minnelli married in 1945 and divorced in 1951. By the time of the film's national release, "The Trolley Song," sung by Garland, ranked "number one" on the Hit Parade radio show. According to modern sources, composers Ralph Blane and Hugh Martin at first balked at the idea of writing a song about a trolley, and instead came up with the song "Know Where You're Goin' and You'll Get There." When Freed insisted that the number be about a trolley, Blane went to the Beverly Hills Public Library for inspiration and found a photograph of a 1903 trolley, with the caption "Clang, Clang, Clang Went the Trolley" on it, words that were later incorporated into the song's famous chorus. At the time of the film's release, Garland's recording of "Have Yourself a Merry Little Christmas" was being shipped to American troops overseas. The song soon became a holiday standard. A soundtrack album of the film was released in December 1944.
Meet Me in St. Louis was nominated for three Academy Awards: Best Cinematography (color); Best Music Score; and Best Song ("The Trolley Song.") The National Board of Review named Meet Me in St. Louis as its seventh best film of the year, and gave O'Brien an acting award for her work in the picture. In June 1945, the Library of Congress selected the film, along with six others, to be the first for inclusion in the Library's film collection. Garland, O'Brien and Tom Drake reprised their roles in a Lux Radio Theatre version of the film, broadcast on December 2, 1946. On April 29, 1959, George Schaefer directed Jane Powell, Tab Hunter, Walter Pidgeon, Jeanne Crain, Myrna Loy and Patty Duke in a CBS network broadcast of Irving Brecher and Fred F. Finklehoffe's screenplay. A situation comedy based on the picture, starring Peggy Ann Garner, aired on the NBC television network between 1950 and 1951. On June 9, 1966, a stage version of the film, with new songs by Martin and Blane, was presented at the St. Louis Municipal Opera.