DVDs from TCM Shop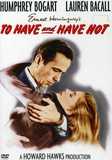 To Have and Have Not A skipper-for-hire's... MORE&nbsp> $14.96 Regularly $19.98 Buy Now blu-ray
Home Video Reviews
Actors claim that the term "overnight star" is a publicist's fantasy, that most who are given that title have labored long and hard in obscurity for the "sudden" recognition.
Then there's Lauren Bacall.
Oh, she wanted to be an actress all right. But in 1943, at age 18, Betty Bacall had barely set foot on a stage, and never on a soundstage. She was working as a fashion model in New York when the chic wife of director Howard Hawks saw her on the cover of
Harper's Bazaar
, and pointed her out to Hawks. Hawks sent for Bacall, cringed at her nasal voice, told her to lower it, and changed her first name. Then, for her first film in 1944,
To Have and Have Not
(now on DVD from Warner Video), he teamed her with Humphrey Bogart, the tough-guy newly-turned romantic hero on the heels of
Casablanca
's success. Fireworks flew, on-screen and off. Gushy reviews, like this one from the usually cool and judicious James Agee: "Lauren Bacall has cinema personality to burn...a javelinlike vitality, a born dancer's eloquence in movement, a fierce female shrewdness and a special sweet-sourness..."
But then, Hawks was a gambler. Bacall wasn't the only one making her film debut in
To Have and Have Not
. Hawks met songwriter Hoagy Carmichael at a party, and had a hunch he'd make a good actor. As Cricket, the saloon pianist, Carmichael did. The film was the result of Hawks' bet with his good friend, novelist Ernest Hemingway, whom Hawks was unsuccessfully trying to convince to write for the screen. Hawks bet that he could make a movie out of Hemingway's worst book --
To Have and Have Not
. The film version, as several critics pointed out, owed more to
Casablanca
than to Hemingway, but Hawks won his bet.
So like all Hollywood fantasies, this one had a happy ending.
To Have and Have Not
was a hit, Bacall became an instant star, and found the love of her life. She and Bogart married in 1945, and stayed married until his death in 1957. She remains a star to this day.
But after watching this new transfer of
To Have and Have Not
you might have to admit that while Bacall and Bogie are the epitome of cool in their first film together, it's Hoagy Carmichael who steals the film. His renditions of "Hong Kong Blues" and "The Rhumba Jumps" are worth the price of the disc alone and his accompaniment of Bacall singing (yes, it's her own voice and not Andy Williams' - a longtime rumor) "How Little We Know" isn't too shabby either.
The Warner DVD of
To Have and Have Not
is another excellent looking transfer that is a huge improvement over the company's laser disc that was issued in the nineties. The extras are slight but highly recommended - a featurette on the making of the film "A Love Story: The Story of To Have and Have Not," the Warners cartoon
Bacall to Arms
(a hilarious parody of the film), and the Lux Radio Theatre production of the Hemingway novel which also starred Bogart and Bacall.
For more information about
To Have and Have Not
, visit
Warner Video
. To order
To Have and Have Not
, go to
TCM Shopping
.
by Margarita Landazuri